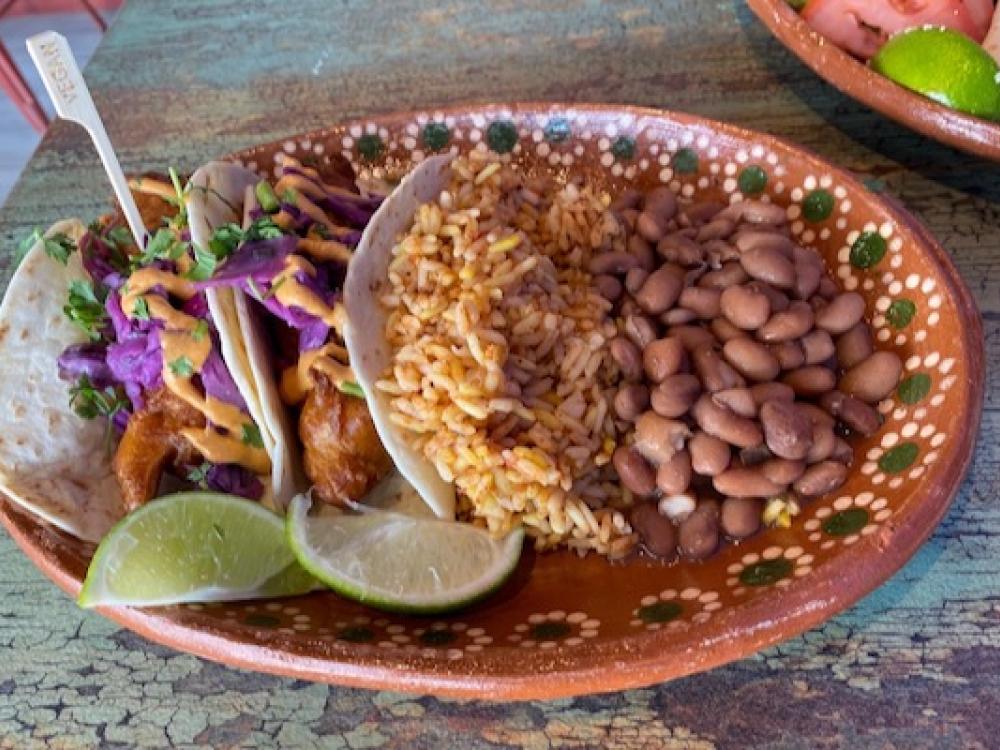 Baja Vegan Tacos from Mariachi's Dine-In in Fort Worth. Photo by Andrew Ridout.
Sept. 1, 2021
Who doesn't love tacos, quesadillas, burritos and other Tex-Mex classics? 
In a state rich with Hispanic culture, most Texans eat Mexican-insprired dishes quite often. For plant-based folks however, it's not always easy to find great vegan Mexican food in our area.
But that's changing – even in Cowtown. 
In April, we told you about Belenty's Love, a plant-based Tex-Mex venue which opened in southwest Fort Worth last year. Now the plant-based choices expand with Mariachi's Dine-In, located at 5724 Locke Ave. in west Fort Worth. 
Owner Ashley Miller, a Wichita Falls native, opened the original Mariachi's in a former gas station in late summer 2018 – but the menu which offered mostly meat-based Mexican fare, was lacking something. 
Being a vegan herself since 2006, Ashley was eager to create plant-based alternatives to some of her favorite traditional dishes.
Mariachi's vegan quesadillas. Photo by Andrew Ridout.
In May, Ashley and her team relocated across town to a larger, hip new location in the Camp Bowie district of Fort Worth. They also made her vegan Mexican creations a more prominent feature on their menu. 
The new space is an open seating environment with abundant natural light and a full-service bar. The vibe is urban fusion, with a brick bar back and bold blue feature wall.
"The move feels like a dream come true. Three years ago I was a bartender in Dallas and now I am the owner of a beautiful new award-winning restaurant," says Ashley.
Though the new Mariachi's location still offers many conventional meat-based Mexican favorites, they are becoming known more and more for their extensive vegan menu, which includes items such as Texican Nachos, Ensalada Verde and a variety of taco plates. Most dishes are offered with a choice of plant-based protein like Asada Vegano, Chorizo Vegano, Birria Jackfruit or Grilled Veggies, just to name a few. They also feature a variety of sides such as house-pickled red cabbage or rice and beans.
I had a chance to visit Mariachi's with a friend recently and we sampled the Baja Vegan Taco Plate with toasty banana-based "fish" topped with pickled red cabbage, cilantro, chipotle crema and a slice of lime  and vegan quesadillas, served with guacamole, beans and pico. Both dishes were excellent and rivaled any similar meat-based fare.
We also enjoyed the hearty Vegan Cashew Cotija S&J Fries, thick steak-cut potatoes sprinkled with a dairy-free alternative to traditional cotija cheese and served with a side of spicy Brava ketchup and limes. 
Our favorite dish was the Jackfruit Birria Tacos platter. Photo by Andrew Ridout.
Our favorite was the Jackfruit Birria Tacos platter that included three generously-stuffed tortillas topped with melted "cheese" with a dipping consommé, fresh cilantro, diced onion, and lime. There was plenty to share and tasted amazing. 
You won't want to miss the Vegan Elote, or Mexican corn-on-the-cob, slathered with plant-based mayonnaise, chili powder and fresh lime juice. It's messy but fun to eat and will have you begging for more.
When asked about her own favorites, owner Ashley responded, 
"That's a tough one! I eat all the vegan items pretty regularly, but I find myself more often choosing the grilled Veggie Corn Tortilla Street Tacos, Vegan Cashew Queso and Grilled Pina Burrito (it's massive!) Also, I really feel like I should mention our vegan Charra Burger with Pastor Vegano, Follow Your Heart Cheese, pico de gallo and avocado." 
Kids' options are also on the menu so feel free to take the family.
No meal would be complete without something sweet with which to top it off. Mariachi's offers delicious dairy-free vanilla ice cream as well as mango and lime sorbet, both with and without alcohol. The bar is also full-service and serves many vegan options.
With the fledgling vegan scene in Fort Worth, Ashley notes that her business model creates a welcoming environment for people of all dietary walks of life. 
"At our restaurant we find that we serve an equal amount of vegan and non-vegan food. It is great to see how this concept encourages people who would typically not eat plant-based to come in and try our vegan options and come back for seconds!"
RELATED ARTICLES
Tex-Mex vegan cafe finds home in Cowtown
Dallas vegan deli sells tasty plant-based steaks 
---
Stay up to date on everything green in North Texas, including the latest news and events! Sign up for the weekly Green Source DFW Newsletter! Follow us on Facebook and Twitter. Also check out our new podcast The Texas Green Report, available on your favorite podcast app.