Aug. 26, 2012
When Dallas newest swanky hotel, NYLO Dallas South Side, opened its doors for the first time,  it included work from one of the oldest salvage companies in town, Orr-Reed Wrecking Co. 
"We provided most of the woodwork," said Hannah Hargrove, who is taking over operations of the 66-year-old company from her father, John Hargrove, who bought it in the early 1990s.  
The new NYLO hotel is seeking LEED certification at the gold level for its environmental efforts. The original building was constructed in 1910 as a coffin factory, Hargrove said. It opened this week as an 84-room, eco-friendly, boutique hotel.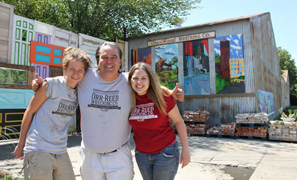 From far left. Rachel Porter (yard manager), John Hargrove (Owner), Hannah Hargrove (General Manager) photo: Darren Roberts droberts14@mac.com.   Resale store photo by Phillip Shinoda

The hotel is just one of countless projects large and small in Dallas made with restored materials saved by Orr-Reed from the wrecking ball. 
"We were green when green was just a color," said Hargrove, who grew up playing in the salvage yard at 1903 Rock Island St, just south of downtown Dallas. "And we serve everybody—from top designers to people who had their front door kicked out."

Orr-Reed was started after World War II with capital from Charles Orr's mustering-out pay from the Army and proceeds from the sale of a herd of goats by his partner, James Reed.  
From the beginning, Orr-Reed adopted a company philosophy of being green, Hargrove said. The two men not only wanted to run a business, but also recycle and preserve the architectural heritage of Dallas. 
"They would even straighten nails in the old days," Hargrove said. "We don't do that anymore."
    
But the company does take antique lumber, architectural doors and mantels, hardwood flooring, wrought iron fencing, clawed foot bathtubs, porcelain sinks, glass blocks and other architectural elements from the local houses it reclaims.



Salvaged Lumber  -  Finished Reclaimed Lumber  -  Doors  -  Bathroom Fixtures (photo: Phillip Shinoda)

"We have doorbells, cabinets, bar stools, vintage curtains," she said. "We're the Louvre of junk—it takes more than day to see it all."

When Orr-Reed receives a contract to demolish a house, the company can typically save between 85-97 percent of it from going to a landfill, Hargrove said.
"Everything but the sheet rock can be reclaimed," she said.
Wood, bricks, doors, flooring, windows, countertops, appliances and most other features of a house can be resold and reused, she said.

In comparison, most house wrecking companies scoop 90 percent of the contents off the slab and send it straight to garbage sites, she said.  
The green movement is proving a boost in business, Hargrove said. This month alone the company reclaimed the contents of three houses, a practice that also can save the property owners money over traditional wrecking, she said.  In addition, Orr-Reed will buy or give store credit to the public for bringing in old doors, windows, appliances or other household items.
The company is also looking for local artists to help show what can be made out of found objects and will provide studio space at the salvage yard.

Consumers can check out  Orr-Reed Wrecking Company  1903 Rock Island St  Dallas at its website, www.orr-reed.com or call 214-428-7429.
Other architectural salvage warehouses in DFW include:
•     Discount Home Warehouse at 1758 Empire Central, Dallas 214-631-2755, www.dhwsalvage.com
•     Seconds & Surplus, with locations in Dallas, Richardson and Grand Prairie, 800-323-2427,  www.secondsandsurplus.com
•    Old Home Supply House  at 1801 College Ave., Fort Worth, 817-927-8004; Old Home Supply on Facebook).
---
Sign up for the weekly Green Source DFW Newsletter to stay up to date on everything green in North Texas, the latest news and events.