Runners break out of the starting gate at the Green Source DFW Run for the Environment on May 21, 2016 at Bachman Lake Park. Photos by Karl Thibodeaux. See slide show on link below.
May 24, 2016
The Texas weather gods delivered perfect weather for the second annual Green Source DFW Run for the Environment on Saturday. The 5K run/walk, hosted by the Memnosyne Institute, drew more than 100 greenies to Bachman Lake Park.
The winner of the run was 13-year-old Martin Chavez, a student at Santa Clara of Assisi Catholic Academy in Dallas. Chavez said he runs races every weekend but admitted he was hoping to shave more seconds off his time.
"I didn't beat my PB [personal best]," said Chavez.
Martin Chavez crossed the finish line first.
He came in at 17 minutes 49 seconds, just over his record of 17 minutes 40 seconds. Still he outpaced by 5 minutes second place winner 28-year-old Allen Smith of Dallas. Third and fourth place winners Chris Finley and Jillian Mock were close behind. [See complete race results.]
In addition to the trotters, a group of walkers headed out of the starting gate for a 1-mile stroll. Connie Nolen of Arlington brought her binoculars and got a little bird watching in while she walked.
Several people were accompanied by their pooches.
After the race, participants chowed down on pizza and salad from Joe's New York Style Pizza, Pasta and Subs in Carrollton, along with fruit and organic snack bars from Kroger. To the delight of veggies lovers, a vegan table included no-cheese pizza, veggies and hummus from Zoe's Kitchen.
The event wrapped up with awards presented by Wendel Withrow, run organizer and director of the Memnosyne Institute's Center for the Environment. The top prize was a $25 gift card from Snappy Salads. Winners from each age group received backpacks from the Sierra Club and water bottles.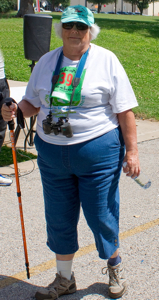 Before and after the race, event goers perused booths. Vendors included the city of Dallas' Cease the Grease Department, Dolphin Blue and the Salt Cave in Southlake. The Texas Honeybee Guild educated visitors on the benefits of protecting pollinators. In addition, Joan Meeks of Commodity Recycling Services collected olds shoes and electronics for recycling.
The event ran smoothly thanks to the Cox Racing Services crew with help from Bank of America's green team. Cheery BOA volunteers swarmed the venue, stuffing swag bags for race participants, putting up banners, moving tables as well as helping with clean-up of the event.
Walker and bird watcher Connie Nolen.
---
Sign up for the weekly Green Source DFW Newsletter to stay up to date on everything green in North Texas, the latest news and events. Follow us on Facebook, Twitter and Pinterest.