Oct. 31, 2016
A woman walks into a bookstore . . . No, wait. The woman owns the bookstore and now she's bought a hardware store.
It makes perfect sense, right?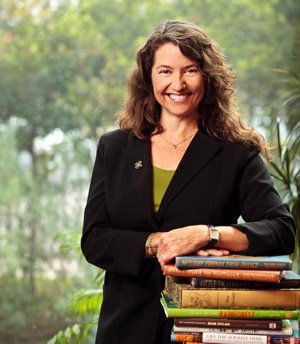 It does when you hear the story: The woman, Sharon Anderson Wright, is the book store owner. Actually, she owns 125 book stores as the CEO and president of Half Price Books, the fabled Dallas used book and record store begun by Wright's mother Pat Anderson and Pat's partner Ken Gjemre back in 1972.
Sharon Anderson Wright. Courtesy of Jason Kindig.

Today, with Wright at the helm since 1995, Half Price has spread around the country faster than Stephen King can outline a novel. The chain has more than doubled its outlets in the past 20 years, with locations in 17 states. Wright, meeting with me at the expansive but spotless flagship location and executive headquarters on Northwest Highway in Dallas, says it's a bustling period for Half Price. But at the same time, she describes the store as a "well-oiled machine" run by veteran staff that long ago figured out what they were doing. Plainly, the business model is working.

Which brings us to that hardware store – that would be Rooster Home and Hardware, previously known as Gecko Hardware, also on Northwest Highway, but in the Lake Highlands area of East Dallas.

Wright, who lives in the neighborhood, began spending time at Gecko a couple years ago. Along with books, she's got a penchant for hardware and "fixing things," she says, noting that she's refurbished tack for her horses and is a crafter who makes jewelry and block cut art prints. She's a vegetarian and a locavore, too, so she enjoyed the local offerings at the green-oriented Gecko.

Andrea Ridout, the owner and manager of Gecko, proved to be another attraction. Ridout, who's owned and run other businesses and had hosted a green living radio show for Mother Earth News, was working hard to make Gecko a destination for urban homesteaders, a unique place that was one-part hardware and one-part DIY supplies for the back-to-the-earth crowd.
Wright and Ridout hit it off, becoming friends over their mutual interests in healthy living and retail.
Andrea Ridout and George the Rooster. Courtesy of Ridout.

"We had a ball together," said Ridout. "There aren't that many women business owners that are in this sort of thing."

Wright's daughter Ivy also enjoyed Gecko with its local crafts, honey, cottage foods and living, crowing mascot, George, a rust-colored Buff Orpington rooster. The Wrights would drop in on weekends after Ivy's art classes nearby.

"We just kept going over there playing and working," Wright says. "Ivy, she grew up in Half Price Books, so she'd start straightening up the shelves."

Gecko had opened with much fanfare and enormous early success in mid-2013, Ridout says. It even won an award for best new hardware store to open in the nation. But by 2015, the store was facing financial troubles brought on by a weird confluence of a bad weather spring that dampened gardeners needs and the opening of two nearby hardware competitors.

"We had four terrible months, and it just socked it to us," said Ridout, who by then was the only remaining manager of the original investors.

Wright, by now more than a customer, stepped in to help. She suggested strategies and searched for unique products at Dallas Market Hall to improve Gecko's offerings. Her retailing instincts told her that the store had more potential than it was realizing. Perhaps, too, she had a soft spot for hardware. Wright mentions that her father had worked for a time selling hardware, tools and paint as a traveling salesman.

But finding investors to help Ridout keep the store open proved elusive. A GoFundMe campaign raised $10,000 and a small initial investment from Wright helped, but couldn't keep the enterprise fully afloat.

"Finally it got to a breaking point, it was going to close," Wright said. "When I was talking to Ivy about it, she said she had a lot more fun working in the hardware store than the bookstore. She loved going over there and working."

So Wright weighed the challenge and risks against the promise of taking on the store and decided to dive in. In September, she bought the store's assets, along with her sister, a silent investor. Gecko officially became Rooster Home and Hardware and plans are swirling for its re-invention.

"We're going to be local. We'll carry local products, invite people in," Wright explains in a rush of words. "It will be a gathering place. We're going to build a cuter environment for the chicks, George and Gracie's, to play in…where they can have little ramps and houses. So it will be a great place to bring the kids."

Gecko was always fun to visit, but now there'll be even more to see and do, promise Wright and Ridout, who is remaining as a marketing advisor and handler for George. All 12 current employees are remaining, and the staff will include a newly hired manager and another new employee with bee-keeping experience.

The store plans to bring in experts for backroom classes and offer best-in-class products for all those re-emerging homemaking activities that are captivating millennials and boomers, such as canning, organic gardening, composting, beekeeping and chicken-tending. Wright digs out a catalog from a satchel jammed with papers to show some of the latest portable urban hen houses – they're pretty highly evolved -- and a set of crockware that would appeal to cooks. Finding unique and local goods will be vital, she says, though she also has ideas for a couple items from crafters she knows in Mexico, including handmade hammocks.

Although Wright runs a landmark bookstore chain with $260 million in revenues, she says the prospect of operating a local hardware store, albeit not as the day-to-day manager, both "freaks me out and excites me."

As we talk, it seems like the excitement is winning out over the anxiety.

Wright says she wants Rooster to rival Wild Birds Unlimited with its offerings of bird feeders and houses; to rival Whole Earth Provisions with its useful gee-gaws and toys.

Rooster also will fulfill its mission as a full-service, True Value-branded hardware supplier to the neighborhood with all the usual supplies – tools, screws, lightbulbs, water hoses, air filters, laundry soap, charcoal and paint. These items will be arranged around the perimeter of the store, Ridout said.

George, who's something of a local Internet celebrity already, and his betrothed, Gracie, will occupy the center stage, with the latest homesteading offerings clustered around that main display in the 15,000 square foot store.

"The urban homesteader is our focus and our target, plus anyone who's trying to add a little green to their life, and also our neighborhood, we want to serve them," Ridout says.

And in case you've been wondering, yes, Rooster does share key qualities with the brand Wright knows best. She puts her finger on it effortlessly:

"We have giant hardware stores all around (Rooster) and we have TreeHouse (an eco-friendly home store) coming in (to Dallas), but we're going to offer something that's local and personal -- kind of like Half Price Books. You know, all of our stores are personal because 70 percent of their inventory is created by the neighborhood that they're in. They bring the books in and we sell it back to the neighborhood."

Wright believes a similar neighborhood synergy will spur success for Rooster Home and Hardware, just as it has Half Price Books.

"I look at it as the Half Price Books of hardware stores," says Wright.

Only in this case, instead of reading tables, there'll be potting benches. In lieu of stacks of shiny magazines, there'll be rows of colorful eco-paints. And instead of record albums, there'll be, perhaps, roto-tillers. (Get it, they both spin?)

There will also certainly be occasional pesky people talking too loudly in the next aisle. That's a given. But maybe George the Rooster will crow and make them jump.

Rooster Home and Hardware will have an official grand opening celebration in December at its store at 10233 Northwest Hwy, #409, Dallas, TX 75238. The public is invited.
Half Price Books is a finalist in the 2016 Green Source DFW Awards.
RELATED STORIES
Gecko Hardware founder Andrea Ridout to launch new eco-friendly radio show
Eco-friendly Gecko Hardware in Dallas seeks community support to stay open
Austin-based TreeHouse to bring premium green home improvement products to Dallas
---
Sign up for the weekly Green Source DFW Newsletter to stay up to date on everything green in North Texas, the latest news and events. Follow us on Facebook, Twitter and Pinterest.