Comerica bank launched its pilot shred site program in April. Courtesy of Comerica.
Aug. 18, 2023
You can toss used or discarded paper into curbside recycling bins to keep it out of the landfill. But most people want their sensitive documents shredded first.
Some cities and businesses offer free paper shredding events. Unfortunately, those events are typically held only a few times a year. 
Now a Dallas-based bank is filling that niche by offering year-round drop off locations to dispose of sensitive documents safely and out of the landfill.
In April, Comerica Bank opened 15 shred drop-off sites, with locations in Dallas, Plano, Frisco, Richardson and Garland.
"ShredSite is great opportunity to serve our local communities and offer a safe alternative to destroying sensitive information, while also helping our environment with sustainability through recycling," said Andrew Raines, Comerica Bank SVP Retail Regional Director for North Texas, Arizona and Florida. 
The pilot program is a partnership with Iron Mountain, an information management provider, contracted to safely destroy the material. The processed materials are transported to paper mills to be turned into pulp for recycled paper.
"Iron Mountain has been a great partner of ours for many years, and they are the industry leader in shredding security," Raines said.
WHAT SHOULD YOU SHRED?
Security experts recommend shredding anything that contains sensitive information (name, address, Social Security numbers, account numbers, etc.) that you no longer need. Shredding will keep these documents out of the hands of thieves or "dumpster divers," according to Comerica's website. 
Some examples include old utility invoices, bank statements, medical records, credit card offers and old tax documents (older than 7 years).
You can bring up to five banker size boxes of paper documents in a single visit to a Comerica shred site. But note the contents will have to be squeezed through the two inches tall by 16 inches wide opening of the bin. 
The material is not shredded on site but the ShredSite bins are securely locked and located within a banking center where staff are present. The bins are emptied weekly.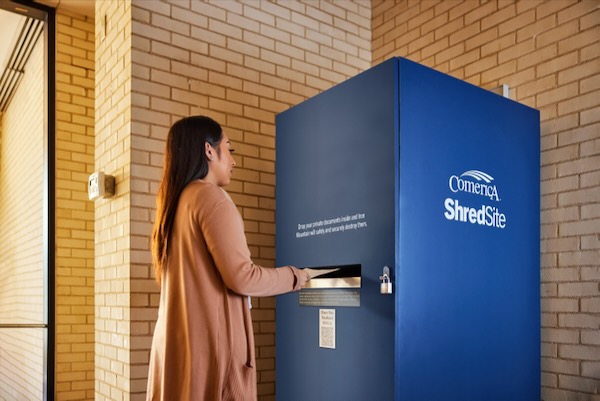 Comerica's shred sites are located inside banking centers. Courtesy of Comerica.
SUCCESSFUL START
As the program continues to build momentum, the company will consider expanding to other North Texas cities.
So far the shred sites have been popular. 
"We've received very positive feedback from the local community," said Raines. "Many know and love our annual Comerica Shred Day, but they really appreciate having another alternative throughout the year for day-to-day shredding needs. We know of at least one location that has gone through four bins already in just over two months. Original expectations estimated one bin collected every two months." 
See list of Comerica Shred Sites here. Comerica also hosts an annual shred day in April at the Iron Mountain Shred Plant.
---
Stay up to date on everything green in North Texas, including the latest news and events! Sign up for the weekly Green Source DFW Newsletter! Follow us on Facebook,Twitter and Instagram. Also check out our podcast The Texas Green Report, available on your favorite podcast app.