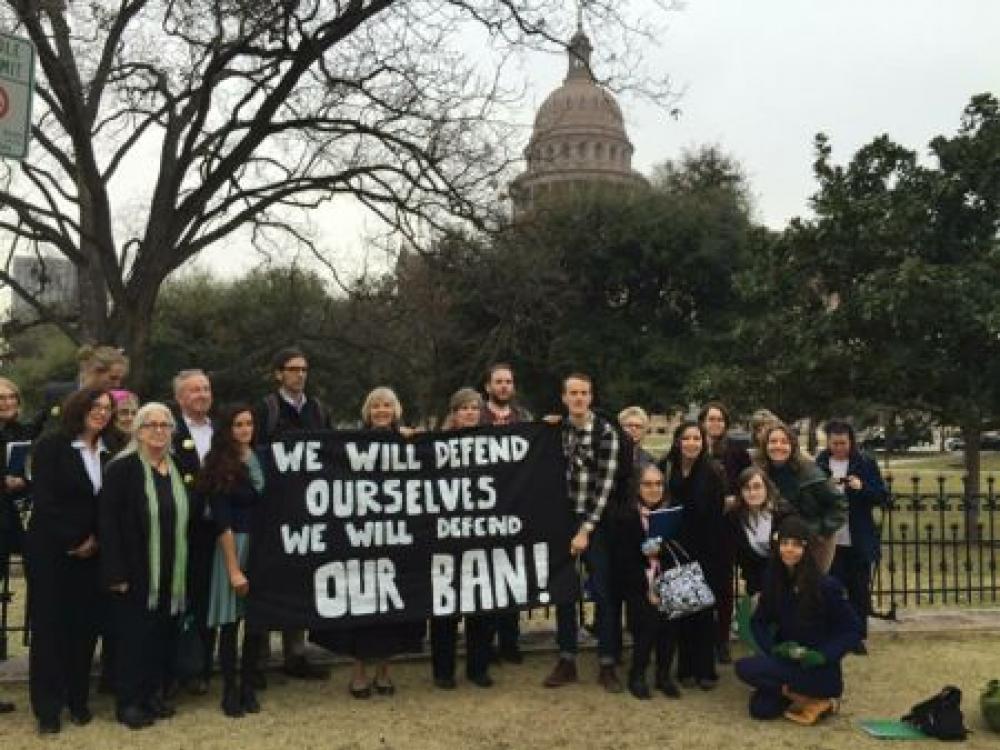 Dentonites joined others from across Texas to speak to elected officials about bills that threaten local control at the Texas State Capital in March. Courtesy of Frack Free Denton.
April 1, 2015
The 84th Texas Legislature began hearings March 23 on the first of a flood of bills, of which 60 percent related to the environment were listed as adverse to public health, safety and natural resources by environmental citizens action group Alliance for a Clean Texas.   
ACT's tally of bills that could be termed "black" or "gray" vs. "green" (not their labels) totalled 34 to 21. 
The most controversial so far, HB 40 and companion SB 1165, were voted out of, respectively, the House Energy Resources Committee on Monday, and the Senate Natural Resources and Economic Development Committee on March 23. They would abrogate entirely the rights of Texas cities, counties and municipalities to regulate oil and gas operations within their boundaries.  
Graphic: A call to action from Local Control Texas, a program spearheaded by Texas Campaign for the Environment in opposition to the legislation.
"An oil and gas operation is subject to the exclusive jurisdiction of the state," says HB 40.   
Committee approval this week came only after revisions prompted by heated questioning by mayors and attorneys of affected cities, including Dallas, Denton, Arlington and Mansfield, and appeals by residents who have lived with the effects of hydraulic fracture drilling, or "fracking" in Irving and Denton.
After clearing committee, bills are then calendared for floor debate, and ultimately called to a vote sometime between May to the session's June end date. Possible delay along the way could forestall a vote.  
"I've seen [disputed] bills [rescheduled] over and over until the session ended without a vote," says Rita Beving, a Dallas-based member of ACT.  
Other environmentalists are less sanguine.  
"Legislators really seem determined to get this passed," Zac Trahan, director of Texas Campaign for the Environment's DFW office, reads the mood at the Capitol. "It's a hot, hot issue. Tons of people from nonprofits, industry, cities and citizens are responding."   
Members of the Texas Municipal League weighed in, mayors and attorneys who question the legality of the state's override of local control.
At least 20 North Texas residents spoke at HB 40's hearing last week, by Beving's count. 
Motivating speakers was the threat of experiences like those of Dentonites before the city's fracking ban. One-time Denton resident Sharon Wilson, now of Plano, depicts thousands of people living with open burning of toxic gas flares on park land—drilling close to homes, schools, churches, businesses—and

fumes and all-night glaring lights and noise from heavy equipment and massive trucks.
A gas well sits less than 400 feet from a home in Denton, which became the first city in Texas to ban fracking last year. Photo courtesy of Texas Tribune/Cooper Neill.
She responded by helping launch the grassroots campaign that eventually banned fracking, and now works for the nonprofit Earthworks on its Oil and Gas Accountability Project.  
Wilson also spoke on related HB 539, which would tax cities for "loss of oil and gas revenues" caused by ordinances.
"There is a better way to recover lost oil and gas royalties for the state that doesn't involve forcing fracking in families' backyards," Wilson testified in hearing. "Oil and gas companies in the Eagle Ford… flared 34 billion cubic feet of gas in 2013. That is, wasted 34 billion cubic feet of marketable gas…The state should tax the industry for wasted product they spew and flame into our air."  
Speakers on HB 40 included Cathy Wallace of Irving, who lives within one mile of two frack operations.   
"The neighborhood takes a beating. On the second floor of our pier and beam house, you can feel it sway with the tremors. The house has cracked and shifted since last November, especially in January during the swarm of quakes…"
A self-described "person who doesn't get up and speak in front of people," Wallace travelled to the Capitol with other concerned citizens to register her position. "Doing nothing is not good for me."
If doing nothing is not good for you, opportunities abound to become informed, follow these issues and phone, write and visit your legislators. You won't be alone.
Fifteen grassroots environmental, faith-based and public policy organizations have formed Alliance for Clean Texas to help concerned citizens weigh in on the local control process and other environmental bills of concern. 
• For a menu of actions you can take, visit localcontroltexas.org.
• For weekly bill alerts on environmental legislation, sign up at acttexas.org. 
• ACT signup also provides participation in live weekly legislative updates by free conference call, Sunday nights at 7 p.m.
• To learn more about local control bills that affect not only oil and gas ordinances, but also tree ordinances, bag bans, LGBT issues and more, access localcontroltexas.org, a program of Texas Campaign for the Environment. 
SEE UPDATES ON HB 40 
---
Sign up for the weekly Green Source DFW Newsletter to stay up to date on everything green in North Texas, the latest news and events. Follow us on Facebook, Twitter and Pinterest.