• Last year, the U.S. Forest Service locked the gate to significant areas of Lake Fannin Park, a wilderness gem on the Red River
• As a result, volunteers who restored the historic park have been unable to continue.
• Efforts are underway to transfer the land to county control.
• An immense waterfowl reserve along Red River being planned could save the park.
Aug. 4, 2014
By Amy Martin
Imagine a cool, spring-fed lake lined with cattails atop a 150-foot bluff of the Red River. Prairie grasses wrap the water, sheltering doves and ground birds. In the pine and oak woods, songbirds regale all day, and owls take flight at night. Nestled next to the lake, 1930s red-brown stone cabins, campsites and a lodge boast epic views. A bike-and-hike trail loops the lake, offering an ambling tour of these wonders. 
Above, 1930s cabin on Lake Fannin. Courtesy of Allen Rich, NTXE-News.com.
On the long, deep slope leading down to the river, the area retains a wild quality. Eagles perch year round in the towering river bottom trees. Deer seek shelter amid the deep wetland thickets of roughleaf dogwood. An occasional black bear roams. 
This magical scene is the 75-acre Lake Fannin and its 1,700-acre surroundings. A gem of nature and history, it's located north of Bonham in Fannin County along the Red River. Just 90 minutes from Dallas, its serenity is convenient for North Texans to enjoy. 
Or rather it was.
The People's Park 
Gabe Parker's roots in the area go back to 1891. The Texas native and president of Lake Fannin Volunteers operates the Homestead Winery, using grapevines planted by his grandfather. Sitting beneath the trees in front of his showroom in the tiny town of Ivanhoe, Parker shared his thoughts.  
"We want it to be open so we can do things out there that make it more appealing for visitors, and we want to preserve what we have," said Parker. "Open and preserve."
Lake Fannin was created in the mid 1930s as a Rural Resettlement Administration project spearheaded by Representative Sam Rayburn. During the 1940s and '50s, Rayburn became the ultra-powerful and longest tenured Speaker of the House. By bringing desperately needed tourism dollars to the area, Lake Fannin is considered part of Rayburn's local legacy. U.S. Forest Service operates it as part of the Bois d'Arc Unit, the northern section of the Caddo National Grasslands. 
Above, Lake Fannin boat house, circa 1940s. Courtesy of LakeFannin.org.
Lake Fannin faded in the 1940s with the creation of huge Lake Texoma in adjacent Grayson County. It was closed to the public in 1954, though in the 1970s, the short-lived Youth Conservation Corps setup shop for a few years. In the 1980s, only an onsite caretaker was on hand to keep vandals at bay.
In the early 1990s, the caretaker vacated and in 1998 the Forest Service considered an offer by a home developer to trade Lake Fannin for some undeveloped property near the southern section of the Caddo National Grasslands. An outraged public pushed back and volunteers became determined to restore the park. In the early 2000s, the lodge and adjoining compound were added to the National Register of Historic Places.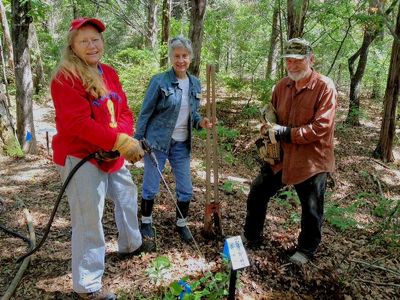 Lake Fannin Volunteers completely restored four of the 16 historic cabins and partially restored two more, plus the bathhouse, caretaker's cabin and dozens of camping sites. The lodge was cleaned up and rented out for special functions, bringing in much needed money for park improvements. The newly improved group campsites, said Parker, transformed Lake Fannin into the "go-to camping spot for Metroplex scout troops," adding that Eagle Scouts were integral to the site's renovation
Above, members of the Bois D'Arc Master Naturalist Chapter at work improving Lake Fannin Park. From left, Joan Snider, Dolores Womack and Mahlon McCall. Courtesy of the club.
"We have a core group that's real dedicated and a community that cares. Over 600 showed up for our Lake Fannin benefit last month. That raised $10,000 which we put in a bank account solely to improve the park," said Parker. "Our roots are here. We're not going anywhere. Our group has some of the area's biggest business leaders, county officials, city officials and citizens. We want Lake Fannin to work."  
Coordinated and assisted by Lake Fannin Volunteers, work crews from the nearby state prison and from the county government cut down trees that grew up on the lake dam. On the east side, volunteers cleared invasive junipers and cedars from acres of oak and pine savannah that now await prairie restoration. In 2009, a four-mile-long meandering bike-and-hike trail debuted that crosses 36 small picturesque bridges as it loops the lake.
Above, a hike-and-bike trail bridge at Lake Fannin. Courtesy of Allen Rich, NTXE-News.com.
Stopped! 
All that came to a halt in spring 2013 with the U.S. Forest Service edict, closing the lake's historic west side until Aug. 31, 2015. Issues cited include drought-killed trees in danger of falling and structures requiring repair that volunteers had not yet finished. The Forest Service also declined to renew the Concession Agreement with Lake Fannin Volunteers that allowed them to rent out the facilities. Use of the lodge now requires a special-use permit from the Forest Service. 
The core issue at Lake Fannin is regrowth of trees whose roots may be weakening the dam. Parker said the Forest Service has forbid volunteers (even those that are licensed sawyers) from using chainsaws unless a lengthy course is taken —  an impossible bar to ask a volunteer to jump. 
Right, Lake Fannin Volunteers president Gabe Parker, courtesy of the Fannin County Leader.
"There's a lot of things that need to be done out there. They have to be taken care of on a regular basis and the Forest Service just does not have the manpower or the money to do that," Parker said. "Why not let us help?" 
The Big Vision   
An epic wildlife habitat vision is developing for the Red River riparian corridor in North Texas that may save Lake Fannin. On the western end in Grayson County is the vast Hagerman National Wildlife Refuge on Lake Texoma, home to thousands of waterfowl in peak seasons. On the eastern end in Lamar County is the Gambill Wildlife Refuge and Pat Mayse Lake State Wildlife Management Area, also home to winter waterfowl populations.
Above, Whooping cranes at Hagerman National Wildlife Refuge.
In between is Fannin County and the 16,526-acre Lower Bois D'Arc Creek Reservoir being planned by the North Texas Municipal Water District and scheduled for completion by 2021. 
Environmental regulations require that Bois D'Arc Creek bottomland habitat lost to the lake be mitigated with the purchase of a similar ecosystem. The NTMWD bought the 15,000-acre Riverby Ranch, which spans nearly eight miles of the Red River. It includes 2,693 acres in a USDA Wetlands Reserve program. NTMWD plans to at least double that acreage and plant around 1,350 acres of bottomland hardwood trees. Once complete, a public entity such as U.S. Forest Service or Texas Parks & Wildlife Department will take over management for public use.  
All these wetlands and lakes along the Red River, plus the other regions of the Bois d'Arc unit of the Caddo National Grasslands – Lake Crockett and Coffee Mill Lake – combine to create a migrating waterfowl nirvana. Parker hopes that all involved will see Lake Fannin as being vital to this visionary plan. He sites its facilities as being of need to future reservoir visitors and its one-mile of wild river frontage as an important link between Riverby and Lake Texoma waterfowl habitats. 
"We hope that everyone involved will do the right thing by Lake Fannin" said Parker.  
The Immediate Future    
In the meantime, Lake Fannin is falling apart. 
"It's a unique park on so many levels and a significant part of our history in Fannin County," said Parker. "It would be a huge shame to see that go." 
Right, 1930s cabin at Lake Fannin Park. Courtesy of Allen Rich, NTXE-News.com.
To reopen it sooner, Fannin County government officials, led by County Judge Spanky Carter, are working with Congressman Ralph Hall to transfer Lake Fannin from the Forest Service to the county. The highly complicated bureaucratic shuffling also involves permission from the Texas Historical Commission.
It's a lot to come together, said Parker.
"But two years ago we didn't even have that," he said. "It's my hope that there's a way to make all these things happen so that everybody gets what they want."
The final piece of saving Lake Fannin is generating a strong interest from the North Texas environmental community and nature enthusiasts. Once visited, its deep natural serenity is inescapable, a quietly restorative feeling that keeps its fans coming back. 
"It's got to be the people's park," said Parker. "People need to know what might be lost here. It's our own Walden Pond."    
Visiting Lake Fannin 
Day trip: Combine a day hike, or canoe or kayak float trip, at Lake Fannin with a scenic drive though the rest of the Bois D'arc Unit of the Caddo National Grasslands, featuring Lake Crockett and Coffee Mill Lake. Take a picnic or stop in Bonham for a meal.  
Overnight camping: Camp at Lake Crockett and Coffee Mill Lake, or the nearby Bonham State Park, for more hiking, biking and boating. 
Area attractions: Recommended restaurants in Bonham include Luna Azul and Shumardi's Steakhouse. Granny Lou's in Bonham is an excellent B&B. The local museum is surprisingly good, including an exhibit on the bois d'arc tree (also known as horseapple or Osage orange), which originated in the county, and groundbreaking jazz guitarist Charlie Christian, who was born in Bonham. Fannin County tourism entities, below, have more info. 
Directions to Lake Fannin: Proceed on US 78 north of Bonham until FM 273. Turn east/right and continue through the tiny town of Ivanhoe, where the general store offers supplies and a grill café. Check the Homestead Winery next door to see if the tasting room is open. When FM 273 curves to the east/right, look for Park Road 34 on the left. Turn there and take the next right, CR 2035. Veer left when CR 2035 forks to access the open east side of Lake Fannin with trailheads and primitive camping areas. The road ends in a day use area with a slope for loading in canoes and kayaks. Visitors are free to take the right fork for beautiful views of the lake, but the road ends in a locked gate.
Fannin County Tourism 
KXII News Story: Fannin County Residents Upset Over Locked Lake
---
A journalist and writer of over 30 years experience, Amy Martin was recycling columnist for the Dallas Morning News and contributing editor of Garbage magazine. For two decades she organized Winter SolstiCelebrations and other events as director of Earth Rhythms and operated the Moonlady News service. Her column "Norh Texas Wild" appears monthly in GreenSourceDFW.org. She may be reached through www.Moonlady.com. 
Sign up for the weekly Green Source DFW Newsletter to stay up to date on everything green in North Texas, the latest news and events.