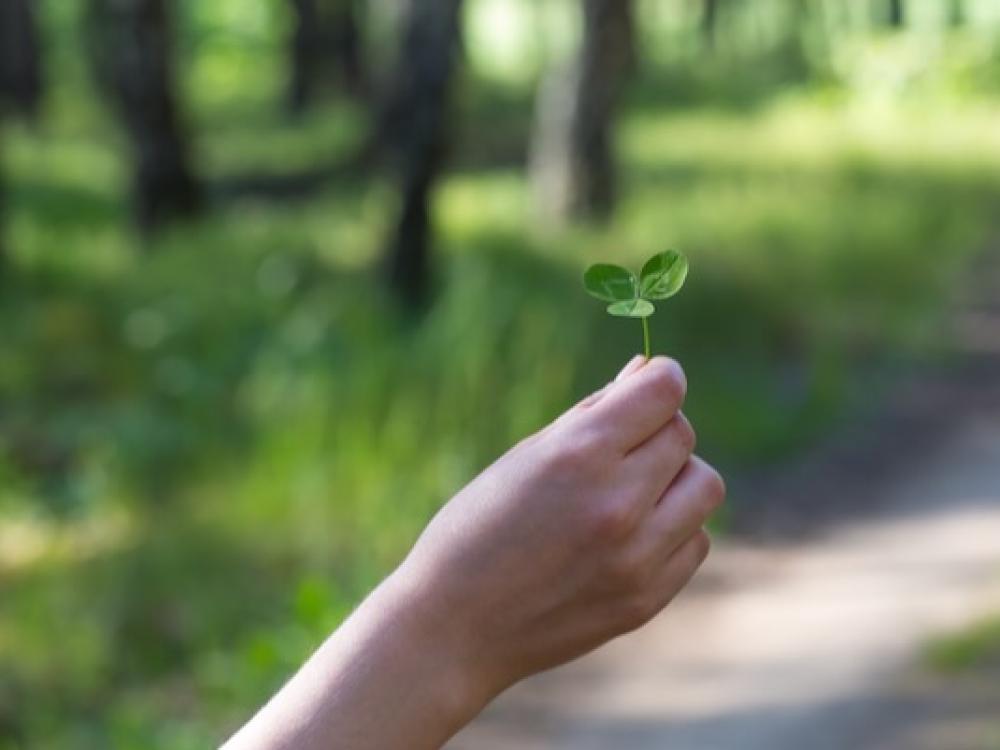 Show your Green Pride next Friday, March 17. Photo courtesy of Storyblocks.
March 10, 2023
Everyone is a little bit green on March 17 — so embrace your inner Irish by going even more green on this special holiday!
There are several ways to celebrate a more eco-friendly St. Patrick's Day but here are 10 ideas to get you started!
SHAMELESS SHAMROCKS
Instead of buying new Irish decor, try to reuse what you already have or make your own decorations using upcycled or recycled materials. 
A few years ago, my dad gave me an adorable St. Paddy's Day bowler hat. I have saved it and used it as a table centerpiece every March 17, along with Irish tartan tablecloths and napkins. 
Learn how to make this St Patty's Rag Wreath. Courtesy of the Magic of Ordinary Things.
You can also make decorations out of thrift store finds. Make wreaths or pillows out of old t-shirts, ribbons or felt. Your friends will be green with envy! Read this tutorial on how to make a St. Patty's Rag Wreath.
GREEN YOUR GLITZ 
Avoid traditional plastic glitter whether it's in makeup, decor or artwork. According to Discover Magazine, Glitter Really is Bad for the Environment. 
Biodegradable glitter. Courtesy of Unicorn Snot. 
The cute but nasty microplastic sticks to literally everything and lasts for decades in our soil, waterways and food. 
There are some new environmentally friendly options available, such as Unicorn Snot's bio-based line, made from bio-based glitter that dissolves in just a few months rather than many years. Plus we just love the name!
Visit Unicorn Snot and search for their bio-based products.
MEATLESS MASH
Craving some hearty Irish stew or corned beef hash? We all love those stick-to-your-ribs meals to celebrate our Irish (or adopted Irish) heritage, but the environmental impact from the meat industry is out of this world! 
Why not choose meat alternatives instead? 
Here is an amazing vegan Irish recipe idea that will please your palate and the planet. 
Try this vegan Irish stew recipe from LiveKindly.com.
TWO FOR TEA
British Emporium in Grapevine has a few Irish goodies. Courtesy of British Emporium. 
When planning your St. P's Day menu, shop for locally sourced food and drinks — and you'll kill two birds with one Irish stone: Not only will you support local businesses, but you also reduce your carbon footprint from shipping out-of-area products unnecessarily.
Here are two local shops with inventory sure to charm — the British Emporium in Grapevine and Dallas-based Pretty Things and Cool Stuff.
Sheela Bailey, owner of the British Emporium, where we buy all of our British tea, gave us a few tips: "My mother always used to sprinkle her spent tea leaves under her rosebushes because she said it made them more fragrant." 
She posited that perhaps that's where the term "tea rose" comes from! Sheela also encourages her shoppers to bring in their own shopping bags like her mum always did back in the old country. "Reduce, reuse and recycle," she quips.
The store features a few Irish items including the cute Irish mugs and loose Irish tea, pictured above. See more at the British Emporium.
This green single cup tea pot is from the Dallas-based Pretty Things and Cool Stuff online shop. 
Meanwhile, you'll find lots of fresh ideas in the online shop Pretty Things and Cool Stuff, owned and operated by Dallas greenie Kim Young. 
Enjoy a cup o' tea from this one-cup tea pot, designed in Liverpool, while you peruse Young's carefully curated site. $13.50.
DITCH THE DYE
The dyes used in many popular St. Patrick's Day products are laced with chemicals that most of us cannot even pronounce. 
Instead skip the chemistry class and choose more natural green food and drinks.
Try the Spinach Blueberry Banana Smoothie recipe from Our Plant Based World.
Here's a recipe for a healthy and yummy green smoothie. We add peanut butter too for a real Irish morning pick-me-up!
CELTIC CHIC
These eco-friendly place settings from a green wedding held in Fort Worth last year feature recycled glassware. Photo by Gwendolyn Meador.
Banish single-use plastic or plastic-coated plates, cups and utensils! Instead opt for reusable dishes and dining utensils. 
One fun idea is to buy random mismatched plates at thrift stores and dress them up with cloth napkins and mason jar glassware tied with a green or raffia ribbon. 
SCRAP THE SOLOS
Open Nature products offer eco-friendly alternatives to single use plastic dinnerware. Courtesy of Safeway.
Did you know that most paper plates, plastic drink cups and disposable flatware end up in the landfill? 
If you absolutely must choose single-use dinnerware, opt for a compostable grouping such as Open Nature brand that can be found at most grocery stores and even on Door Dash and Instacart. 
We've also ordered quite a bit from Green Paper Products, especially for larger gatherings. The site offers bulk quantities.
Ball Corporation sells an aluminum drink cup that can be reused or recycled.
Though many of their plates and cups are rated for commercial composting, we have had good success with them in our backyard bin.
Ball Corporation aslo makes reusable and recyclable aluminum cups, which can be purchased at select DFW-area Natural Grocers or online at 30 for $25.
GET OUTDOORS 
A field of yuccas line the Canyon Ridge Trail at Fort Worth Nature Center and Refuge. Photo by Julie Thibodeaux.
Plant a tree, begin a garden, visit a local arboretum, or simply take a hike and have a picnic at a nearby lake or park.
Sometimes the simplest activities can be the most memorable!
Check out Amy Martin's Hiker's guide to dirt trails in DFW for inspiration.
GAS-FREE GAELIC
If you're planning on going out to celebrate, consider walking, biking or catching a bus or a train instead of driving your own vehicle.
Taking the Trinity Railway Express or the TexRail between Downtown Dallas and Fort Worth or to Grapevine is a fun way to get to your destination. See a list of stations.
Another option is to carpool with friends or family. Either one reduces carbon emissions and helps to lessen traffic congestion.
The Dallas St. Patrick's Day Parade will be held on March 11 at 11 a.m. on Greenville Avenue. Cowtown Goes Green will be held on March 18 from 10 a.m. to 8 p.m. in the Fort Worth Stockyards.
The TexRail runs between DFW Airport and Downtown Fort Worth with stations in Grapevine and North Richland Hills. Courtesy of Ken Fitzgerald, Visit Fort Worth.
GIVING GREEN
Consider making a donation to an environmental or animal rights organization in honor of St. Patrick's Day.
This is a great way to show your support for the planet while getting everyone in the family involved in choosing a different recipient each year!
Here's just a few to consider of the hundreds of  nonprofits making a difference in North Texas and across the state:
Friends of Tandy Hills Natural Area; Native Prairies Association of Texas; Rogers Wildlife Rehabilitation Center; Rowdy Girl Sanctuary, Texas Campaign for the Environment; and Earth Share Texas.
The natural world is our planet's wealth. Image courtesy of Storyblocks.
RELATED ARTICLES
North Texas couples wed with green style
Valentine's Day is chance to show love for Mother Earth
---
Stay up to date on everything green in North Texas, including the latest news and events! Sign up for the weekly Green Source DFW Newsletter! Follow us on Facebook and Twitter. Also check out our new podcast The Texas Green Report, available on your favorite podcast app.