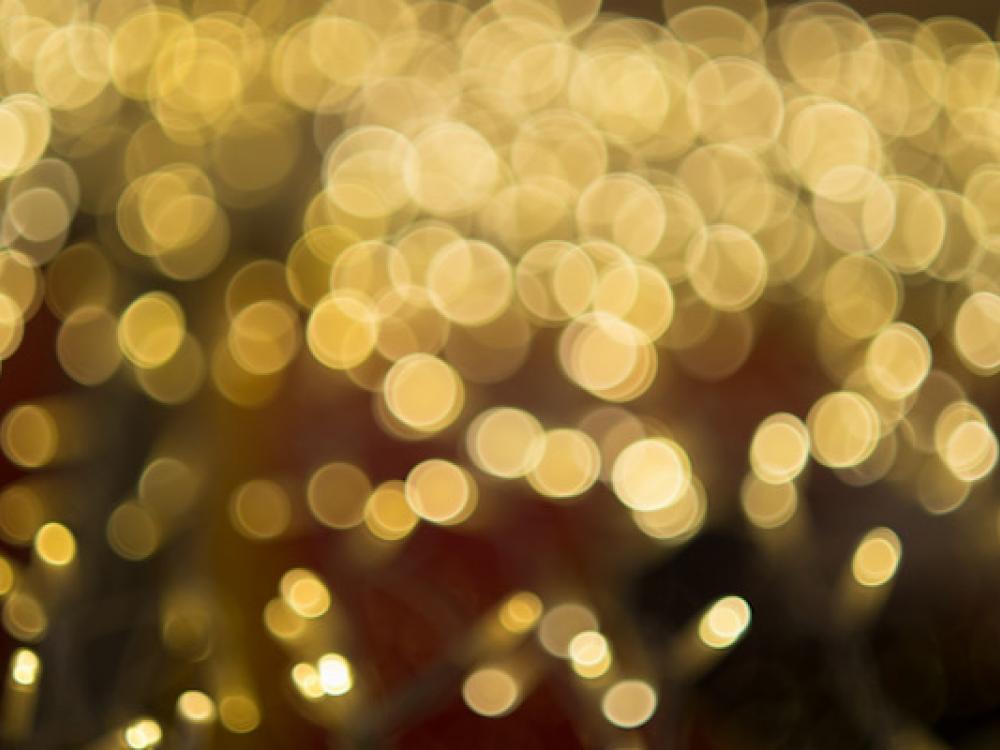 Texan by Nature is using its influence in the corporate world​ to advocate for conservation programs such as the Lights Out Texas campaign. Courtesy of Storyblock.
Aug. 19, 2022
Texan by Nature, a nonprofit founded in 2011 by former First Lady Laura Bush, acts as a mediator between companies and environmental groups to advance conservation projects. Reporter Marshall Hinsley talks to Texan by Nature CEO Joni Carswell about how the organization operates and highlights some of the group's accomplishments, including expanding the Dark Skies initiative in West Texas oil patches. Listen to more Texas Green Report episodes.
Full transcript:
MARSHALL HINSLEY: How a prominent Texan is getting corporations on board with protecting butterflies, birds, prairies, clean water and even our view of the Milky Way galaxy, in this episode of the Texas Green Report, a production of Green Source DFW and the Memnosyne Institute.

I'm Marshall Hinsley.

For more than 50 years, corporations and environmentalists have become entrenched in opposing camps anytime a company undertakes a project that could alter natural habitats or increase emissions into our air and water.

Caught in the middle are species of plants and animals being pushed toward extinction, the sustainability of our natural resources, and the health and wellbeing of whole communities.

But what if a friendly face bearing the message of environmental protection and natural resource conservation had a place at the boardroom table, getting to know the decision makers at the top level of the corporate world?

That's the strategy of a decade old conservation group started by an influential Texan with worldwide renown

JONI CARSWELL: Texan by Nature is a 501(c)(3) conservation nonprofit founded in 2011 by former First Lady Laura Bush and her friends Regan Gammon and Katharine Armstrong.

MARSHALL HINSLEY: That's Texan by Nature president and CEO Joni Carswell.

JONI CARSWELL: Texan by Nature was founded to advance conservation. We act as an accelerator for conservation groups and projects across Texas and a strategic resource and partner to industry.

MARSHALL HINSLEY: Texan by Nature works in a collaborative conservation framework with more than 100 other organizations to bring business owners, landowners and communities together to work to protect the state's wild places, native plants and animals and at-risk communities through cooperation, not conflict.

The operative phrase here is "collaborative conservation."

JONI CARSWELL: It's interesting because here in Texas, we are uniquely suited to model collaborative conservation and to really change the way business and landowners and communities interact with one another when it comes to conservation projects and impact.

MARSHALL HINSLEY: Texan by Nature does not have a specific environmental agenda, but is more of a mediator between companies and nonprofits, such as Houston Audubon, Texas A&M University, the McDonald Observatory, Trinity Park Conservancy, the Texas Conservation Alliance, Houston Wilderness, the Perot Museum of Nature and Science, and more than 100 other partner organizations.

For a little over a decade, the organization has been quietly advancing an environmental agenda on the grassroots level and in the inner circles of billion dollar revenue generating companies.

The organization's work includes the Lights Out Texas campaign in partnership with more than 40 organizations, such as Audubon Texas, the Dallas Zoo and the Cornell Lab of Ornithology, to address the harmful effects of light pollution on migratory birds in the spring and fall.

Texan by Nature has also launched the Texas Water Action Collaborative that matches companies and funding resources with conservation projects with a goal of cleaning up the water in the Trinity River.

In July of 2022, Texan by Nature joined Texans for Clean Water and Sam's Club in starting a PET thermoform recycling project in El Paso with the intent of collecting 11,000 pounds of PET plastic in the first six months — that's 11,000 pounds of disposable food packages marked as plastic number one, such as the clear plastic clam shells for packaging everything from strawberries to cake slices, as well as the lids and cups in to go orders.

The pilot project is aimed at collecting data for efforts to ramp up plastic recycling in Texas and incentivize people with cash to do the right thing while also developing practical uses for the recycled material, thus sparing, local roads, waterways and landfills from the constant flow of single use disposable plastic packaging.

Carswell says the success of projects like these in Texas exerts an influence throughout the rest of the nation and even the world.

JONI CARSWELL: Texas has the world's 10th largest economy with a GDP of 1.9 trillion dollars, leadership and multiple industries. And also with all of that industry success, we have over 150 conservation organizations operating in Texas. And even more than that, Texans have a spirit, this independence, this pride, this entrepreneurial can-do 'we are the best' type ethos. And when you put all of those together, that spirit, that individualism, that pride of state, along with industry leadership and focus on natural resources and conservation with 11 eco regions in this state, you have a big opportunity to change conservation. And that's what Texan by Nature is doing — we're bringing all of those groups together, focusing on projects that have measurable benefit and trying to replicate those across the state and even outside of Texas.

MARSHALL HINSLEY: As Texan by Nature's list of business collaborators has grown, the organizational leaders felt that their stories needed to be told. So the annual Texan by Nature 20 was launched to bring attention to the conservation work of participating Texas companies, holding them up as examples for other businesses to follow.

JONI CARSWELL: Each year, our Texan by Nature 20 actually recognizes the best of the best industry partners across 12 industries doing conservation in Texas. And a couple of examples on that front. First you have Dallas-Fort Worth International Airport. And you would not often think of an airport as a leader in conservation, but DFW Airport actually was the first in North America and the largest airport in the world to achieve net carbon neutral accreditation.

They also have a focus on zero waste and working with the community to educate the community on conservation efforts. They own a lot of land and are doing pretty incredible things with water conservation and reaching out to partner with groups to better understand how to take care of that land and and make it part of their overall sustainability goals there at the airport.

There's also smaller players like Harvest Seasonal Kitchen, which is also in the Dallas-Fort Worth area. Where they are working with local farmers and, you know, have a completely sustainable methodology for serving the public. And they're doing really interesting things with waste and with the local sourcing of all of their produce.

MARSHALL HINSLEY: Energy production company EOG resources is another honoree for offering its own expertise to landowners in renewing extraction sites and pipeline right-of-way space as prairie habitat for monarch butterflies and other pollinators in the monarch flyway.

JONI CARSWELL: We've been working with the seed industry with monarch groups, with landowners and then with EOG and their contractors to do native restoration work anytime land is disturbed for oil and gas production in the Eagle Ford Shale. And we've been working to spread education and awareness through that project, but then also broadened it beyond monarchs to focus on pollinators as a whole.

Next phase of that project will actually be to understand the benefits of this work beyond the pollinators into carbon sequestration, the impact of biodiversity for doing native restoration and the, the impact on water as well. And it's interesting, EOG has been at the forefront of this project the entire way of offering up working with their land people and their contractors to educate and to get everyone on board to do this project. 

MARSHALL HINSLEY: In West Texas, the Apache Corporation has heeded the science that calls for mitigating light pollution in order to lessen its disturbance on ecosystems around its operations and to keep the view of the night sky for the c as clear as possible.

JONI CARSWELL: As oil and gas production has grown in the West Texas area around the McDonald Observatory, light pollution has increased and the observatory has done a lot of work to educate on dark skies. And we're not talking about dark ground. We're talking about dark skies. There are things that you can do to turn lights downward choose different warmth of light, different color of lighting, choose different fixtures to actually keep the light on the ground. And Apache found that in doing this, it created a safer environment for their employees and it also reduced the glare on the rigs out there. And so Apache has provided a lot of data and a lot of best practices and worked with the observatory to spread those to their competitors and to their partners in the oil and gas industry and to all of the other industry that operates in the communities out there to follow dark skies protocol.

MARSHALL HINSLEY: Other honorees have been a HEB, Dell Technologies, Dallas Area Rapid Transit, Southwest Airlines and dozens more — all companies or organizations that in one way or another have continued to offer products and services while finding significant ways to lighten their ecological footprint.

Texan by Nature also offers community resources and recognition for individual conservation partners, like volunteers who build butterfly gardens at their local school, employees who help their companies to adopt water conservation practices or undertake a landscaping project with native plants ,and any other Texan who engages in an effective conservation project.

Sometimes Texan by Nature serves as the mutual friend between the eco project coordinators and the industries with the interest and capital to make a project happen.

Other times, Texan by Nature fills in for the operational gaps in the smaller nonprofits, offering marketing, partnership development and long-term growth strategies so that the partner organization can do a better job of accomplishing its goals.

Carswell says that the organization has above all created a sense of trust among companies, conservation organizations and individual environmentalists so that when an eco issue arises in the state, Texan by Nature can bring together representatives from the environmental movement and company decision makers to work out details for a solution before it grows into a conflict.

In this scenario, there are no losers — just conservation progress.

Because of such close company ties, critics could easily dismiss Texan by Nature as just another way for polluters to greenwash their reputation.

Carswell, however, cites a list of environmental accomplishments that the organization has been instrumental in bringing about.

JONI CARSWELL: We have built a partner network of over a hundred conservation partners in Texas. We've worked with projects that impact every single one of Texas's 254 counties. We've impacted 8 million of our 29 million Texans. And we've also had positive impact on a variety plant and animal species, water and then economic impact from these projects in the billion dollar range.

MARSHALL HINSLEY: An implicit goal of Texan by Nature is to do away with the term "environmentalist" as distinct from anyone else.

That might not sit well with some green leaning Texans, but the organization says it's working to foster protecting the planet as a value for every resident in the state based solely on a common appreciation for wild areas, wild animals, pure water and clean air in wide open spaces.

JONI CARSWELL: It's our vision that every single Texan, every business will participate in conservation. That's what it means to be Texan — you're taking care of the state. If you're going to do business here, you're going to take care of the beauty that we have, everything from desert to ocean, to forest, to mountaintops. We have an incredible state and we want to see every Texan appreciate that, take pride in it and take care of it.


RELATED ARTICLES
'Lights Out' campaign is gaining momentum, say organizers
---
Stay up to date on everything green in North Texas, including the latest news and events! Sign up for the weekly Green Source DFW Newsletter! Follow us on Facebook and Twitter. Also check out our new podcast The Texas Green Report, available on your favorite podcast app.