ABOUT BLACKLAND PRAIRIE RAPTOR CENTER

MISSION
Blackland Prairie Raptor Center is dedicated to environmental preservation through public education and the conservation of birds of prey and wildlife in their natural habitat.

ABOUT
Named after the tallgrass prairie that once covered more than 23,500 square miles of Texas from the Red River to San Antonio, Blackland Prairie Raptor Center is a rehabilitation and conservation education organization, specializing in fostering better public understanding of the relationship between birds of prey and healthy ecosystems.

BPRC is state and federally licensed:
Texas Parks and Wildlife permit #:  EDU-0207-818
U.S. Fish and Wildlife Service permit #:  MB138982-0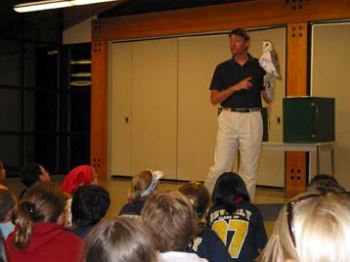 HISTORY
In August, 2004, Blackland Prairie Raptor Center was incorporated as a 501 (c) (3) nonprofit organization with a small but determined group of individuals and a common goal - to create a place where the people of North Texas could learn, experience and appreciate birds of prey and understand their importance in the environment as a whole.