Jan. 6, 2014
By Julie Thibodeaux
Remarkable things happened on the green front in North Texas in 2013, thanks to local green movers and shakers. New green businesses sprang up while eco-activists discovered strength in numbers. Here are some of the year's highlights: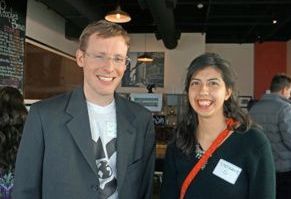 MIXING IT UP 
In January, Green Source DFW kicked off the New Year by hosting its inaugural meet up at the People's Last Stand in Dallas. We were wowed by our friends and followers! 
Right, Jeff Helfrich, coinventor of the Solecan, and sustainability graduate Stephanie Samaniego at a GSDFW mixer.
THE GREEN GOES ON
In February, sadly the Greener Good announced it would close, after three years serving as Fort Worth's premier eco-friendly shopping venue. However, its green good vibes live on in Juice Junkies, Fort Worth's first organic juice bar, which took over the spot in September.
Juice Junkies is now open at 925 Foch in Fort Worth.
FRACK TALK
Stop the Frack Attack, a coalition of environmental groups, spearheaded by Earthworks, held the Frack Attack National Summit Mar. 2-4 in Dallas.  
Organizer Sharon Wilson said the summit aimed to train people how to stand up to the powerful oil and gas corporations. 
BAG BOOT
Also in March, Dallas City Councilman Dwaine Caraway proposed a plastic bag ban in Dallas, raising the hopes that Big D might follow Austin's lead.
Later in the year, the Fort Worth Sierra Club launched its own plastic bag campaign hoping to run the urban tumbleweeds out of Cowtown in 2014.  
JUST US CHICKENS
In April, Andrea Ridout, eco-radio host of Ask Andrea on 1190 AM, and her partners Jennifer Stuart and Zach Montgomery, opened Gecko Hardware in the Lake Highlands neighborhood in Dallas on Earth Day.
The 15,000-square-foot venue carries conventional items as a True Value partner, along with green home products for sustainable living such as low-VOC paints, organic gardening products and, of course, everything you need for your coop. 
 Left, Andrea Ridout and Gecko resident George the rooster.
THE WHEEL DEAL
Meanwhile, across the Metroplex, Fort Worth launched a bike-sharing program with 30 stations and 300 bikes across the city on Earth Day.
Equipment is provided by B-Cycle, a Wisconsin-based company that provides equipment to Austin, Houston and San Antonio for their bike-sharing programs. 
Will Dallas catch on in 2014?
SEEDS OF CHANGE
In May, an international effort to call out agri-business giant Monsanto had a presence in North Texas when March Against Monsanto rallies were held in Dallas and Fort Worth. Hundreds turned out for the DFW events, joining the movement started by a Utah woman to protest the use of GMOs.
SHARK TALES
 A bill to ban the shark fin trade in Texas looked promising but HB 852 died in the Texas Senate after passing in the House.
However, Anna Clark, Dallas-based chair of the Texas Shark Stewards, noted in an email to supporters that a coalition of ocean activists was strengthened in Texas during the campaign.
"I'm disappointed about the loss, it's true," said Clark. "But we are not finished, not by a long shot. We are just getting started."  
Above, Katie Jarl, Texas director for the Humane Society; Ellis Pickett of the Surfrider Foundation; and Shark Stewards representatives Joy Benson, Kayla Ellis, Thomas Oglin and Anna Clark at the state capital. 
NO PARKING

In August, local environmental activists celebrated after the Dallas City Plan Commission denied Trinity East permits for drilling on parkland and floodplains around the Elm Fork of the Trinity River in Dallas.
Dallas City Council members Scott Griggs, Adam Medrano and Philip Kingston with TCE's Zac Trahan, right, and Jim Schermbeck of Downwinders at Risk, kneeling. 
NEW PARTNER
In September, Green Source DFW, facing a funding crisis, announced it would have to shut down. Many supporters contacted GSDFW to offer encouragement and solutions.
Heroically Earth Day Dallas stepped in with a grant that allowed the publication to keep operating through the end of the year.
Thank you!
GAS TACTICS
Later in the month, filmmaker Josh Fox appeared at Dallas and Fort Worth screenings of Gasland Part II. Fox, along with folks featured in the Gasland films, answered questions at the packed theaters. 
SWEET SHOP
Also in September, Nancy Castillo and Racene Mendoza opened Dallas' first all-vegan bakery, Reverie Bakeshop, in Richardson with help from a successful Kickstarter campaign.
Today, they're doing booming business selling vegan versions of custom cakes, cookies, bars, breads and pies. 
Local vegan baking divas Nancy Castillo and Racene Mendoza.
THEY'RE BAAACK
In October, a new group of organizers took over and a second March Against Monsanto was held in Dallas, reprising the worldwide protest held back in May.
Left, organizers Janis Levy, Angela Scott, Kristie Hester and Cindy Freeling.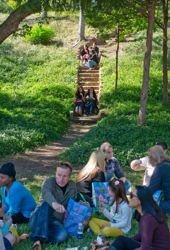 VEG-IN 
Other October highlights: The fourth annual Texas Veggie Fair, drew 7,000 guests to Reverchon Park in Dallas, showcasing animal-welfare advocates, entertainment and loads of vegan comfort food.
The fest, started by DallasVegan.com founder James Scott, confirmed the growing interest In vegetarianism in North Texas. 
ROCKY MOUNTAIN HIGH
The Southwest Nature Preserve in Arlington held its grand opening, giving North Texans another option for hiking in a natural setting.  
The 58-acre site preserves eastern cross timbers habitat, including a bluff known as Kennedale Mountain.
BIG TEX?
In November, Earth Day Dallas expanded its horizons with a new name, declaring itself Earth Day Texas.
The nonprofit also hired new leader Michael Cain to grow the festival. Cain brings his vast experience as a producer in the film industry to the role.
Left, Earth Day Texas executive director Michael Cain.
THE DRILL IS GONE
The year ended on a high note when the Dallas City Council approved one of the strictest gas drilling ordinances in North Texas in December.
Environmentalists are hoping the ordinance's 1,500-foot-setback from homes, businesses and schools, signals the end of gas drilling in Dallas.
---
Julie Thibodeaux is the Managing Editor for Green Source DFW. Previously, she worked as an editor and writer at the Fort Worth Star-Telegram. Contact her at Julie@greensourcedfw.org.
Sign up for the weekly Green Source DFW Newsletter to stay up to date on everything green in North Texas, the latest news and events.