Mark MacLean, the founder of Marley Wind Works, is one of the creative entrepreneurs in DFW who launched innovative green products in 2015. Photo courtesy of Marley Wind Works.
Dec. 29, 2015
Many people helped turn North Texas greener this year. Here are some of the highlights of 2015: 
NEW HIRES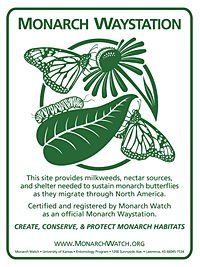 Monarchs were a hot topic for Green Source DFW readers with stories about monarchs among the most popular of 2015. And monarch enthusiasts here and around the state were thrilled to hear that the National Wildlife Federation appointed Grace Barnett as Texas first' Monarch Czar to promote milkweed planting in response to monarchs declining numbers.
On the environmental front, Tar Sands Blockade founder Corey Troiani took over as Texas Campaign for the Environment's new North Texas director, replacing Zac Trahan, who relocated to the Austin area in November and will continue to serve as TCE's state program director.
Here at GreenSourceDFW.org, in July, we added a new columnist to our staff of contributors: Jason Winningham of Duncanville, aka the Green Tip Guy.
GROWTH
In January, Citizens' Climate Lobby expanded its reach in North Texas by splitting into three chapters, adding a Denton-Lewisville and a Fort Worth-Mid Cities chapter in addition to a Dallas Chapter. 
The nonprofit trains citizens how to make their voices heard by lobbying their representatives and getting letters published in the newspaper. In June, 10 CCL members from DFW, traveled to Washington DC to be part of the annual Citizens' Climate Lobby blitz to urge Congress to adopt a carbon tax. That was double the number that made the trip from DFW last year.
The Sierra Club also branched out across the Metroplex with the launching of the new Cross Timbers Sierra Club group to serve residents in both Denton and Collin counties. The Sierra Club affiliate fills in a geographical gap between the Dallas Sierra Club and the Greater Fort Worth group.
In addition, the Houston-based Texas Climate News announced it was expanding coverage with help from local veteran environmental reporter Randy Loftis, who retired from the Dallas Morning News in September. 
Here at GreenSourceDFW.org, we spiffed up our online publication with a new logo and new mobile-friendly website. 
GREEN BUSINESS
This was the year that creative DFW entrepreneurs brought you cruelty-free Texas cowboys boots, wind-powered composters and personal mobile solar systems.
However, it was a tough year for some local green businesses. At the end of May, Green Grocer in Dallas sent out a letter to its customers saying that the business would be forced to close if sales didn't increase. Gecko Hardware followed suit in July, asking for donations to its GoFundMe campaign. Meanwhile, Urban Acres in Oak Cliff had to close the doors of its storefront. In December, the company announced it was merging with Austin-based Farmhouse Delivery.
Dallas-based entrepreneur Kat Mendenhall launched her Texas-style vegan boots in April. Photo by Lindsey Miller.
POLITICS
During the Texas' 84th Legislature, State House Bill 40 passed overturning the Denton fracking ban. The bill is expected to have far-reaching effects on citizens' ability to protect their quality of life, according to longtime Dallas environmental activist Rita Beving. 
And sadly, the local fight against plastic bags took a blow when the Dallas City Council voted 10-4 to repeal the Dallas bag fee that went into effect in January.
There was some good news though. The Dallas Green Alliance, a new green political action committee, celebrated the election of three candidates it backed for Dallas City Council: Carolyn King Arnold in District 4, Mark Clayton in District 9 and Adam McGough in District 10. The new council members join four environmentally friendly council members already in office: Scott Griggs, Adam Medrano, Phillip Kingston and Sandy Greyson.
In addition, local solar advocates celebrated a victory when a solar ordinance in North Richland Hills that they said discouraged the installation of solar panels was overturned. The law passed by the North Richland Hills City Council last December required a special use permit for solar panels facing the street and for ground-mounted systems over 500 square feet. In May, the city announced it was overturning the ordinance following the public outcry. 
EDUCATION
The University of Texas at Arlington announced its Office of Sustainability was expanding into the Institute for Sustainability and Global Impact to broaden its impact on environmental problems. Director Meghna Tare said she envisions the office supporting both faculty and community leaders with sustainability projects by providing mentoring, as well as help for research and development. 
During the fall, the University of North Texas began offering a masters in sustainability for interior design students to meet the growing demand for greener buildings. 
At Dallas County Community College District, a team of authors led by Mountain View College sustainability coordinator Lori De La Cruz, published a two-volume textbook Feasted Landscapes: Sustainability in American Topics, chronicling the history of unsustainability in the U.S., which they hope to market to university faculty across the U.S.
Also, a new green charter school, Trinity Environmental Academy, opened its doors on the Paul Quinn College campus in Dallas with a goal to eventually serve pre-K4 through 12th graders.
ANIMAL ADVOCACY
In June, Texas became the 10th U.S. state and the first red state to ban the shark fin trade, thanks to a shark-loving environmentalist from Dallas Anna Clark. In 2011, the sustainability consultant started a Texas chapter of Shark Stewards with the goal of rallying public support for a shark fin ban in Texas. The campaign's momentum grew over the years and with the backing of the U.S. Humane Society, Humane Society International and Oceana and numerous volunteers and animal advocates, the law finally passed in 2015. 
Katie Jarl, Texas state director for the Humane Society of the U.S.; Ellis Pickett of Surfrider Foundation - Texas Upper Coast Chapter; and Shark Stewards representatives Joy Benson, Kayla Ellis, Thomas Oglin and Anna Clark appeared in support of sharks at the state capital March 5, 2013.
In September, the Dallas-based owner of Fun Time Shows, the largest Shrine circus producer in the country, announced it was ending wild animal acts and would no longer produce shows featuring elephants, tigers or lions.
Meanwhile, Dallas-based Daisy Brand's image was soured when PETA released an undercover video in October showing animal abuse at its dairy farm in Paris, Texas. This was in sharp contrast to company's claim on its farm website that it treats its 2,000 dairy cows like pets. Daisy Brand is the nation's largest sour cream manufacturer and a fifth generation family business. Both the farm and the manufacturer are owned and operated by the Sokolsky family.
An undercover video exposed animal abuse at Daisy Brand's factory farm in Paris, Texas.
FIRSTS
November included a series of firsts with Downwinders at Risk hosting its first conference aimed at training the next generation of community organizers, with famed Love Canal activist Lois Gibbs as the headliner.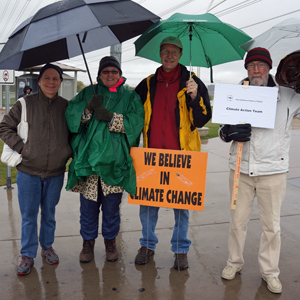 Keller-based Jillian Jordan came up her own creative solution to the monarch crisis. She hosted the inaugural Great Seed Bomb, a 15K bike ride in Fort Worth where in participants threw seed balls in an effort to plant milkweed for the migrating monarchs. 
The month ended with a heroic and historic local environmental milestone – DFW's first climate march, attended by 150 die-hard activists in cold, rainy weather prior to the Paris climate conference. 
Let's hear it for a great year for the environment in North Texas! Can't wait to see what DFW greenies come up with in 2016.
---
Sign up for the weekly Green Source DFW Newsletter to stay up to date on everything green in North Texas, the latest news and events. Follow us on Facebook, Twitter and Pinterest.