The State of the Prairie Conference will be held May 29-May 31 in Fort Worth.


Tours of the Tandy Hills Natural Area, a 160-acre prairie remnant in Fort Worth, will be held on May 29. Photo courtesy of Don Young.
May 26, 2014
By Julie Thibodeaux
Folks from around the state are gathering this week to talk prairie in Fort Worth, the city once referred to as the Queen of the Prairies.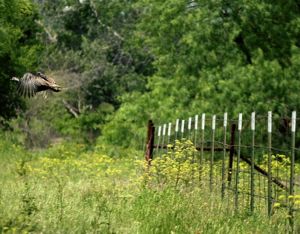 The State of the Prairie Conference, hosted by the Native Prairies Association of Texas and the Coastal Prairie Partnership, will be held May 29-31 at the Fort Worth Botanic Garden.
Right, Tours of Lake Lewisville Environmental Learning Area' prairie ecology will be held on May 29.  LLELA.
Themed "Prairies in a Changing World," the conference is designed to provide practical methods to restore, conserve, manage and teach about the state's native ecosystem. It's aimed at ecologists, educators, landscape architects, landowners and homeowners.
"We want to bring information to a broad group of people who might be interested in conserving and using prairie plants," said Pat Merkord, executive director of the Native Prairies Association of Texas.
Merkord said the Dallas-Fort Worth region is home to many prime examples of prairie ecology. In addition, she's been impressed with local grassroots campaigns to save prairie remnants, including the 2,000-acre Fort Worth Prairie Park in Fort Worth and the 13-acre Beck Creek Tall Grass Prairie in Richardson.
"It's really unique to find places in urban areas where people can go and see what a prairie looked like, " she said.
The conference includes a roster of leading prairie experts, including Bill Neiman, founder of Native American Seed, retired TCU prof Tony Burgess and Botanical Research Institute of Texas ecologist Karen Hall. Local historian Quentin McGowan will give a talk on the history of Fort Worth and its Prairie Ties. 
In addition, there will be four separate prairie "crawls," with stops including Tandy Hills Natural Area, the George Bush Presidential Library's native Texas garden at SMU as well as two private ranches. 
Above, Bill Neiman, founder of Native American Seed, will speak on the challenge of seed collection on May 31. Courtesy of Texas Tribune. Below, Jo Ann Collins will lead a hike near the Fort Worth Prairie Park June 1. Courtesy of FW Prairie Park.
Jo Ann Collins, director of the Friends of the Fort Worth Prairie Park, will lead a free hike on June 1, following the conference, on property near the Prairie Park in southwest Fort Worth. Although, the sale of the property to developers appears imminent, she holds out hope of convincing them that a portion should be saved for education.
"We teach our kids about ecosystems all over the world except the ones they live in," she said.
Friends of Tandy Hills founder Don Young, who will be leading a hike on Friday, admits the prairie buzz appears to be growing. 
"For a word that doesn't roll easily off the tongue, the word 'prairie' continues to grow in popularity as a way to help sell a variety of products and services – from booze to yoga," said Young. "I ordained 2014, the Year of the Prairie. There's so much happening now."
Left, False foxglove and prickly pear at the Tandy Hills Natural Area. Courtesy of Don Young.
An example of the trend, Merkord said the Native Prairies Association of Texas plans to open two new chapters in the coming year – one in Dallas and one in Fort Worth. The land trust, which helped save the 51-acre Deer Park Prairie in the Houston area last year, hopes to lend their expertise to support conservation in North Texas.
She said a 93-county survey completed in 2011 documented the remaining remnants in the state. Less than 1 percent of the original Texas prairie that ran from the Red River to south Texas still exists. However, she said they're hoping to connect those pieces through restoration.
"Restoration is not easy and it's not cheap but it can be done," she said. 
But she added, it reinforces the importance of educating people on how to recognize and save remnants.
"You need to have the seed source to be as close to where you're going to do restoration as you can."
The cost for the conference is $150, $75 for students. The field outings are $30.
More info on the State of the Prairie Conference. 
Cover image: Indian paintbrush at Tandy Hills Natural Area. Courtesy of Don Young.
---
Julie Thibodeaux is the Managing Editor for Green Source DFW. Previously, she worked as an editor and writer at the Fort Worth Star-Telegram. Contact her at [email protected].
Sign up for the weekly Green Source DFW Newsletter to stay up to date on everything green in North Texas, the latest news and events.