Purchase Amy Martin's new book on local indy store Pretty Things and Cool Stuff and net proceeds go to Green Source DFW. Cover art by Mariell Guzman​ for Timber Press.
June 2, 2023
Something wild and wonderful is about to happen in DFW!
It's the long-awaited release of Amy Martin's epic North Texas nature guide.
Wild DFW: Explore the Amazing Nature Around Dallas-Fort Worth will be released by Timber Press on July 11, 2023.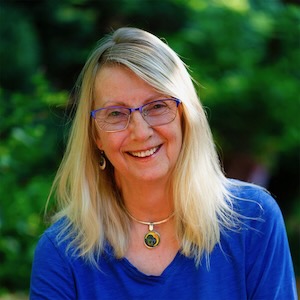 Wild DFW author Amy Martin. Photo by Stalin SM.
Presales of Wild DFW have begun. These are early book purchases that get fulfilled on the publication date. Authors like Martin appreciate presales since they create a big buzz for the book, impressing booksellers and improving its placement.
But wait — there's more!
Thanks to the generosity of Martin, and Pretty Things and Cool Stuff, a local independent online shop run by eco-friendly Dallasite Kim Young, you can preorder your book and support GreenSourceDFW.org!
Young is offering the book in two bundles, which include a signed copy of Martin's book for $26. The Get Out and Go bundle includes a 16-ounce Chicago Steel Insulated Water/Tea Infuser Bottle by Grosche to make a stunning gift box for your favorite greenie for $50. PURCHASE HERE!
Net proceeds go to GreenSourceDFW.org, which has been offering green news to North Texans for over a decade and is gearing up to update its website.
"The guiding purpose at Pretty Things and Cool Stuff is People and the Planet, and we love to find ways to show people how connected we really are to Mother Nature, as well as how to enjoy, respect and preserve it," said Young. "When I found out Amy Martin was writing a book about the amazing, and incredibly diverse natural environment around us, I immediately wanted to offer the book to our customers and support Amy's effort. I also wanted to find a way to help GreenSourceDFW, the area's award-winning online environmental publication, which is the perfect companion to Wild DFW."
Author Martin added, "I think of Green Source DFW and Wild DFW as doing the same thing — bringing the eco-community together and showing all the wonderful things it does."
ABOUT WILD DFW
'Wild DFW' will be released in July. Courtesy of Timber Press.
Martin, a reporter for Green Source DFW since 2014, has explored and written about the North Texas nature scene for decades. After being tapped by Timber Press in 2019 to write a sequel to Wild LA, she toiled on the book for two years throughout the pandemic.
"I'm so grateful for the opportunity to write this book. Many deep dives into nature topics. I learned so many fascinating things. Before this book, I knew the nature of Dallas very well. But the title is Wild DFW. I had to learn Fort Worth, Denton and Collin County, too. I loved every minute of it," said Martin.
She was led on most of the 25 hiking adventure chapters in the book by people who stewarded the location or knew it well.
"It's the kind of perspective you won't find in other North Texas hiking books," said Martin.
She noted that some genuinely touching stories emerged, people who found deep healing from personal loss, struggles with autism, anxiety and more through nature.
For her research, Martin recruited experts from Texas Parks and Wildlife, Botanical Research Institute of Texas, universities and nonprofit groups to guide and review her work. She developed a network of highly trained citizen naturalists in specialty fields.
'Wild DFW' features more than 350 color photos by area naturalists and more than 40 detailed maps by Martin's husband Scooter Smith. Courtesy of Timber Press.
"Getting to know the North Texas nature community was the most rewarding thing I've ever done," said Martin. "I came away with so much respect for these people. The book is essentially an extended love letter to them."
Wild DFW is a very dense book packed with information. Close to 65,000 words over 370 pages, weighing almost two pounds. There are more than 350 color photos by area naturalists and more than 40 detailed maps by Martin's husband, Scooter Smith.
"It's like a mini coffee table book. Timber Press credits the layout artist Sarah Crumb up front, which is unusual for a book. But she earned it. I presented Timber with a rather complicated manuscript with many boxes and sidebars. Sarah made it sing. I won the lottery when they assigned her," said Martin.
Feedback from reviewers and book photographers who received advance copies has been very positive. Zachary Chapman of Arlington noted, "So many nature books either go all story mode, or field mode, with no in between. Wild DFW seems to have broken all the molds. I love how it has information, stories and field guides, as well as chapters I was not expecting, like the weather one. My mind is blown by how organized and detailed this book is."
ABOUT PRETTY THINGS AND COOL STUFF
Young, the proprietor of Pretty Things and Cool Stuff, is a longtime supporter of GreenSourceDFW.org.
Young carefully curates her online shop with quality items from conscientious suppliers made to inspire and delight while bringing practical value. Eco-friendly items from Pretty Things and Cool Stuff have been featured in many Green Source DFW gift guides over the years.
The Get Out and Go bundle on Pretty Things and Cool Stuff includes a signed copy of Wild DFW, a Wild DFW sticker and a stainless steel insulated bottle with infuser. Montage courtesy of Kim Young.
For the fundraiser bundles, she's selected the 18/8 stainless steel, double-insulated bottle by Groesch, a B-corp business revolutionary. The vacuum-insulated interior keeps beverages hot for 12 hours and cold for 24 hours. It is BPA-free and made from lead-free, food-grade, reusable stainless steel that won't leave a metallic taste in your mouth.
The infuser can suspend loose-leaf tea, fruit, and/or herbs directly into the bottle to keep an infusion going all day, and it is long and wide for easy removal and cleaning. 
ABOUT GREEN SOURCE DFW
Green Source DFW is an award-winning publication covering environmental news in North Texas. The site was launched in 2011 by the Memnosyne Institute, a Dallas-based humanitarian nonprofit, to educate the community about green living and environmental issues.
Since its beginning, the site has covered the growth of the North Texas environmental movement through original reporting and feature articles, a green event calendar, and a green jobs board, and since 2019, the Texas Green Report, a podcast aimed at a state-wide audience.
Green Source DFW also hosts two major community outreach events — the annual Green Source DFW Sustainable Leadership Awards and, since 2018, the family-friendly eco-fest Oak Cliff Earth Day.
Texas Sierra Club, Dallas Peace and Justice Center, and North Texas Corporate Recycling Association have recognized Green Source DFW for environmental reporting.
Wild DFW Release & Green Source DFW Fundraiser
Wild DFW cover by Mariell Guzman.
ABOUT: Amy Martin, a journalist and writer for more than 40 years, is a senior reporter for GreenSource DFW.
Her latest book, Wild DFW: Explore the Amazing Nature in and round Dallas-Fort Worth, will be released by Timber Press in July 2023. 
FUNDRAISER: Purchase Wild DFW on local online shop Pretty Things and Cool Stuff and net proceeds will go to supporting more North Texas green news at GreenSourceDFW.org.
Remember GreenSourceDFW.org is your go-to source for a variety of green news, including environmental justice issues, sustainable living, green businesses and nature advocacy.
RELATED ARTICLES
Green Source DFW columnist to pen 'Wild DFW'
Local author's poison ivy book offers relief for the itchy
Rockwall author offers witty hiking guide
---
Stay up to date on everything green in North Texas, including the latest news and events! Sign up for the weekly Green Source DFW Newsletter! Follow us on Facebook and Twitter. Also check out our new podcast The Texas Green Report, available on your favorite podcast app.