By Julie Thibodeaux 
The University of North Texas has long been home to the Mean Green football team but the school has earned a reputation for being ambitiously green in other ways. The college is home to the world's first graduate program in environmental philosophy, the first newly-constructed LEED Platinum college football stadium and the nation's first all-vegan dining hall.
Now it's charting new territory with the launch of the university's first student vegetarian or vegan group. Dubbed Mean Greens for Animals, the club held its first meeting in September. Their mission is to call attention to the benefits of a plant-based diet, with regards to the environment, health and animal welfare, and to make UNT a more veg-friendly campus. 
(Above & below: UNT's Mean Greens Cafe)
According to Ken Botts, the UNT dining services manager who oversaw the launch of the vegan dining hall, student interest in a plant-based diet continues to grow at UNT.
 "We have a large international contingency," said Botts, a 20-year vegetarian who turned vegan three years ago. "In addition, our student body includes many artists and musicians whose lifestyles lean towards eating plant-based meals." 
While Botts saw a growing need for a vegan club, Alexandria Beck, a UNT senior, was looking for a way to share her passion for animal welfare and volunteered to lead the group.
"I thought this was a great way to meet people and help animals and create a lasting organization for years to come," she said.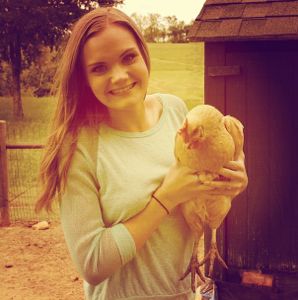 Beck, a communications major who's been a vegetarian since she was 16 and vegan for nearly 2 years, organized the first meeting in September. About 25 students showed up for the first gathering while 100 have joined the group's Facebook page. 
(Right, Alexandria Beck and pet chicken.)
Beck said members range from those who've sworn off animal products completely to meat-eaters who are just curious about the plant-based lifestyle. 
Their plans for the semester include hosting a Halloween vegan bake sale, participating in the DFW Farm Animal Walk in Dallas and organizing a vegan Thanksgiving feast. Their first public policy goal is to convince UNT's dining services department to switch to cage-free eggs, which is considered to be a more humane option. Beck has already met with the director and members have started gathering signatures for a petition. 
Meanwhile, their ongoing role is educating others. While some people look at vegans and vegetarians and wonder how they can give up animal products, Beck said she doesn't see it as a sacrifice or a burden, now that she knows more about the realities of factory farming, the health consequences and the waste behind a meat-based diet.
"It's actually liberating to know I have the choice to not exploit animals," she said. "We feel the best way to help animals is to promote vegan and vegetarianism."
 Does your school have a vegan or vegetarian club? Leave a comment below.
---
Sign up for the weekly Green Source DFW Newsletter to stay up to date on everything green in North Texas, the latest news and events
Julie Thibodeaux covers environmental issues, green topics and sustainable living for Green Source DFW. Previously, she worked as an editor and writer at the Fort Worth Star-Telegram. Contact her at [email protected].