Dallas developer Monte Anderson saw potential in the 1930s industrial property in Oak Cliff, now known as Tyler Station. Photos courtesy of Tyler Station.
July 3, 2017
Thanks to a green-leaning Dallas developer, an old building in Oak Cliff has been recycled into a multi-use destination for office space, light manufacturing and retail.
In June, Tyler Station was recognized with a 2017 North Central Texas Council of Governments CLIDE Award for its redevelopment.
The 125,000-square-foot building is the project of Oak Cliff native Monte Anderson, who saw potential in the industrial property, originally built in 1932.
Anderson is known around Dallas for his responsible renovations, including the transformation of the Belmont Hotel in Oak Cliff. He's the founding president of the North Texas chapter of the Congress for the New Urbanism.
Tyler Station's green features reflect Anderson's informal green practices.
"We recycled the building, we recycle our trash, we are capturing rainwater, we are walkable, bikable and are located on a light rail station," said Anderson. "In addition, we are surrounded by several great neighborhoods and serve as a central gathering place for them to easy access to downtown Dallas."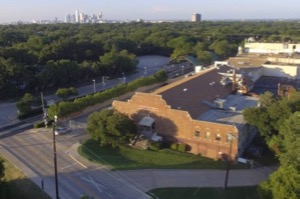 Anderson purchased the 70-year-old building in May 2016. It's located a mile south of Bishop Arts and the Jefferson Boulevard retail corridor, adjacent to the Tyler/Vernon DART light rail station.
Its former tenants include the Dixie Wax Paper Company, a wax paper manufacturing plant later known as Dixico, which according to Jim Schermbeck, director of Downwinders at Risk, incinerated metals-containing hazardous waste on site in the late 1980s.
"The Dixico fight was one of Dallas' early toxic fights that was not only won by the local neighborhood group but resulted in a de facto city wide ban on burning waste - hazardous or medical - that is still in effect today," he said.
Later Delta Industries, which rebuilt automotive air conditioners, was also a tenant. 
To mitigate the effects of industrial pollution at the landmark, Anderson began the cleanup immediately after purchasing it.  
"The previous owners had a history of being environmental polluters so our team cleaned the site making it environmentally-friendly for current and future users," Anderson explained. "Instead of demolishing the building and putting the rubble in a landfill, we partnered with the city of Dallas and Recycle Revolution to recycle and reuse the commercial materials removed from the building. Over 350,000 pounds of material have been recycled."
On completion, the building boasts a variety of green features, but Anderson stressed the main point was salvaging the building itself.
"The building was not destroyed and put in the landfill, something many people overlook as an eco-friendly approach."
Other sustainable features include state-of-the-art energy efficient HVAC systems and strategically replaced insulation throughout the property to minimize electric costs.  
"We are currently looking for efficient solar energy options," he added. "In addition, we use recycled materials that are built on site to do all the improvements to the interior; used plywood, steel, etc.  All tenants are required in their leases to participate in the landlord's recycling program and trash cans are provided to separate paper, plastic, metal and trash."
Creating a coworking/collaboration village of entrepreneurs both small and large and encouraging folks to create and support each other, Anderson said he already has some amazing tenants like industrial artists Stash Designs, also a partner in the building; Oak Cliff Brewery, various artists and furniture makers, a martial arts studio and a movement studio; videographers and jewelry makers, etc. 
The building is currently 50 percent occupied.
"We are able to work from a plan, but also to fit the individual needs of the tenants by using movable cage-like materials to create spaces in a short amount of time."
RELATED ARTICLES
Dallas real estate mogul Monte Anderson says 'green' is good
---
Stay up to date on everything green in North Texas, including the latest news and events! Sign up for the weekly Green Source DFW Newsletter! Follow us on Facebook, Twitter and Pinterest.