Fleetmaster Express unveiled two new Volvo VNRe electric trucks at a press event at AT&T Stadium in Arlington. The trucks will operate out of its Fort Worth facility. Photo courtesy of Fleetmaster Express.
June 23, 2022
A Virginia-based trucking company recently announced that two new Volvo VNR electric trucks will operate out of the company's Fort Worth facility.
The e-trucks purchased by Fleetmaster Express are a step toward reducing the pollution of an industry dominated by diesel-powered vehicles.
"After four years of countless planning, engineering and development, I'm thrilled to say that Fleetmaster Express is on the cutting edge of the industry delivering an alternative sustainable energy solution. Technology like this is the future of our industry," said Travis Smith, chief operating officer, of Fleetmaster Express. 
The trucks were unveiled at a press event held at AT&T Stadium in Arlington last month.
The project is a partnership of Fleetmaster Exress, Volvo Trucks North America, Ball Corporation and Nacarato Truck Centers in Roanoke, VA, where the trucks were purchased.
The Volvo electric trucks have a 275-mile range and can be charged to 80 percent capacity in 90 minutes, according to the manufacturer's website.
The trucks will be used to haul empty aluminum cans on roughly 8-mile runs around Fort Worth from Ball's distribution center, averaging 10 to 15 trips per day.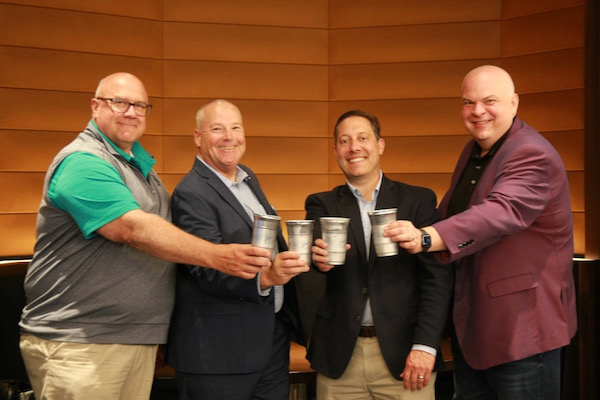 Jim Wortman, regional supply planning manager of the Ball Corporation; Jeff Lester, vice president of sales – southeast, Volvo Trucks; Pat Daily, COO, Nacarato Truck Centers; and Travis Smith, COO of Fleetmaster Express, toast to the successful launch of two Volvo VNR Electrics for Fleetmaster Express. The trucks were unveiled at a press event held at AT&T Stadium in Arlington last month. Courtesy of Fleetmaster Express.
Two charging stations have been installed at Fleetmaster's facility to support the 100 percent electric vehicles. 
Fleetmaster Express was founded in 1987 and now operates more than 300 trucks and 1,300 trailers with locations in Virginia, North Carolina, Ohio, Arkansas, Texas, Georgia, Indiana, Tennessee, and Wisconsin. 
The two Volvo VNR Electrics are the first battery-electric Class 8 trucks in the company's fleet and a first step toward the goal of replacing all of its existing trucks with zero tailpipe-emission battery-electric trucks in the future. 
Fleetmaster will deploy an additional eight more e-trucks in 2023.
Ball Corporation, whose products will be hauled in the new e-trucks from its 678,000-square-foot warehouse off Everman Parkway, is famous for its glass canning jars. The Colorado-based company now manufacturers aluminum packaging and space technology, according to its website. They also take credit for inventing the aluminum reusuable cup.
A company spokesperson said the transition to clean transportation is part of the company's long-term sustainability goals.
"We aspire to make a bold reduction of our carbon footprint to further provide our customers and consumers with low-carbon and truly circular aluminum packaging options," said Adam Shalapin, global sustainability director at Ball Corporation. "This project will drive progress on Ball's commitment to reducing our absolute value chain emissions 16 percent by 2030 and brings us one step closer to achieving net zero carbon emissions prior to 2050."
RELATED ARTICLES
North Texas nonprofit aims to speed up transition to EVs
Farmers Branch to be powered by solar farm
Electric buses to link up popular Fort Worth stops
---
Stay up to date on everything green in North Texas, including the latest news and events! Sign up for the weekly Green Source DFW Newsletter! Follow us on Facebook and Twitter. Also check out our new podcast The Texas Green Report, available on your favorite podcast app.