A steady stream of oglers poured in during TreeHouse's opening days at the Walnut Hill & Texas 75 location this weekend despite the rain. A third store is planned to open in Plano in the fall.
June 6, 2017
A treehouse conjures up a retreat where kids play, pretend and live close to nature. The new TreeHouse green home improvement store which opened Friday in Dallas wants to bring some of that eco-friendly imagining into our everyday living.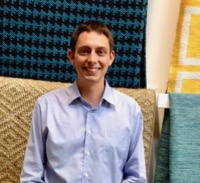 The 35,000-square-foot Dallas store designed by Lake Flato Architect and powered by 100 percent solar is only reminiscent of a treehouse. But it's a place where you are invited to shoot for the moon when it comes to environmentally friendly living.
Jason Ballard is the CEO of TreeHouse.
CEO Jason Ballard is cofounder of the store and the evangelical greenie that originated the company in Austin in 2011. 
Ballard, who graduated with Texas A&M with a conservation biology degree, realized after graduating that he wanted to do more to save the planet.
He worked in the sustainable housing industry for awhile and quickly realized sustainable home materials needed to be more accessible. So with his wife Jennifer and friend and cofounder Evan Loomis, he conceived of a green home improvement version of Whole Foods, where only eco-friendly options were sold.
After six years, Ballard says they have honed their inventory to the best on the market, adding that they carry products comparable in cost to their traditional and more toxic counterparts. 
"There's no such thing as a perfect product," admits Ballard. "My grandfather taught me - to get to the world you want it to be, you have to start with the way it is."
The store is divided into three areas, Design, Performance and Outdoor Living.
The Design Department features a carefully curated array of kitchen, flooring, lighting and paint options. You won't find granite countertops here - mining mountains is not considered to be eco-friendly. Instead, you'll find countertops made from recycled paper and bamboo; along with flooring made from reclaimed wood and tiles made from crushed bottles and sinks. They carry Interface carpet that's sold in squares that can be recycled and even lamps made from eco-friendly materials.
"Finding sustainable light fixtures is like looking for unicorns," joked Ballard. "For the longest time our lighting department was the darkest part of the store."
The Performance area includes metal roofs, energy-efficient windows, ceiling fans and solar panels.
Ballard beams when talking about the Sunpower solar panels, which they've simplified by offering them in familiar sized packages -XS, S, M, L, XL. They're also the first retailer to sell Tesla home batteries.
"I think someday, home batteries will be as normal as refrigerators and stoves."
Unlike the Austin TreeHouse, the Dallas location features an Outdoor Living area. The inviting courtyard is stocked with native plants, such as Mexican plum trees, prickly pears and lantana.
You can also find organic gardening products, eco-friendly patio furniture, rain barrels and bird houses.
Ballard reasons that people who spend more time in their backyards develop their appreciation for nature.
"I'm a big fan of Wendell Berry who said 'It all turns on affection.' You take care of, what you love."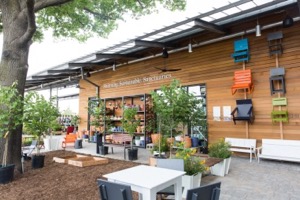 While some people might wonder if a TreeHouse would go over well in Big D, he said its widespread homeownership makes it's a great location demographically. Plus it's also where a majority of the TreeHouse board members live, including Ballard's mentor and investor Garrett Boone, Dallas-based Container Store founder. He also admits he had something to prove.
"People would say, of course, you can be successful with a store like this in AUSTIN," he said chuckling. "We want to prove this is not just for special weird people. This is going to be the new normal."
RELATED STORIES
Dallas TreeHouse founder has deep green roots
Container Store cofounder Garrett Boone backing green home improvement store
Austin-based TreeHouse to bring premium green home improvement products to Dallas
---
Stay up to date on everything green in North Texas, including the latest news and events! Sign up for the weekly Green Source DFW Newsletter! Follow us on Facebook, Twitter and Pinterest.