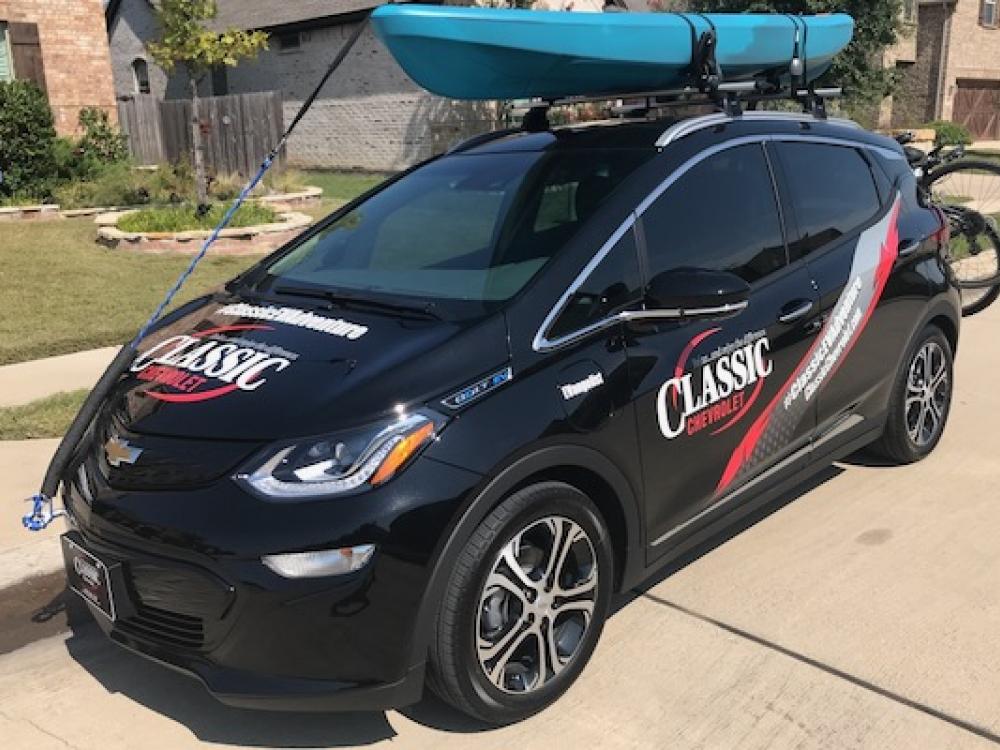 Buzz and Bonnie Smith of Fort Worth headed out on a 5-day road trip to Central Texas in their Chevrolet Bolt EV​ on Oct. 4. Photo by Buzz Smith.
Oct. 28, 2020
Earlier this month, an EV enthusiast from Fort Worth set out on a camping trip with a dual purpose. Not only was he headed out for an outdoor adventure, he aimed to prove it could be done in an electric vehicle.
Electric vehicles currently offer up to 402 miles of range per charge, with 250 miles now the expected standard for mid-priced EVs - figures that are constantly inching upward. As of March 2020, there were 25,000 EV charging stations and 78,000 outlets across the United States, expanding their footprint at a rate of about 60 percent per year.
Yet, a stubborn myth persists: EVs are fine for grocery-getting but useless for road-tripping.
That's where Richard "Buzz" Smith comes in. A former oil-industry employee, an engineer and self-styled "EVangelist," the Fort Worth resident has been on a mission to get butts into the seats of plug-in electric vehicles ever since what amounted to a conversion experience eight years ago. He saw the light following a car wreck. 
"My car was totaled. Gasoline was $4.50 a gallon. So, I bought a plug-in hybrid (on his wife's recommendation). Then my wife got one. We even got one for our [teenage] daughter," Smith said. 
Enlivened by his new ownership experience, including the lower operating costs, lighter environmental impact and eye-opening performance, Smith started a blog, My Electric Vehicle Journey. A year after buying the car, his enthusiasm earned him a job selling EVs in North Texas. He soon became the state's top-selling plug-in vehicle sales representative. How good was he? 
"Climate-science deniers have bought plug-in cars from me," he said, "because they're so fun to drive. When you punch it in an electric car, you're outta here." 
Today, Smith is a full-time EV advocate and speaker, and serves as director of Dealer Outreach for the nonprofit Texas Electric Transportation Resources Alliance.
Bonnie and Buzz Smith chill out during a recharging stop. Selfie by Buzz Smith.
To underscore his point that EV technology has finally arrived, Smith and wife Bonnie piled a kayak and two mountain bikes onto a new, all-electric Chevrolet Bolt EV, stuffed the rest of their camping gear inside and, in early October, set off on a 1,200-mile swing around the scenic middle of Texas. Sponsored by Buzz's former employer, Classic Chevrolet of Grapevine, the "ClassicEVAdventure" idea was hatched to bust the old myth about EVs' unsuitability for long trips. 
Myth busted, according to Buzz. 
"It was a blast," he said. 
Finding charging stations "was very easy" throughout the trip, and the car itself proved to be an excellent highway companion, Buzz said. 
"The takeaway for me is most of the places I would travel to, I could take an EV," he said. "Yes, you're going to stop a little longer [to recharge], but if you plan it right and take meals during that time, you walk back outside and your car is charged. In fact that's what happened in Kerrville. We went across the street to a Mexican restaurant, we had lunch, we came back and the car was full."
Buzz Smith, the self-described "EVangelist," prepares to recharge his gear-laden Chevrolet Bolt EV.​ Photo by Bonnie Smith.
ON THE ROAD 
The Smiths started their 5-day journey in Fort Worth on Oct. 4 and headed south on I-35, then peeled off toward Enchanted Rock State Park, where they established a base camp. Blessed with near-perfect fall weather, they spent the next three days meandering along a 250-mile loop past some of the state's most picturesque natural areas, including Natural Bridge Caverns, Landa Falls in New Braunfels, Jacob's Well and Hamilton Pool Preserve. Along the route, they enjoyed a few hours in Kerrville, and capped off their quest with a stop at the Texas Rowing Center in Austin on Oct. 7. Midway through the trek, they celebrated Bonnie's birthday. 
All told, it was an idyllic experience. Not everything went according to plan, however. The Smiths knew that the kayak and bikes sticking way out into the airstream would take a big bite out of their car's 259-mile range. Traveling at the speed limit with all that stuff hanging off, they estimated that range would drop to about 205 miles. It turned out to be more like 180, making their first recharging stop in Round Rock a bit of a nail-biter.
The green glow of an Electrify America charging station in Round Rock illuminates the Smiths' car during its final fill-up for the trip home.​ Photo by Buzz Smith.
They made it, though, and their first encounter with range anxiety also was their last. They recharged mainly at sites operated by the ChargePoint, Electrify America and EVgo networks, and used the PlugShare phone app to locate those venues.
COVID-19 closures also forced the Smiths to miss a couple of destinations. Hamilton Pool, which had been shut down, reopened and booked up so quickly they couldn't get a reservation. And a mysterious warning light on their car's display caused them to divert to a Chevrolet dealer, only to find out that the "problem" was that one of them had inadvertently popped the hood latch. 
Those snags aside, Buzz and Bonnie's adventure was indeed excellent. Their EV squired them safely across miles and miles of Texas and deposited them back at their Fort Worth home on schedule. 
The trip also convinced Buzz of another thing: He wants a new EV.
RELATED ARTICLES
Deals abound on used EVs in DFW
---
Stay up to date on everything green in North Texas, including the latest news and events! Sign up for the weekly Green Source DFW Newsletter! Follow us on Facebook and Twitter. Also check out our new podcast The Texas Green Report, available on your favorite podcast app.