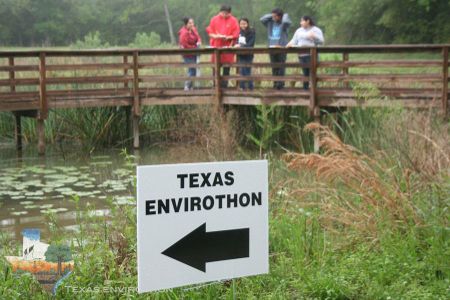 The Texas Envirothon will be held April 11-13 in the Kerrville area. Deadline to enter is March 11. Above, participants do field testing at the 2014 Texas Envirothon held in Houston. Courtesy of organizers.
Feb. 17, 2015
By Rita Cook 
The deadline is quickly approaching for the Texas Envirothon, the state level of North America's largest and most academically challenging environmental competition for high school students. 
Houston-based organizer Wendy Reistle said March 11, 2015 is the last day to enter the state competition. The winning team will go on to compete in the National Conservation Foundation Envirothon. 
In the past, participating schools in the Texas Envirothon from North Texas have included Richardson High School, Berkner High School also in Richardson, Grand Prairie High School, South Grand Prairie High School, Paschal High School in Fort Worth and Woodrow Wilson High School in Dallas. 
Right and below, participants at the 2014 Texas Envirothon held in Houston. Courtesy of Texas Envirothon
Richardson High School teacher Tony Strohmeyer has observed firsthand the value of the experience. 
"The Texas Envirothon has helped many of my students not only become more educated and better stewards, but it has also helped them decide on a college major related to one or all of the Envirothon topics," said Strohmeyer. "[The students] have all walked away from the competition proud of what they did, win or lose, and wanting to do it again."  
Reistle, who is also the Environmental Education Program Coordinator at the Environmental Institute of Houston at the University of Houston-Clear Lake, says to enter, schools must form a five-member team and register.
During the event, teams will be asked to answer knowledge-based questions in outdoor field testing stations as well as apply that knowledge to solve real-life problems.
To prepare, the teams work for months to deepen their knowledge of environmental issues so they can make intelligent decisions about the environment in regard to wildlife biology, forestry, aquatics, soil science and a current environmental issue. 
After a winner is chosen from the Texas competition, that school then progresses to the national competition, which is a five-day event held in the summer in a different location each year. The trip is paid for by Texas Envirothon sponsors.
At the last Envirothon held in 2013, 57 teams representing 47 U.S. states, nine Canadian provinces and one Canadian territory competed for a share of $175,000 in scholarships, host grants and Canon products.
For the past 13 years, the Texas Envirothon teams have participated in the North American competitions. John Cooper High School from the Woodlands has placed third and fourth at the top level in previous years. 
Reistle said last year, the Texas Envirothon team from Conroe did an exceptional job preparing for the regional Envirothon in Kansas, which took the place of the North American competition, which was not held due to restructuring of the program. 
"The students were dedicated and motivated the entire week in Kansas by attending sessions, taking notes and studying in their free time."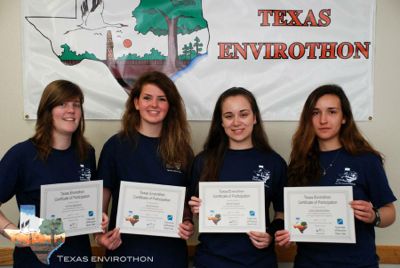 The 2015 current environmental issue is urban forestry and in Texas, teams will compete April 11-13 in the Kerrville area. The winning team will go to the national competition in Springfield, Missouri in July. 
The Richardson High School Team B at last year's Texas Envirothon.
"This competition is by far my favorite part of the year when I get to study, work, practice and travel with my best, brightest and favorite students," Strohmeyer adds. "The bond that is created between us all make the hard work so worthwhile. I can't say enough of how great this is and how it has also made me a better teacher."
For more information, visit Texas Envirothon.
---
Rita Cook is an Arlington-based award-winning journalist who writes or has written for the Dallas Morning News, Focus Daily News, Waxahachie Daily Light, Dreamscapes Travel Magazine, Porthole, Core Media, Fort Worth Star Telegram and many other publications in Los Angeles, Dallas and Chicago. With five books published, her latest release is "A Brief History of Fort Worth" published by History Press. Contact her at [email protected].
Sign up for the weekly Green Source DFW Newsletter to stay up to date on everything green in North Texas, the latest news and events. Follow us on Facebook, Twitter and Pinterest.