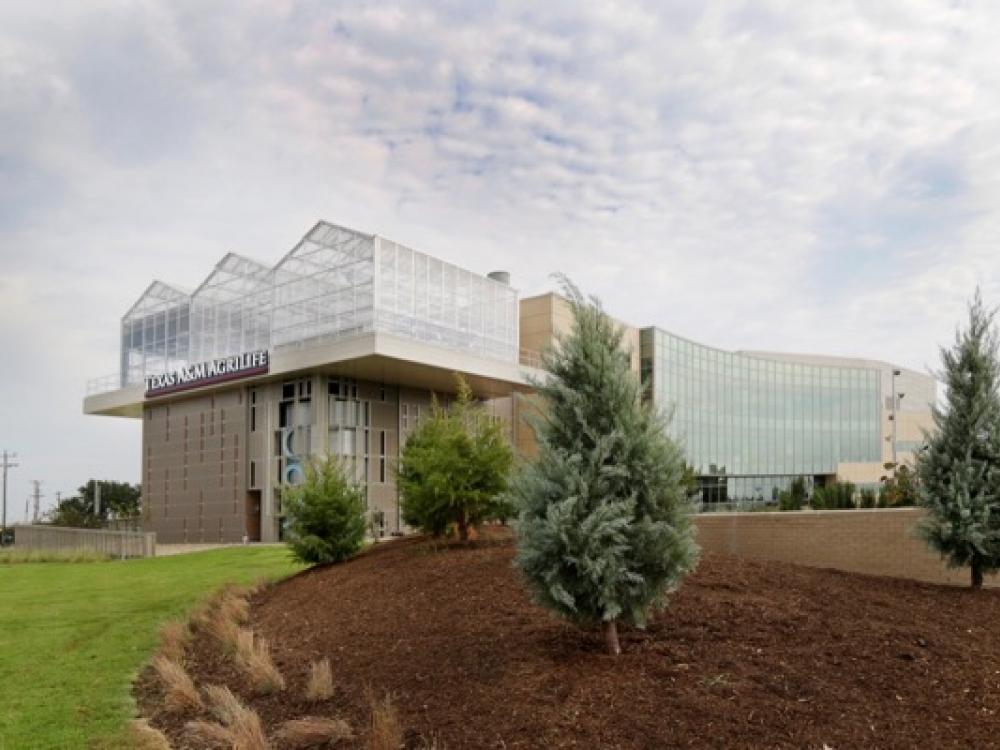 The Texas A&M AgriLife Research & Extension held a grand opening of its renovated campus last week. Photo by Gabe Saldana.
Oct. 15, 2019
One of the best centers for sustainability education in DFW just got better.
Last week, the Texas A&M AgriLife Research & Extension Center on Coit Road in Dallas unveiled its state-of-the-art renovation featuring eco-friendly technologies that will make it an even more valuable resource to North Texans.
"We are proud of the magnificent buildings and gardens we have constructed," said David Lunt, Ph.D., associate director for AgriLife Research and interim director of the Dallas Center. "But it is our people who are our greatest asset as we endeavor to bring world-class, cutting-edge science to bear on the challenges facing urban, suburban and rural communities."
For over 100 years, Texas A&M AgriLife has been providing educational outreach to Texans of all walks of life through a variety of facilities located across the state. Their classes and workshops teach everything from building your own rain barrel and installing native landscapes to growing fruits and vegetables and then canning them. AgriLife also administers programs such as Master Gardeners and Master Naturalists for adults as well as 4H for youth.
WHAT'S NEW
The Texas A&M AgriLife Center at Dallas has a rich history but the buildings were beginning to show their age. Recent updates include construction of a spacious headquarters dubbed the Urban Agriculture and Forestry Building.
The new 60,000-square-foot building stands like a beacon as one heads north on Coit Road towards George Bush Turnpike. Jutting out from the structure is a water cistern with H20 clearly marked in huge print. The campus includes two 30,000-gallon display cisterns and one underground 40,000-gallon cistern which bring the center's rainwater harvesting and irrigation capacity to 100,000 gallons.
In addition, three stunning rooftop greenhouses will provide space for AgriLife researchers to study low-water usage and heat-tolerant grasses as well as hydroponics and vertical farming. Expansive laboratories in the building will augment those research efforts.
"Agriculture must become integral to urban culture," said Patrick Stover, Ph.D., vice-chancellor of Texas A&M AgriLife, dean of the College of Agriculture and Life Sciences and director of Texas A&M AgriLife Research. "With today's technologies and centers like the Dallas Center, we have the potential to meet expectations and feed the world with nutritious food that prevents disease and is environmentally sustainable."
Open office spaces in the headquarters will house more than 100 staffers in an airy and bright atmosphere that is surrounded by energy-conserving architecture such as LED lighting and smart windows that adjust constantly to minimize heat transfer while letting in natural light. The building's orientation takes advantage of passive heating and cooling, depending on the season of the year. Demonstration native and adapted-plant landscapes border the facility and provide restful outdoor spaces for small meetings, lunch or contemplation.
The Gardens at the Texas A&M AgriLife Center at Dallas. Photo by Patricia Moran, Texas A&M AgriLife.
THE GARDENS, NEW ED BUILDING & ECOPARK
Daniel Cunningham, AgriLife horticulturalist, said another highlight of the campus is a new 4-acre public landscape called the Gardens, featuring native and adapted ornamental plants and turfgrass showing varieties developed at the center.
"We hope the public will not only enjoy the Gardens for their ornamental value, but also take advantage of as educational demonstrations," said Cunningham.
Just a short walk across campus is the new Water and Land Resources Building, a classroom and event space. 
The 8,000-square-foot building was also built with the latest in eco-friendly energy and water-conserving practices to preserve these resources and be a living example for visitors. For instance, the building's cistern will not only provide water needed for irrigating the landscape but also to flush the toilets. Even the parking lot is lined with rainwater catchment furrows that funnel runoff into the detention pond so nothing is wasted.
The Water and Land Resources Building and Benny J. Simpson Ecopark at the Texas A&M AgriLife Center at Dallas Photo by Gabe Saldana,Texas A&M AgriLife,
With a capacity to seat 300, the building will host Texas A&M's Water University classes beginning in 2020, covering topics such as composting, native landscaping and sustainable gardening. Family and community programs including AgriLife's Healthy Texas initiative will educate Texans on disease prevention through nutritious eating and healthy cooking. The facility also helps to coordinate educational programs throughout the DFW metro area.
The adjacent 7-acre Benny J. Simpson Ecopark, formerly agricultural research land, features more than 140 native plant species.
The restored Blackland prairie hosts a variety of wildlife including Cooper's hawks, great horned owls, migrating monarch butterflies and other species of pollinators, birds and small mammals. It will also serve as a living classroom to teach the public as well as business and government leaders the value and methods of achieving natural resource conservation.
Cunningham said the large rain garden and bioswales surrounding the Water and Land Resources building will funnel stormwater into the system.
"These feed into our serpentine detention pond, which not only serves to reduce stormwater runoff by slowing sinking and spreading every drop of water that falls on this property, but it's also the backbone of our Benny J. Simpson Ecopark. Benny was a horticulturist whose work here at AgriLife Dallas pioneered the use of water efficient native plant material in home landscapes. Our public walking trails throughout the Ecopark invite visitors to learn about the Texas native flora and fauna indigenous to our Blackland prairie and the ecosystem services they provide."
---
Stay up to date on everything green in North Texas, including the latest news and events! Sign up for the weekly Green Source DFW Newsletter! Follow us on Facebook and Twitter. Also check out our new podcast The Texas Green Report, available on your favorite podcast app.