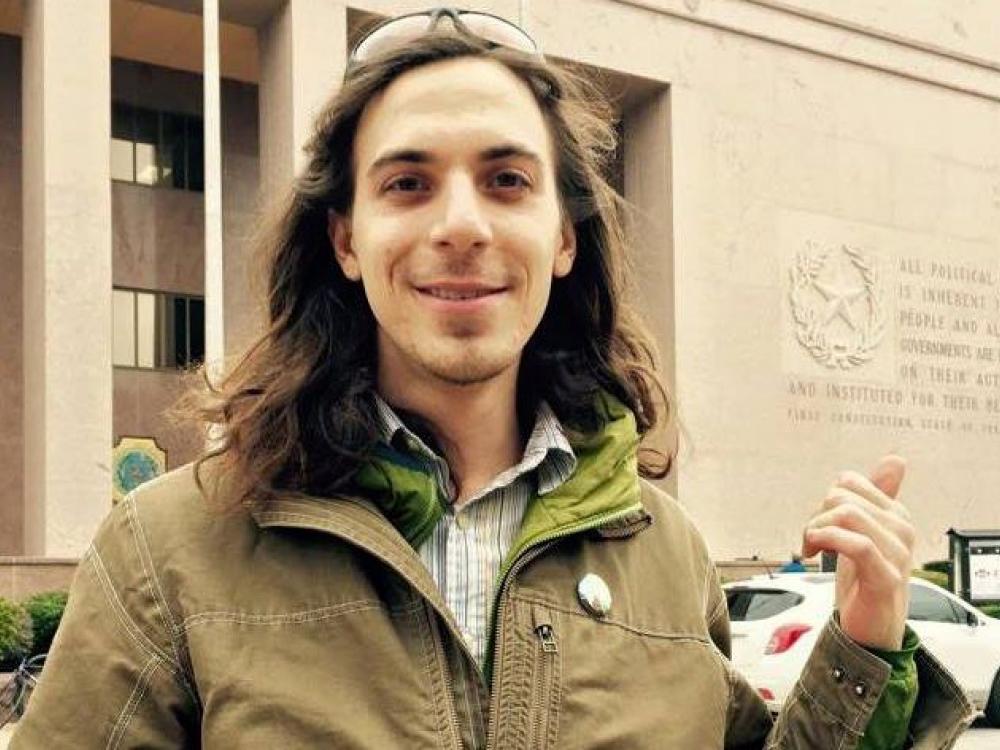 Dec. 7, 2015
Three and a half years ago, Corey Troiani was a recent University of North Texas grad, swept up in the controversy over hydraulic fracture drilling that was roiling Denton. Concerned over bigger inroads into the state posed by tar sands drilling and the Keystone XL pipeline then tunnelling through Texas, he and seven friends took action. They founded Tar Sands Blockade.
Troiani found himself in seven-hour strategy sessions on an East Texas ranch, and at times, sitting in a treetop while pipeline workers piloted massive tree-cutting equipment too close for safety.  
"We were asked by landowners who had exhausted all the legal channels and felt they were being duped and misled...cheated out of a legal process..."  
They asked if the activists would come help. 
Now he leads the North Texas office of the nonprofit Texas Campaign for the Environment in different kinds of campaigns. Troiani was recently named program director for the regional office, taking over for Zac Trahan, who had served as acting regional director while holding down his job as state program director.
TCE's focus is "primarily on waste and recycling issues," says Troiani. "We want to act as a catalyst." The group's published mission is "empowering Texans to fight pollution through...grassroots campaigns... (to) shift corporate and government policy." TCE is reportedly the largest environmental group in Texas that organizes support through door-to-door canvassing.  
"We walk five to seven miles a day, calling on people" to explain TCE programs and enlist their support.
TCE's new North Texas campaign is to build a DFW Zero Waste Alliance, as they have done successfully in Houston and Austin.  
"We build a coalition of business leaders and environmentalists for zero waste, to divert as much as possible from landfills….We are strengthening the zero waste plan in Dallas and want to expand to the municipalities," says Troiani.  
This includes developing plans and model ordinances for curbside compost collection, as well as for recycling at apartments.
"Fifty percent of (Metroplex) residents live in multi-family housing," Troiani points out, "and recycling is not mandated," except in Fort Worth, the only North Texas city with an apartment recycling ordinance. "We're working with apartment managers and building owners to build a plan before we go to City Council."  
Do zero waste and recycling programs help with big environmental problems like climate change?
"It's not just about diverting waste from landfills," Troiani explains, " it's also about product design...with less packaging, not planned for obsolence...that equals conservation."  
Which lowers energy use, reducing reliance on energy generation methods that currently use greenhouse gas-emitting power sources and release GHG's into the atmosphere.
"It's also about diverting materials from the waste stream," says Troiani. "Landfills release methane gas when carbon materials (food waste, yard waste, paper) decompose in anaerobic (oxygen-deprived) conditions."  
Such as at the bottom of a landfill.  
"Methane is a very powerful greenhouse gas."
"In TCE our focus is on legal channels... and we work on campaigns that are more winnable…...often more liberal than the Keystone fight was....(But) occasionally, we do something like a flash mob at a Walmart, protesting to get them to recycle electronics."
Troiani recently scored a victory after leading a successful demonstration outside Pier 1 Imports headquarters in Fort Worth. According to the Star-Telegram, more than a dozen protesters with a couch for a prop called for the retailer to stop selling furniture with flame retardants. They also provided more than 300 letters from the public gleaned from a door-to-door campaign.
That afternoon, Troiani heard from an executive at Pier 1 who told him they were already in the process of phasing out flame retardant chemicals from furniture by the end of the 2015.
"We see this as a victory and a direct result of the grassroots organizing and public pressure on the company to stop selling flame retardant chemicals," Troiani told the Star-Telegram.
---
Sign up for the weekly Green Source DFW Newsletter to stay up to date on everything green in North Texas, the latest news and events. Follow us on Facebook, Twitter and Pinterest.