In May of 2009, students at Fort Worth Country Day met with Upper School science teacher Perri Carr to discuss applying for a Texas Healthy Habitat Grant. The grant money is funded by EnCana Oil and Gas (U.S.A. Inc.), North America's largest natural gas producer, and distributed by Texas Parks & Wildlife Foundation. The Healthy Habitat grant money is to be used as part of a service learning program for schools and nonprofit youth organizations with the goal of preserving plant and animal species native to Texas and clearing invasive plants. The program is administered by Service Learning Texas.
According to Texas Parks & Wildlife Foundation's executive director, Dick Davis, the students are addressing priorities in the Texas Wildlife Action Plan, a blueprint to "keep common species common" and avoid more species from becoming threatened and endangered. Texas is believed to be the first state offering grants for student service projects to support a state wildlife action plan.
The Fort Worth Country Day (FWCD) students applied for the grant as the Project Prairie Team in order to fund the preservation of a six-acre area of their campus which hosts a native prairie with over 40  native plant species, some rare. After the students learned that this land was more than a scraggly hill and how important native prairie land is to the surrounding eco-systems, there was great concern that part of this prairie hill was about to be destroyed by nearby highway construction. The Project Prairie Team applied and won a grant for $14,682 to begin their efforts to improve the environment on their campus. They had no idea how much research and time would go into writing a grant request, but in the end they all learned valuable information. In addition to restoring the prairie, they wanted to use funding toward the building of a green roof.
Team members and their teacher traveled to Austin, Texas to attend a Healthy Habitat training session where they learned how to manage and improve their project plans. They have made great progress since the initial grant was received and their plan was put into action. Weekends were sacrificed to clear the invasive plants on the hill, and later the team began reseeding the prairie hill with native plants and seed balls.
"It felt good to help the environment near school and preserve an ecosystem that is being limited by development," team member Gregory Lehrmann said. "Working with friends made the work fun and enjoyable."
"It's nice to see the prairie come back to life by getting all of the invasives out," student William Baumgardner said. "We really work as a team and get a lot accomplished. It wasn't as hard as I thought it was going to be. And it's so cool to be learning real science in a hands-on, meaningful way."
The Project Prairie Team began working with many local wildlife and landscape experts from Fort Worth Nature Center and BRIT (the Botanic Research Institute of Texas) to identify, classify and measure all the activity related to the Prairie restoration. They plan to install cameras to record animal activity on the prairie, and they were trained in Geographic Information Systems to help keep track of plant and animal species on the hill. They designed and provided surveys and quizzes for all grade levels at their school (which is K-12 grade) to help educate them about the ecosystems on their school campus and the importance of preserving the prairie on the hill.
Student William Baumgardner said, "With less than 1% of the Native Fort Worth Prairie remaining, this preservation and restoration of this six-acre Prairie is essential for our area. It really is living history, geology, environmental science, and a source of inspiration in which every person exposed to it can take something away from it."
William Baumgardner, Ama Alame, Spencer Shaw, Jamie Davidson
Recently the students also had the opportunity to interview Dr. Jane Goodall who visited their campus, and to tell her about their Healthy Habitats project. She was so impressed that she would like to include the project and FWCD in her next book.
FWCD teacher Perri Carr said, "I am so proud of the students who took ownership of this project. It is different from many programs in which the adults design and organize the activities and the students have little input. With the Healthy Habitats grant, students showed us what they could do when we adults stepped back."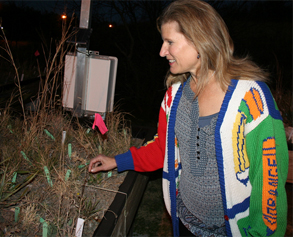 The team has also developed the concept of building a green roof at their campus. After studying the benefits of green roof tops, (roof tops actually planted with soil and native species) and measuring temperature 50-70 degree differences between solid roof tops and green roof tops with infrared temperature meters, they are intent on their school building having a green roof. "
                                                                                          Perri Carr, FWCD Teacher                        
Green roofs are a great way to cut emissions," said student Erin Loth. "They help insulate the building, which cuts heating and cooling costs, and the plants on the green roof help absorb carbon dioxide." To begin the process, students built four demonstration roof top containers near the prairie to experiment with soil, moisture control, plants that thrived and those that didn't. The students are also investigating just which native prairie plants thrive on these roofs, since they aren't as deep as their natural environment.  They set up three of the containers at a five degree slope and a fourth at a 10 degree slope, each with varying set ups of soil and plant covering.  Because green roof tops are very heavy, the campus administration will conduct feasibility studies to see if putting a green roof on any of the campus buildings in the future is possible.
The students also had to implement a community outreach strategy as part of the requirements for a Healthy Habitats grant. "We involved our community by hosting several workdays which encouraged volunteers from our community to come help preserve their hometown's environment. We also worked with our community outreach program Breakthrough to educate about eighty middle school students about the prairies and helped them build their own demo green roofs," said student Aya Alame. "We also presented information about the importance of conserving native prairies at the Lake Worth Monster Bash."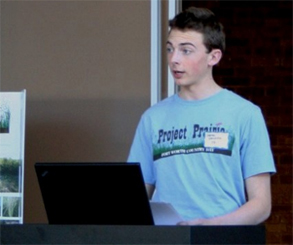 On March 9, 2011, the students who began this journey 22 months ago have come a very long way. They presented their team's work and research to faculty, community members, plant and wildlife experts, and Service Learning Texas officers with a professional edge that astounded many of us.
                                                                                           Jamie Davidson
After their presentation they were asked what they thought about State budget cuts to programs like Service Learning Texas. They respectfully posed their concern: "The funding for this type of program is critical to our future," FWCD student Jamie Davidson said. "They shouldn't balance the budget deficit on the backs of children and their education."                  
These students enthusiastically stand by their team's experience as one worth cultivating for the students who will come behind them after they graduate. They hope the future of the project will include a real green roof on the campus someday, pathways  that are handicap accessible near the prairie, with signage to mark the different types of species, and to provide information on why the prairie is so important the surrounding eco-systems.
Aya Alame, Spencer Shaw, Jordan Scoville, Jamie Davidson, William Baumgardner, Karina Hudak, John Snowden, Perri Carr
FWCD has been named a founding Green Ribbon School for its healthy learning environment and  energy-wise campus.
Written by Christine Volkmer.