Ned Fritz in his element — the forests of East Texas. A local team is creating a website chronicling the achievements of the famed Dallas environmentalist. Photo courtesy of Save America's Forests. 
July 28, 2022
Did you know or were you influenced by Ned Fritz?
Texas' greatest environmentalist-lawyer from Dallas died in 2008 at age 92. But there's no comprehensive chronicle of his life's work. 
A team of Dallasites wants to change that by creating an online biography of the man who did more to save nature in Texas than anyone else.
The public's help is needed. 
Perhaps you were active in one of his groups or endeavors: 
• Citizens Organization for a Sound Trinity, which defeated the Trinity barge canal (and later on Dallas Floodway Extension attempt number one), saving the Great Trinity Forest in the process. (1972-'73)
• Big Thicket Association, which he helped obtain legislative agreements to create the Big Thicket National Preserve. (late 1960s through 1970s)
• Texas Conservation Alliance, originally Texas Committee on Natural Resources, one of the state's most significant fighters for nature. (1966 to present)
• Texas Land Conservancy, formerly the Natural Areas Preservation Association, now the largest Texas-only land trust. (1982 to present)
• The Nature Conservancy in Texas, which he helped get off the ground and served as its first acquisitions director. (1964 to present)
• Texas Historic Tree Coalition, preserving large, old, and otherwise significant trees. (1996 to present)
• Save Open Space, which fought creek channelizations in Dallas and much more. (1970 to mid-1990s)
• Audubon Dallas, which he co-founded. (1973 to present)
Genie Fritz at the Texas Buckeye walks. Courtesy of David Gray.
Perhaps you joined one of his infamous Texas Buckeye walks to see the spring blooms, now immortalized as the Ned and Genie Fritz Texas Buckeye Trail.
Through legislation and lawsuits, Ned prevented massive acreage in East Texas national forests from being clearcut for pine plantations — in the process stimulating a national forestry reform movement. 
He shepherded the establishment of five wilderness areas, covering 37,000 acres. 
Ned wrote three essential books about these activities: Sterile Forest: The Case Against Clearcutting (1983); Realms of Beauty: The Wilderness Areas of East Texas (1986, 2nd edition 1995); and Clearcutting: A Crime Against Nature (1989). 
A pioneer on many levels, Ned was one of the first to raise environmental racism concerns in the 1960s and fought lead pollution from south and west Dallas heavy industry. He helped start Dallas' recycling efforts by mentoring Joanne Hill to create Dry Gulch Recycling Center. 
These are but a few of Ned Fritz's achievements — his gifts to a grateful state — all made possible by the supportive partnership of his wife, Genie, a force in her own right for women's empowerment and equal housing opportunities.
HOW THE PROJECT CAME TO BE 
My first journalism award was bestowed at the young age of 22 by Ned through Texas Committee on Natural Resources. That jumpstarted my career in journalism, which is still going strong more than 40 years later. I hope my environmental reporting at Garbage magazine, Dallas Morning News and GreenSourceDFW, and for my book Wild DFW: Explore the Amazing Nature around Dallas-Fort Worth makes him proud. 
A chapter in Wild DFW (due out in early 2023 via Timber Press) focuses on a Ned and Genie Fritz Texas Buckeye Trail walk with Kristi Kerr Leonard and one of the Fritz's daughters, Eileen Fritz McKee.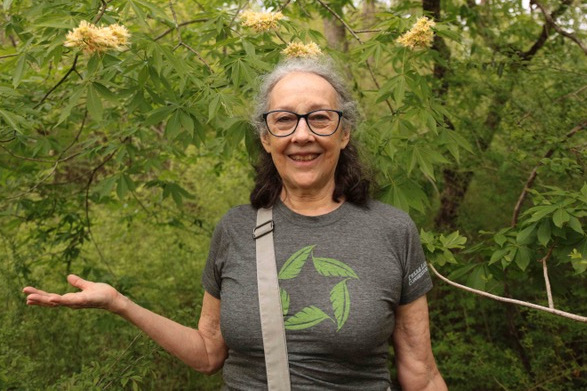 Eileen Fritz McKee poses with the Texas buckeye blooms her father popularized. Photo by Jennifer Weisensel/Wild DFW. 
At one point, our trio stopped on the dirt Buckeye trails and gazed into the Bonton Woods. It radiated peace, so verdant and nurturing, home to white-tailed deer, a plethora of birds and more. 
"If not for your parents, Eileen," I said, "this would not be here. It would be a turning basin for barges."
It was hard not to cry. Ned believed sincerely in the power of what a small dedicated group of people with solid leadership could achieve. Discover insight into what Ned managed to manifest in Ned's Legacy List.
Sponsored by the Trinity Coalition, for nearly two years, Kristi has led a team of naturalists in the near-impossible task of reclaiming the Buckeye trails from invasive privet, winning the 2022 Trail Volunteer of the Year Award by Dallas Parks and Recreation. It'll take a legion of volunteers and city workers to save Ned and Genie's legacy. Join them.
Map of the paved and soft-surface Ned and Genie Fritz Texas Buckeye Trails. Map by Scooter Smith/Wild DFW.
As I was writing the Bonton-Buckeye chapter for Wild DFW and Kristi was creating handouts for her Buckeye Trail volunteers, we realized that information on Ned was lapsing online and becoming hard to find. Sites with in-depth material were primarily appealing to researchers. His legacy was slipping away from the public eye.
BE A PART OF NED FRITZ LEGACY 
A team formed: Kristi Kerr Leonard as project manager; Scooter Smith as webmaster and graphics designer; and myself as researcher and writer, all working closely with Eileen and Genie Fritz. 
After much brainstorming, the team decided that a website would be the best vehicle —  easy to update and post lots of photos and videos, plus links for more in-depth information. Also, you just can't go cutting down trees to honor a famed forest defender. 
The work in progress, called Ned Fritz Legacy, will eventually be a full-length, 60,000-word biography of Ned Fritz. But lacking a book publisher's support, a website must be crowdfunded. 
CALL FOR INPUT
The team seeks your stories and tributes about Ned and Genie. Especially needed are photos, films and videos of Ned and the places he saved. Submit your text and visuals, or ask questions. 
Ned Fritz and his ever-present birdwatching binoculars. Photo courtesy of Texas Conservation Alliance. 
Read some of the shorter tributes to the duo in the rotating text at the bottom of the website's landing page. 
A full-length tribute from noted congressman John Bryant is in the biography's first completed section, Ned in a Nutshell. 
NED'S LEGACY IN YOUR LIFE 
If you've ever floated the Trinity River or hiked any preserve along the West Fork and main stem, or explored the Great Trinity Forest, Spring Creek Forest Preserve or Dogwood Canyon Audubon Center, you owe an enormous debt to Ned. 
Have you been enchanted by the song of a golden-cheeked warbler, been awestruck by a soaring golden eagle, thrilled to the chase of a Harris hawk, sought the illusive red-cockaded woodpecker, or enjoyed any Texas bird? You owe the strong state of avian protection in Texas to Ned as well.
Does walking among East Texas's deep pine and hardwood forests bring you solace, even just seeing them in passing from a car window? Does knowing there are roadless wilderness areas in national forests where humans can do little harm give you hope? Then give thanks to Ned. 
Ned Fritz with the sign honoring the acquisition of Catahoula Preserve in East Texas by Natural Area Preservation Association, now Texas Land Conservancy. Photo courtesy of TLC. 
MAKING NED FRITZ LEGACY A REALITY
The Ned Fritz Legacy is fortunate to have underwriting provided by stalwarts from TCA, TLC and Dallas Sierra Club, and from First Unitarian of Dallas where Ned, Genie, and the team are members. But the main support comes from individuals, many of whom were set on their life path, as I was, by Ned's belief in them. Scroll down to see donors so far. 
In addition to your tributes and tales about Ned and Genie, or their influence on your life, the Legacy team respectfully requests your donations to underwrite the creation of a full-length biography and significant multi-media website, plus hosting and management for 30 years. 
The website will include an extensive action guide to ensure this legacy lives on in future generations. 
We'd gratefully accept your help in preserving the legacy of Ned Fritz — father of Texas nature preservation,  founder of the Texas land trust movement and the Living Lorax of Texas. 
Amy Martin, Kristi Kerr Leonard and Eileen Fritz McKee at the first brainstorming session for Ned Fritz Legacy. Photo courtesy of Kristi Kerr Leonard.
RELATED ARTICLES
Green Source DFW columnist to pen 'Wild DFW'
Scholarship named for famed Dallas environmentalist
Buckeye Trail named for local environmental trailblazers
Austin-based land trust acquires Connemara's holdings
Your guide to exploring the Great Trinity Forest
---
Stay up to date on everything green in North Texas, including the latest news and events! Sign up for the weekly Green Source DFW Newsletter! Follow us on Facebook and Twitter. Also check out our new podcast The Texas Green Report, available on your favorite podcast app.