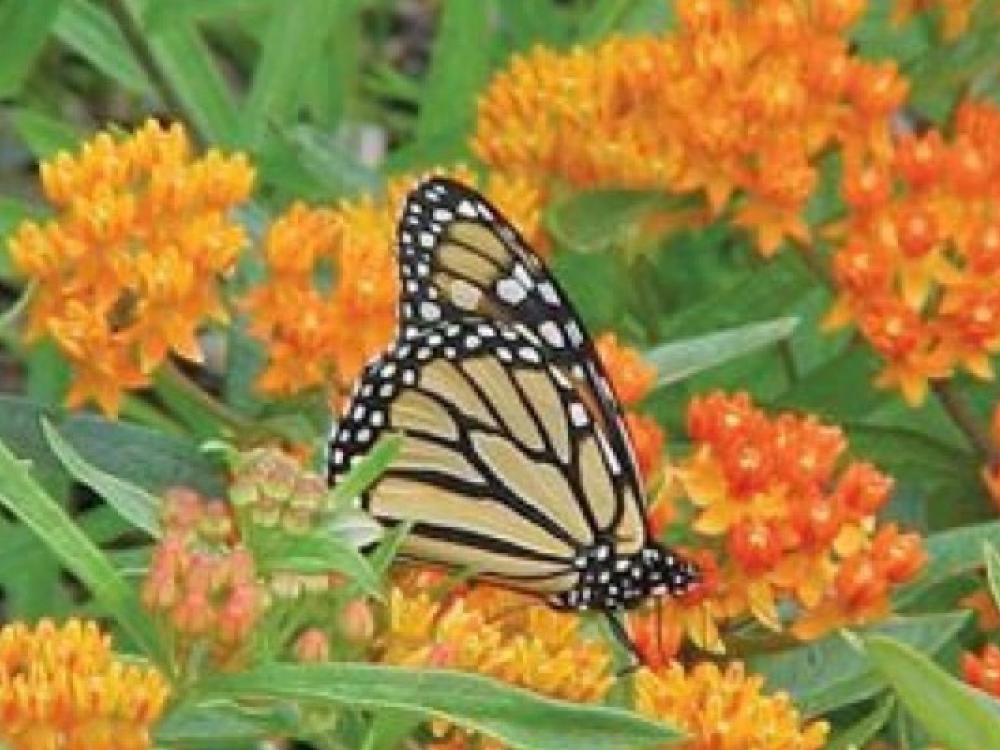 On May 2, the Texas State Soil and Conservation Board began offering grants for Monarch habitat restoration on rural land and public butterfly gardens in cities. Courtesy of National Wildlife Federation.
July 15, 2016
Home, home on the range is not the same when the monarchs don't play. 
The cherished butterflies' national posse of supporters is large and growing in response to the loss of 90 percent of the monarch population in the past 20 years. Now their Texas fans get a boost from a new Monach Habitat Restoration grant program by a little-publicized but important agency, the Texas State Soil and Water Conservation Board.
In May last year, President Obama's national Pollinator Health Task Force was launched, led by the Environmental Protection Agency and U. S. Department of Agriculture, with state, local and industry partners. The kickoff project is Monarch Highway envisioned along the entire Interstate Highway 35 corridor  from Laredo to Duluth, Minnesota, at the center of the Monarchs' eastern flyway. Planting and nature restoration projects will create stopover spots of the butterflies' preferred food and shelter plants to sustain the orange-and-black winged flyers on their epic 1,500-mile migrations between Canada and Mexico.  
Monarch restoration corridor map. Courtesy of Texas State Soil and Water Conservation Board.
The overarching goals of the task force are to increase failing honeybee and monarch populations and restore or enhance millions of acres of land for pollinator habitat.
Then in September, the National Wildlife Federation launched its Mayors' Monarch Pledge campaign, enlisting local officials to promote butterfly habitat planting in towns across the U. S. In North Texas, the mayors of Dallas, Fort Worth, Arlington and Denton have since all signed on, joined by the mayors of Allen, Cedar Hill, Coppell, Everman, Garland, Granbury, Grand Prairie, Grapevine, Highland Village, Kennedale, Lewisville, Mansfield, Mesquite, Richardson and Westlake. 
And now more help is here from the Texas State Soil and Water Conservation Board. TSSWCB is offering grants for Monarch habitat restoration on rural land and public butterfly gardens in cities. The agency's main charge is to provide technical assistance to the State's 216 Soil and Water Conservation Districts, helping farmers and ranchers improve fertilizer use, cultivation methods and erosion controls, as well as control certain brush plant species to reduce water loss. Now the agency is offering butterfly habitat grants in 143 eligible Soil and Water Districts within the Monarch flyway.
"Wildlife is in our bailiwick," says John Foster, programs head of TSSWCB's Area 1 headquartered in Tyler. "When concern over monarchs became clear, we wanted to do something to help stop their decline and prevent their being listed as endangered."  
U.S. Fish and Wildlife Service was reviewing the monarch's possible designation as "threatened" under the Endangered Species Act, a classification that can trigger land use restrictions and other measures affecting landowners.  
TSSWCB applied to the National Fish & Wildlife Foundation, an arm of the U. S. Fish & Wildlife Service, and won a grant. They then gained matching funds from the USDA Natural Resource Conservation Service, formerly known as the U. S. Soil Conservation Service. Now the fun begins.
"We've had an outstanding response," says Liza Parker, also of the agency's Tyler office. "Since we opened the grant program on May 2, we've received more than 500 applications."   
Antelope Horn milkweed (A. asperula.) Courtesy of W.D. and Dolphia Bransford/Lady Bird Johnson Wildflower Center.
Still opening applications to review them and reply, the team intends to award grants in time for planting from December to late spring, depending on the locale. There is no deadline to apply and no end date set for the program.
For ranchers, farmers and private rural landowners, the grants will fund habitat enhancement/restoration on 1- to 3-acre plots, at $375 per acre. The grant also includes a site visit by a technical specialist to develop a conservation management plan, which identifies that locale's native species of milkweed – the monarch's favorite nectar and shelter plants – and provides planting and care instructions and referral to local seed suppliers.  
For schools, businesses and municipalities, grants fund butterfly gardens of 100 to 300 square feet. Minor technical services are also included. Grants provide $5.60 per square foot, to a maximum of $1,700. Signage with explanatory text will be provided. 
These aren't "plant it and forget it" projects, contrary to a common misconception about wildflower plantings. Grant awardees must maintain the habitat or garden for at least five years, following the Range Planting Guidelines of the USDA-NRCS, available online.
"Rural habitat restoration is going to have the biggest effect on monarch recovery, because of the acreage," says Foster. "But education and public awareness, that comes from the city gardens… In city parks, hundreds and thousands of people see them. People walk past, see it and understand."
As for site monitoring or data collection, TSSWCB is not funded to gather scientific information. "We're more than happy to liaison with people who want to do that, like university students," Foster offers. "We definitely have a lot of people interested."
These hands-on habitat-building programs help address the need created by widespread habitat loss. Nationally, research continues on other factors: powerful new systemic pesticides, intensive herbicide use enabled by GMO "Round Up Ready" crops that withstand spraying and fence-to-fence weed removal using state-of-the-art cultivator equipment.
Why it matters: when people feed and protect the monarchs, they help feed us. That's motivation for you. Along with other pollinators -– butterflies, bees, other insects, birds and bats -- the monarchs pollinate one-third of the food crops that Americans eat. Without them, the blooms fall off, unfertilized and no fruit forms.  
"YOU can share some land with pollinators!" proclaimed Dr. John P. Holdren, director of the White House Office of Science and Technology Policy, announcing the task force.
Become a butterfly wrangler or gardener – no chaps needed, no roping skills to learn.
MORE INFO
For grant applications and more information, visit Monarch Habitat Grants web page. Submit your application to your local Soil and Water Conservation District. Only sites within the Texas counties of the Monarch Restoration Corridor are eligible. 
RELATED STORIES
Local experts say plant native milkweed for monarchs arriving in October
Monarch Czar appointed to boost milkweed planting in Texas
Dallas touts 'wildflower power' with pollinator conservation program
---
Sign up for the weekly Green Source DFW Newsletter to stay up to date on everything green in North Texas, the latest news and events. Follow us on Facebook, Twitter and Pinterest.