Bicycling enthusiast Fort Worth Mayor Betsy Price on the Trinity Trails in Fort Worth. Courtesy of SquareMeals.org.
Dec. 15, 2015
North Texas cities have long been connected by highway and rail line but city leaders are saying the end is in sight for a continuous biking and pedestrian trail connecting Dallas and Fort Worth.
According to Kevin Kokes, a principal transportation planner for the North Central Texas Council of Governments, the concept of the regional veloweb has been in the North Texas transportation plan for years. But it was in 2013, that five DFW mayors put the pedal to the metal. 
Kokes said that's when he was asked by one of the mayors to set up a meeting for leaders of the cities that run along DFW's east-west corridor through Dallas, Irving, Grand Prairie, Arlington and Fort Worth to help speed up completion of the trails linking the region.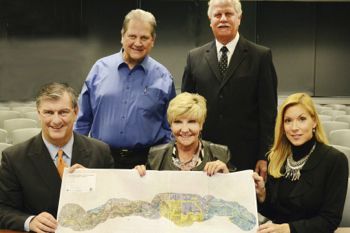 Both Fort Worth Mayor Betsy Price and Grand Prairie Mayor Ron Jensen are avid cyclists who have promoted biking in their cities.
Dallas Mayor Mike Rawlings, former Arlington Mayor Robert Cluck, Fort Worth Mayor Betsy Price; Grand Prairie Mayor Ron Jensen and Irving Mayor Beth Van Duyne began working together in 2013 to speed up completion of the trail system connecting Dallas to Fort Worth. Courtesy of NCTCOG.
Jensen, who kicked off his Cyclin' with the Mayor program this year, said the enthusiasm for the all region trail is building.
"As our residents grow 'greener' and look at alternative forms of transportation and exercise, an intercity bike trail holds promise. We are especially partial to projects that unite our communities, so we are interested in seeing how this develops." 
When completed, the trail connecting Dallas and Fort Worth will be a little more than 60 miles, longer than the driving distance between the cities. That's because it includes a few meandering paths and a fork to include both Irving and Grand Prairie. The route has been tweaked over the years for practical reasons, said Kokes.
"In some cases, there might be a nice scenic route but that property wasn't available."
The trail begins near downtown Fort Worth and ends in downtown Dallas. It follows both the Trinity River as well as the rail lines, with the idea that communters could use a combination of public transportation and biking. Planners also directed paths near major employers such as the new American Airlines headquarters in the works.  
Meanwhile, a 7-mile stretch in River Legacy Parks in Arlington marks one of the largest continuous sections of the trail currently built, according to a recent Star-Telegram article.
Click here for a larger version of the Fort Worth to Dallas trail map. Courtesy of NCTCOG.
Kokes said while cities are responsible for funding and building their own sections, he works as a liaison, providing assistance when needed and helping everyone keep up with what other cities are doing.
"We bring in the regional perspective. We provide background information and share lessons learned by other cities. There may be something happening in the city right next door that they don't even realize."
About $20 million is still needed to fund a remaining 10 miles and not all of the funded trails have been built. Kokes said the Fort Worth to Dallas corridor could be completed within a decade or as few as five years.
"The more gaps that are being closed, the more there's a push to find funding."
Price, who is known for hosting Rolling Town Hall meetings, said the trails will change the way the next generation views transportation.
"By connecting our cities, this new trail will give our children and their children the opportunity to explore all of North Texas in a healthy and sustainable way."
Click here for a larger version of the Fort Worth to Dallas trail map.
---
Sign up for the weekly Green Source DFW Newsletter to stay up to date on everything green in North Texas, the latest news and events. Follow us on Facebook, Twitter and Pinterest.