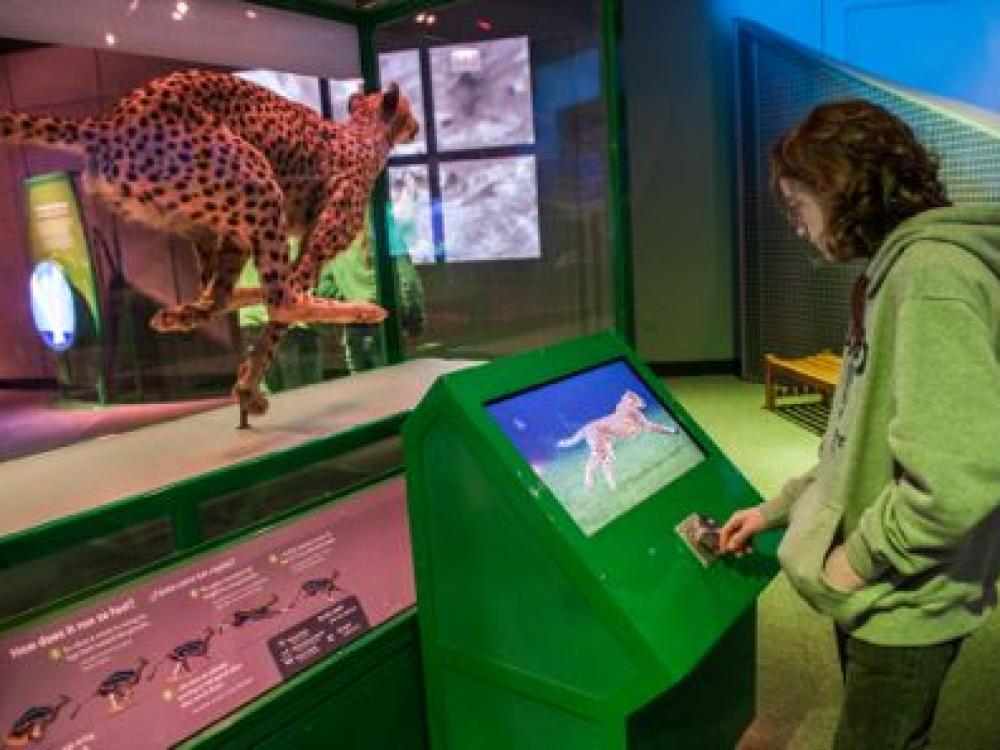 The Perot Museum hosts "Amazing Animals: Built to Survive" through Sept. 7, 2015. Photo by Jean Lachet.
July 6, 2015
If you ever wondered how animals, insects or even a small shrimp can make it in nature despite its many perils then you won't want to miss this new exhibit at the Perot Museum of Nature and Science called "Amazing Animals: Built to Survive." 
"We chose Amazing Animals: Built to Survive as our summer exhibition because it merges two fascinating worlds of science – animals and engineering," says Brandi West, manager of temporary exhibitions at the Perot Museum of Nature and Science. "From the tiniest to the tallest, visitors will get a hands-on experience exploring nature's ingenuity in all its fascinating forms."
This interactive exhibit, which opened June 13, demonstrates how animals have the means to survive against the toughest odds. For example the shrimp that can punch with the force of a bullet, chicken eggs that can withstand 90 pounds of pressure, spider webs that are stronger than steel and ears that act as air conditioners.
Above, a visitor experiments with long and short wings at an interactive station. Photo by Jean Lachet.
Some of these animals have even inspired the latest human innovations too.  
Presented by Highland Capital Management and supported by Texas Instruments, "Amazing Animals: Built to Survive" goes deep inside the workings of nature to reveal how all species have evolved over time in specialized ways acclimating to the world around them. With so many external forces – including wind, water, extreme forces and gravity – constantly at work to pull life apart, it's a wonder that so many species have evolved just the "right tools for the job." 
For example, trees, feathers and even bones are all made up of both hard matrix materials and flexible fibers that allow them to bend and be strong at the same time.
Left, a visitor examines the anatomy of a tree.
This 7,500-square-foot exhibit  shows visitors how plants and animals stay in one piece despite the crushing forces of gravity, the pressure of water and wind and the attacks of predators. Using surprising tactics, creatures endure the planet's extreme temperatures, find food against fierce competition and – without metal, motors or electricity – circulate their own life-sustaining fluids.
Discover how a Venus Flytrap detects its next meal, step in front of a thermal camera to witness how the human body stores heat and study the many different ways creatures jump, gallop, slither and swim. And learn how technological breakthroughs – such as Velcro, prosthetic limbs, wind turbines and chainsaws – were inspired by nature.
"Some of our greatest illustrations of science can be found within nature and the animal kingdom," said Colleen Walker, CEO of the Perot Museum. "With nearly 100 specimens and replications, touchable life-like models, interactive displays, videos and more, Amazing Animals shows not only how species have adapted to the ever-changing world but how humans have used the ingenuity of nature to inspire all sorts of clever inventions."
Featuring seven themed interactive areas with a large supply of pumps, radiators, insulation, motors, springs and intelligence-gathering devices, the exhibit even allows visitors to touch heart models of a mammal, bird, reptile, amphibian and fish, and actually "pump" an interactive simulated heart to learn why giraffes have much higher blood pressure than humans.
A young boy "pumps" a model giraffe heart to learn how the organ creates the enormous pressure needed for pushing blood up to the brain. Giraffes have special valves in their arteries that hold back the blood flow to their head when they get a drink of water. Photo by Jean Lachet.
In the jaws and claws gallery, discover the intense grip of a chimpanzee or the powerful punch of the psychedelic-looking Mantis Shrimp that can crack open clam shells with the speed of a bullet.
Other highlights include MABEL, a two-legged robot that mimics the way humans walk and can even recover from a stumble, and the chance for guests to "fly" by strapping on and testing different wing shapes.
"We're thrilled to be the second worldwide stop for this fantastic bilingual traveling show," said West.
AMAZING ANIMALS: BUILT TO SURVIVE
About: The exhibit features seven themed interactive areas spanning 7,500 square feet. It was developed by The Field Museum, Chicago, in partnership with the Denver Museum of Nature & Science.
When: Thru Sept. 7, 2015
Where: The Perot Museum, 2201 N. Field Street, Dallas
Cost:  Non-members pay exhibit fee plus general museum admission: $24 for adults (18-64), $17 for youth (2-17), and $18 for seniors (65+). Member tickets are $5 for adults (18-64) and $4 for youth (2-17) and seniors (65+). Children under 2, get in free.
Info: PerotMuseum.org or call 214-428-5555.
---
Sign up for the weekly Green Source DFW Newsletter to stay up to date on everything green in North Texas, the latest news and events. Follow us on Facebook, Twitter and Pinterest.