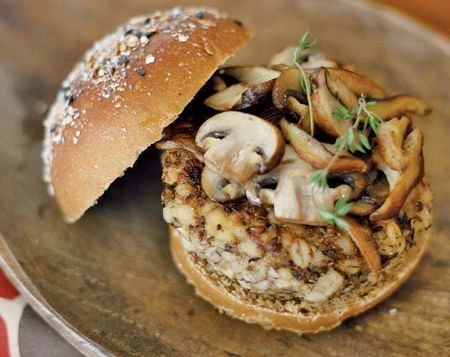 Mushroom Burger with Barley.
This vegan recipe uses potatoes rather than eggs to bind the ingredients.
Courtesy of Mother Jones.com

May 5, 2014
By Eddie Garza - Dallas-based Food Policy Coordinator for the Humane Society of the United States.   
With Earth Day freshly behind us, we've all had a wonderful reminder of the many things we can do to lighten our carbon footprint – from recycling and carpooling to using DART and taking shorter showers. There's another thing we can all do that would have an even greater impact on the world beyond our city walls: participate in Meatless Mondays, a campaign launched in 2003 by health advocate Sid Lerner in 2003. 
According to the Food and Agriculture Organization of the United Nations, animal agriculture is "one of the top two or three most significant contributors to
the most serious environmental problems, at every scale from local to global."
Factory farms – where nearly all of our meat comes from – are major culprits in climate change. These animal factories create huge amounts of manure that pollute the soil, water and air. The UN has implicated animal agriculture as being responsible for 15 percent of global greenhouse gas emissions.  Above, pigs crammed in pens on factory farm, courtesy of Farm Sanctuary.
Raising animals for food is also extremely resource intensive. Oxfam International, a relief organization that works to secure food for our exploding global population, encourages its members to reduce meat consumption, saying "it takes massive amounts of land, water, fertilizer, oil and other resources to produce meat, significantly more that it requires to grow other nutritious and delicious kinds of food." 
Reducing our meat consumption is both good for the planet and it's also good for our health. Meat-free diets are being used to reverse chronic, preventable diseases like heart disease, type 2 diabetes, and certain cancers. In fact, Kaiser Permanente, one of the nation's largest healthcare and insurance providers wrote in its brand-new "Plant-Based Diet" guide, "Any movement toward more plants and fewer animal products can improve your health." 
Above, Chipotle's non-GMO organic tofu burrito is reported to be coming to DFW later in 2014.
This movement is stronger now than ever before. In March, Mayor Mike Rawlins issued an official proclamation encouraging Dallas citizens to "kick the meat habit." The proclamation states, "A wholesome diet of vegetables, fresh fruits and whole grains promotes health and reduces the risk of heart diseases, stroke, cancer, diabetes, and other chronic diseases that affect 1.3 million Americans annually."
Above, Cosmic Fusion Claypot Rice from The Loving Hut, which has locations in Addison and Arlington. The vegan dish features rice with jalapenos, green olives, red onions, basil, bean curd and green onions. Below, hens peer out of factory farm battery cages, Courtesy of Farm Sanctuary.
And of course reducing the amount of meat we eat is good for animals too. The fewer animals we raise for food means less pressure on animal agriculture to raise them in cruel and intensive ways, like chickens being genetically manipulated to grow so obese so fast that many can't even walk more than a few steps before collapsing. To help animals, The Humane Society of the United States advocates the Three Rs: "reducing" or "replacing" consumption of animal products and "refining" our diets by switching to products from sources that adhere to higher animal welfare standards.
Thankfully, it's never been easier to take a positive step toward safeguarding our health and protecting the planet. Simple things like swapping out traditional 
chicken nuggets with meat-free nuggets and cooking up veggie burritos instead of beef burritos once a week make a big difference. Eating out is easy, too. Some of the nation's largest restaurant chains, including Denny's, Taco Bell, Red Robin and Burger King offer meat-free options. Regional favorites like PF Chang's, Chuy's and Il Cane Rosso also serve-up an array of delicious vegetarian meals. And North Texas is home to a host of popular meat-free eateries, including Spiral Diner, Be Raw, The Loving Hut, Reverie Bakeshop and Kalachandji's.
Above, vegan soul food from Spiral Diner, which has locations in Dallas and Fort Worth. Below, vegan cheese and sausage kolaches from Reverie Bakeshop in Richardson
Perhaps the best tools we have to protect the planet and improve our health are our forks and knives. Together we can stand up for the earth every time we sit down for dinner.
OTHER RESOUCES: 
7 Mouthwatering Meatless Monday Burgers
Vegetarian & Vegan Diet Pyramid
---
Eddie Garza is a Dallas-based Food Policy Coordinator for the Humane Society of the United States.

Sign up for the weekly Green Source DFW Newsletter to stay up to date on everything green in North Texas, the latest news and events.