The Native Prairies Association of Texas raised $60,000 this fall to purchase and maintain the 100-acre Mathews Prairie outside of Greenville. Photos courtesy of Amy Martin.
Dec. 12, 2017
Every day a few more acres slip away. To a developer, a prairie looks like a flat field ready-made for concrete, empty space waiting to be filled. To a naturalist, it's a rare ecological remnant with a rousing diversity of native plants essential for pollinators. 
Sometimes the prairie wins. This fall, Native Prairies Association of Texas raised $60,000 in just a hundred days – $10,000 more than its original goal – to purchase and maintain the 100-acre Paul Mathews Prairie outside of Greenville, a rare slice of Blackland Prairie of which less than 1 percent remains.
Mathews Prairie is squeezed between a solar-energy installation, a massive African church compound and an increasing number of homes. Even with a conservation easement monitored by The Nature Conservancy, Mathews Prairie is under threat of degradation and encroachment as development increases. Now two nonprofits will be assisting the prairie. 
"It is amazing what people can do when they are highly motivated to succeed," said Pat Merkord, executive director of NPAT." We did not want any chance of losing this prairie." 
Merkord said the Fort Worth and Blackland [Dallas] chapters were essential to the success of the fundraising campaign.
"Some Native Plant Society of Texas chapters made sizable donations. The Fort Worth chapter created a bus tour to LBJ National Grasslands and a winery, so we had some fun, too." 
NPAT is currently in the process of getting an appraisal and boundary survey, deed and title search on the property, which they hope to have completed by January. Get on the email newsletters of the Fort Worth and Blackland [Dallas], and the Facebook page of The Nature Conservancy of Texas, for news of public field trips to Mathews next year. 
Teamwork
"I think it will be a good partnership for both NPAT and TNC," said David Bezanson, Northeast Texas associate director of land protection for The Nature Conservancy of Texas, which oversees the conservation easement of Mathews Prairie, now owned by NPAT. 
The two land trusts frequently collaborate. NPAT owns and TNC holds the conservation easement on Mary Talbot Prairie between New Boston and Texarkana, an impressive 115-acre slice of Silveus' Dropseed Prairie, named for a rare grass it harbors. Texas Parks and Wildlife recently awarded NPAT a grant to find more prairie remnants with Silveus' dropseed. 
Gayfeathers growing at Mary Talbot Prairie in Northeast Texas. 
"In the last couple of years, we acquired two conservation easements adjacent to Clymer Meadow Preserve," said Merkord of the 97-acre Wylie and 51-acre Webster tracts. "Clymer is over a thousand acres of Blackland Prairie, much of it quite pristine, which belongs to The Nature Conservancy. These easements provide a buffer. Both are degraded prairies undergoing restoration. Some areas of native grasses are now expanding due to periodic controlled burns and manual removal of invasives." 
Individuals can join the land preservation movement as conservation buyers through TNC. The 55-acre McNeeley tract for sale on the northeast corner of Clymer is a mix of woods and pasture with prairie potential. On the next ridge over from Clymer is the rolling and vista-rich 117-acre Kirkland tract with some prairie remnant. 
NPAT and other land trusts often educate landowners of native grasslands on how to qualify for Texas 1-d-1 tax exemptions, which are equal to agricultural but for wildlife habitat. Merkord lectures on how to use native grasses to provide food, shelter and nesting areas for birds, wildlife and pollinators such as bees, butterflies and moths. TNC helps Collin County manage their 436-acre Park Hill Prairie east of Blue Ridge with a focus on its 52-acre Blackland Prairie remnant. 
The land's sake
Regulations and administrations come and go, but land persists. Once saved by a private land trust it is protected for good. In addition to purchases, land trusts administer conservation easements with individual landowners. In these legal agreements, a landowner forfeits their development rights to the property, though they still own the land and may utilize it in other ways. Land trusts manage the property as a natural habitat and protect it from development even through changes in ownership.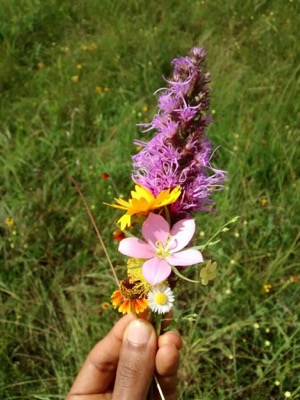 Prairie wildflowers gathered at Clymer Meadow.
Thanks to land trusts and private owners, Hunt County has the largest concentration of Blackland Prairie in North Texas. The total includes TNC's 1,400-acre Clymer Meadow, 40-acre County Line Prairie, and 85-acre Cowleech Prairie Preserve wetlands, plus their conservation buyers. NPAT owns Mathews Prairie and the two Clymer easements. Texas Land Conservancy has the 73-acre Louise Hanes Preserve, grasslands under rehabilitation into Blackland Prairie near the Ladonia units of the Caddo National Grasslands.
To the east in Franklin County, NPAT holds the conservation easement for Daphne Prairie, an astounding 922 acres outside Mount Pleasant. 
"The Silveus' Dropseed and Long Spike Tridens Prairie has soil that is a little sandier and more acidic than most in the Blackland Prairie region," said Merkord. "It is the rarest type of Blackland Prairie in Texas and the U.S." 
Rainbow at Daphne Prairie.
"Altogether in north and northeast Texas, NPAT has purchased 215 acres with another 1,070 acres in conservation easements. That's a total of 1,285 acres of Blackland Prairie protected and saved! In the entire state of Texas, we have conserved a total 4,027 acres in a variety of prairie habitats and post oak savannah. We are very grateful for the interest in saving these precious places." 
Land trust donations and easements are a genuine legacy that also imparts significant tax savings, so their appeal is on the rise. Connemara Conservancy owns the well-known Connemara Meadow in Allen and manages a number of easements. Texas Land Trust Council connects these and others. Most land trusts enable occasional public open days and field trips for naturalists. 
Land lovers
While NPAT focuses on prairies and TNC on ecologically unique properties, Texas Land Conservancy loves all lands. TLC owns the 121-acre Oak Cliff Nature Preserve, a caliche-soil scrubby urban forest, and holds the conservation easement on Kachina Prairie near Ennis, a 30-acre parcel of original Blackland Prairie known for its wildflowers. Both are open to the public. 
TLC owns the 320-acre Veda Farrington Preserve off 10 Mile Creek between Desoto and Lancaster, an example of Blackland Prairie overrun by juniper/cedar and other trees. The North Texas Wildflower Prairie is a 35-acre tract east of Sherman, preserved for generations by the McCarter family and a TLC conservation easement. The unplowed prairie harbors wagon ruts made by pioneer settlers and a tremendous spring wildflowers display. TLC holds a conservation easement on the grassland commons at the High Point Prairie housing development in Rockwall County.
Hope amid loss 
Sometimes the prairie loses. TNC keeps a prairie-remnants database and according to Bezanson, "They're dwindling very fast." 
The 1,000-plus acres dubbed by conservationists as the Fort Worth Prairie Park was sold for development after a years-long campaign to preserve it.
For years, Jarid Manos of the Great Plains Restoration Council lobbied to preserve around a thousand acres of Fort Worth Prairie on the west side of that city in hopes of creating the Fort Worth Prairie Park. But it was sold for development.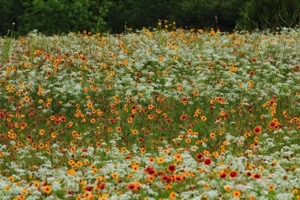 The Stella Rowan Prairie is in the hands of Tarrant County, which has no immediate plans for development on the property. 
Meanwhile, the 70 acres of land naturalists call Stella Rowan Prairie in Fort Worth was donated to the state many decades ago with the deed stipulating that it be used to "benefit the citizens of Texas," a broad and nebulous dictate. Ownership is now with Tarrant County, which currently has no plans to formalize the prairie's status, but has also expressed no interest in developing it either.
"For a long time now a group of us have been working to show the benefits of keeping it as a native prairie and working to build a constituency for it," said Suzanne Tuttle, a professional naturalist retired from the city of Fort Worth. "We are currently developing a relationship with instructional staff members at TCC–South campus to designate a Monarch Waystation at Stella Rowan and incorporate using the property in teaching the TCC students."
Two-steps forward, one step back, it's the prairie preservation tango.
RELATED ARTICLE
Funds needed to save Blackland Prairie parcel in Hunt County
---
Stay up to date on everything green in North Texas, including the latest news and events! Sign up for the weekly Green Source DFW Newsletter! Follow us on Facebook and Twitter.