We're launching a new series by Dallas-based writer Amy Martin. She'll be your guide to the natural landscapes that surround the Metroplex through public land conservation. 
Jan. 13, 2014
Need wild lands and solitude? In this new series, we'll be showcasing the public natural areas within a one to two-hour drive from DFW.
Many North Texans may not be aware of the unique geologic mountains and mineral springs, national preserve wetlands, rare remnants of tallgrass prairies, rolling wooded hill country and lakes so clear you can scuba dive that await nearby.
Make it a day trip or stay overnight. If you consider yourself a nature lover in North Texas, you really must get to know these places. 
In our first installment, let's go north to the Red River for the Hagerman National Wildlife Refuge and on to Oklahoma and Chickasaw National Recreation Area. 
Whooping cranes make a stop at Hagerman National Wildlife Refuge. Photos courtesy of Hagerman National Wildlife Refuge.
Hagerman National Wildlife Refuge
Denison, Texas
 • FWS.gov/Refuge/Hagerman
 • FriendsOfHagerman.com
 • LakeTexoma.com
 • Best seasons: late fall, winter, early spring
Head north up U.S. 75 for 75 minutes, past McKinney and Sherman-Denison, and witness the vastness that is Lake Texoma, a dammed section of the Red River on the Oklahoma border. The deep lake and its many shallower arms are dotted on both sides of the border with marinas, resorts and small parks.   
The motherlode of Lake Texoma nature is Hagerman National Wildlife Refuge on the lake's southern Big Mineral Arm, donated to the government by the gas companies that still have limited operations there.
The premier bird watching destination in North Texas is home to vast flocks of migrating waterfowl, birds of prey and many year-round residents. The small rock roads lacing the refuge provides lake vistas and pleasant meandering through wetlands. Hike into the upland forests where deer, wild hogs and turkeys thrive. Or stay clean and enjoy it all from a 90-minute natural-gas tram ride.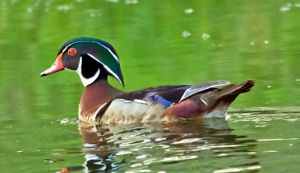 The Friends of Hagerman formed and shifted the refuge from a podunk outpost to a visitor-friendly nature preserve. The group hosts several monthly events for adults and children, plus an annual festival that attracted naturalist bigwigs like David Sibley. A modern visitor center unveiled last year with trail maps, loaner binoculars and displays. 

Plan to make a full day of it. But if you'd like to be there in the morning for prime birdwatching, there's plenty of Texoma lodging, from the huge Tanglewood Resort to small fishing cabins, plus hotels in Sherman-Denison. This time of year there's even an eagle-watching morning cruise that includes breakfast on board.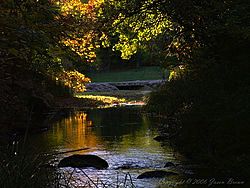 Chickasaw National Recreation Area
Sulphur, Oklahoma
 • NPS.gov/Chic 
 • SulphurOkla.com
• Best seasons: late spring, summer, early fall
Left, Travertine Creek. Photos courtesy Wikipedia.
Travel north of DFW for about two hours on I-35 and ahead of you will emerge the gentle, yet remarkable, Arbuckle Mountains. Due to an unusual uplift, the granite of the Arbuckles dates back 1.4 billion years ago to the Precambrian Era. The epic tilting of the Earth's layer also unleashed ground water to the surface in the form of gushing springs. 
The watery heart of the Arbuckles was the sacred land of the Chickasaw and Choctaw. But the healing freshwater and mineral springs along Travertine and Rock Creeks were encroached by settlers setting up tourist attractions. The Native American nations realized they lacked the resources to protect it and in 1902 it was sold to the federal government for preservation. This heritage, including a small buffalo herd, lives on as the Platt Historic District of the sprawling Chickasaw National Recreation Area. 
Platt is charming and peaceful. In the 1930s, Civilian Conservation Corps graced the Platt area with sandstone pavilions, bridges and buildings. Paved and rock trails trace the creeks that gush and tumble over travertine rock. On the east side, venture past Little Niagra to the wilder and very active Antelope and Buffalo Springs that feed the creek. Spend time at beautiful Bromide Hill with its great vistas and sacred feel. Trails link all the way to the vast Lake of the Arbuckles nearby. 
It's enough to make a full weekend of exploration. Camping facilities at Chickasaw are excellent, and adjacent Sulphur has plentiful lodging, including the deluxe Echo Canyon Spa Resort, funky Sulphur Springs Inn and Native American run Artesian Hotel. Detour off the interstate on to U.S. 77 just north of Springer to drive a special geology road tour of the mountains with signs taking you through epic history. Another section of U.S. 77 passes photogenic Turner Falls Park. 
CCC stone work at Hillside Spring.
---
Sign up for the weekly Green Source DFW Newsletter to stay up to date on everything green in North Texas, the latest news and events. Follow us on Facebook, Twitter and Pinterest.