The 66-acre Coppell Nature Park opened on Earth Day 2014. Photos courtesy of Chris Jackson, DFWUrbanWildlife.com.
Feb. 16, 2016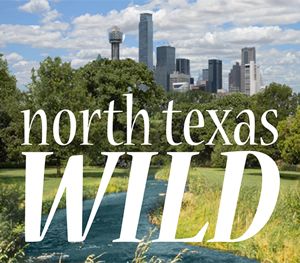 To stroll a forested park in the DFW area is to enjoy a day in the Chino-Texan woods. Usually the understory is primarily imported yard shrubs like privet and nandina native to the far east, often so thick it chokes trees and wildlife can barely wander. Dominating the trees would be hackberry, a native species that is opportunistic and tends to take over, plus invasives like tree of heaven, tallow tree and mimosa.
The Coppell Nature Park in northwest Dallas County is different. Its 66 acres is located amid the ball fields of Wagon Wheel Park and flank a mile-long stretch of the Cottonwood Branch of Denton Creek, which runs fresh and strong in spite of being amid industry. One tip off that this is no usual park is the Biodiversity Education Center. It provides indoor and outdoor education to students in the Coppell ISD and nearby
North Lake College and hosts occasional public lectures. Students learn ecological sciences, plant and animal biodiversity, conservation, eco-construction, renewable energy and water conservation. The modern, eco-smart building nestles into the edge of the woods.
The Biodiversity Education Center at Coppell Nature Park hosts classes yearround. DFWUrbanWildlife.com 
A nature park is not something you'd expect after driving for miles through Coppell's Freeport Parkway industrial warehouse district. Huge corporations like Container Store and Amazon are located there for proximity to DFW International Airport, whose planes roar by startlingly close. Once inside the vast Wagon Wheel Park, follow the signs for Biodiversity Education Center. Trails begin behind the building. 
The Winter Elegance of Trees
A stroll through the park with my husband on a warm winter day reveals bois d'arc or osage orange trees, their curved branches arcing to the ground. There is Hercules club, also called a toothache tree — chew a twig and it numbs your mouth. Signs next to many trees allow hikers to identify them even in winter. A hike becomes a self-study stroll in winter tree identification, a chance to admire the structure usually hidden by leaves — the stout branching pattern of ash, the elegant vase shape of elms, the sturdy eclectic branching of pecan, the wild chaos of hackberry limbs. 
A mighty cottonwood towers over the landscape. DFWUrbanWildlife.com
The types of oaks were numerous at Coppell Nature Park, with the starkly straight post oaks that favor the sandy Cross Timbers soil, plus red, nuttall and the slender narrow-leaved water oak that hardly looks like an oak at all. The elms were just as glorious, with American, red and even toothed slippery elm, plus some mighty big cottonwoods. Beneath them in the understory grow the stocky pale-barked possumhaw shrub with its glorious red berries, beautyberry with its arcing slender branches that host a shower of purple flowers and the red-stemmed roughleaf dogwood whose white berries attract over 50 species of birds.
It's a miasma of trails in there, flanking the wide, rock-bottom creek. Enhancements such as bridges and steps made traversing the incline easy, though when rainy the trails must be a real challenge and impassable in places. The paths are well marked; they just don't bear much relation to the website's downloadable map, a confusing mess that is useless unless printed in color (as we learned).  
Coppell Nature Park is too small to get lost in, so we just threw ourselves into it, walking almost all the trails. We encountered few people, just a woman walking her dog (on a leash but against park policy) and a pair of teachers waiting for their students. Best was the enchanting sight of a professional woman, work shoes in hand, taking a barefoot, lunch-break saunter on the main paved trail. All the trails are a yard or more wide; some feature wood-chip mulch and some are dirt.  
A Carolina wren breaks out in song. Photo by Chris Jackson. DFWUrbanWildlife.com.
We relished the occasional benches to sit and appreciate the scenery. Mid-day is siesta time for wildlife, but an abundance of bird species grace our gazing. Lots of little birds like kinglets flit about — a sign of abundant bugs. More birds are audible high in the treetops. Especially thrilling is the strident "FEE-bee" call of the phoebe, a bird that prefers rural and wild places. Plentiful birdhouses, though several are in need of replacing and some are far too low.
A Gift for the Future 
So peaceful. We sit on a bench on Klingman Trail admiring a particularly old and massive oak, its branches as large as an average tree reaching out nearly 20 feet, claiming an orb of oakness. We ponder its branches and leaves, the way its roots snarl and turn into the ground, the insect burrows and birds nests it holds in its boughs. It gives without obligation, progresses without intent. It is art from the process of life, the way life was intended to be. 
As beautiful as Coppell Nature Park is, there are signs of what it used to be. Crumpled sheet metal peeks out of the upper banks of a ravine where dumping occurred. Invasive privet from nearby landscaping is too plentiful in Parish Trail near the creek. The past also asserts itself in positive way. Students of Holly Anderson's science class at Coppell High School have been working to restore a portion of the Blackland Prairie within Coppell Nature Park. 
Cottonwood Creek runs clear. DFWUrbanWildlife.com
Yet here it is, 66 acres of diverse, healthy woodlands providing habitat for wildlife, outdoor learning for students, and open space for everyone else. All because a group of people, now called Friends of Coppell Nature Park, had a vision in 2003. With patience, immense fortitude and over a decade of work, the park opened on Earth Day, April 22, 2014. Over 20,000 hours of volunteer work, primarily by youth, has been put in since, ensuring that it bring a love of nature for generations to come. 
Visit 
The Biodiversity Education Center presents a free lecture, "Snakes & Reptiles," on Sat., March 5, at 10 am by Roger Sanderson, Director of Horticulture for Texas Discovery Gardens. See some snakes up close and perhaps even touch one. 
The lecture series, which lasts through summer, is approved for advanced training credits for North Texas Master Naturalists. Stay connected to the park through their Facebook page. 
RELATED ARTICLES
See Chris Jackson's Photo Blog on Coppell Nature Park on DFWUrbanWildlife.com.
---
Sign up for the weekly Green Source DFW Newsletter to stay up to date on everything green in North Texas, the latest news and events. Follow us on Facebook, Twitter and Pinterest.