A protesting pooch offers a clever twist on an old adage at the March for Science in Fort Worth. Photo by Grace Darling. 
April 24, 2017
Like a cold lab room, the weather was fittingly chilly and gray for the March for Science in DFW on Earth Day morning. And while the message was serious, there was plenty of heartwarming humor to be found at marches held in Dallas, Fort Worth, Denton and Sherman.
More than 5,000 North Texans took part in the international protest that spawned 600 sister marches around the globe.
Galileo quote seen on a sign at the Dallas March. Photo by Kim Young.
With about 3,000 participants in Dallas, 1,500 in Fort Worth, 400 in Denton and two dozen in Sherman, the Science March was smaller, and according to some attendees, more introverted than the Women's March in January. But the event attracted a pithy and punny crowd. Across the region, including at the tiny Sherman march, signs and T-shirts sported canny quotes and clever slogans.
Dallas marcher Scooter Smith went for laughs with a Gilligan's island reference. Photo by Marc Hairston.
The march was billed as a nonpartisan event. However, it was clearly aimed at the Trump administration, which has been outspokenly pro-oil, gas and coal while appearing to be at war with environmental agencies, including the EPA and the National Parks Service, and the climate change movement.
A group reinacted a Monty Python skit at the Dallas demonstration. Courtesy of Debbie Branch.
Green Source DFW columnist Amy Martin admitted she was disappointed in the Dallas crowd size, given the dire state of the planet ecologically.
"I mean if Los Angeles, not exactly a science town, can draw 40,000, Dallas should have been 10,000. Scientists just confirmed that we breached the 410 PPM threshold for CO2. Hope folks enjoy their cellphones," said Martin.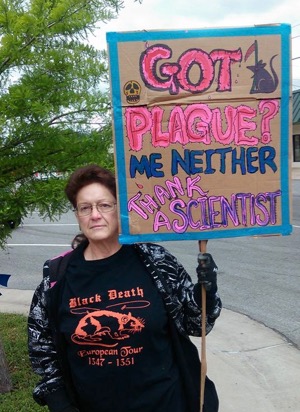 "Pollinators are such a popular topic right now. Yet I bet few butterfly fans realize that without science monarchs in North America would have disappeared years ago. Science sounded the alert. Environmental preservation is built on science."
John MacFarlane of the Greater Fort Worth Sierra Club said he was marching to protest the attack on science and evidence-based decision making in politics in the U.S., especially in Texas. 
A medieval warning at the Sherman March. Photo by Meg Fletcher.
"The EPA's budget is being cut 31 percent and important data has been taken down from its website, along with NOAA's website. Science and data are too important to quash. To quote Neil deGrasse Tyson, 'The good thing about science is that it's true whether or not you believe in it.' It seems that our current political leaders don't believe in science or just choose not to."
Deborah Lightfoot speaks out against alternative facts at the Fort Worth march. Photo by Jan Peck.
Meanwhile, Grace Darling, longtime member of the Arlington Conservation Council, found the event uplifting, a brief respite from today's hopeless headlines.
"For me, the march was a nostalgic trip to my college days in the '60s when we were sure we could save the world if the righteous all worked together," said Darling. "I'm not so sure anymore, but we can't give up trying."
Periodic table wordplay at the Denton March. Photo by Diana Leggett.
Out in Grayson County, Meg Fletcher of Rendon, joined the Sherman March while visiting a relative there. She said she was thrilled to find an enthusiastic group of protesters in the small college town.
"I was pleased to find that Sherman, Texas actually had a March for Science planned, and I and about 30 others marched around the courthouse square twice!" said Fletcher.
FAVORITE SIGNS
North Texas greenies shared some of their favorite signs from Saturday:
"A man dressed as a polar bear was holding a sign that said "Save the Polar Bears." Of course, that is a reference to climate change and the loss of ice in the Arctic," said MacFarlane
"For simplicity, I vote for the man with the sign that read 'Science is NOT a liberal conspiracy,'" said Darling.
Candy Halliburton displays her science pride as she grabs a pre-march snack in Fort Worth. Courtesy of the Halliburtons.
"So severe even the nerds are here," was the favorite poster of Debbie Branch of Keep Fort Worth Beautiful.
"My favorite sign was a group of millennials with four signs: Science – Transcends – All – Race, ethnicity, religion, gender, sexual orientation, alternative facts," said Martin.  
RELATED ARTICLES
North Texas greenies weigh in on Women's March
---
Stay up to date on everything green in North Texas, including the latest news and events! Sign up for the weekly Green Source DFW Newsletter! Follow us on Facebook, Twitter and Pinterest.