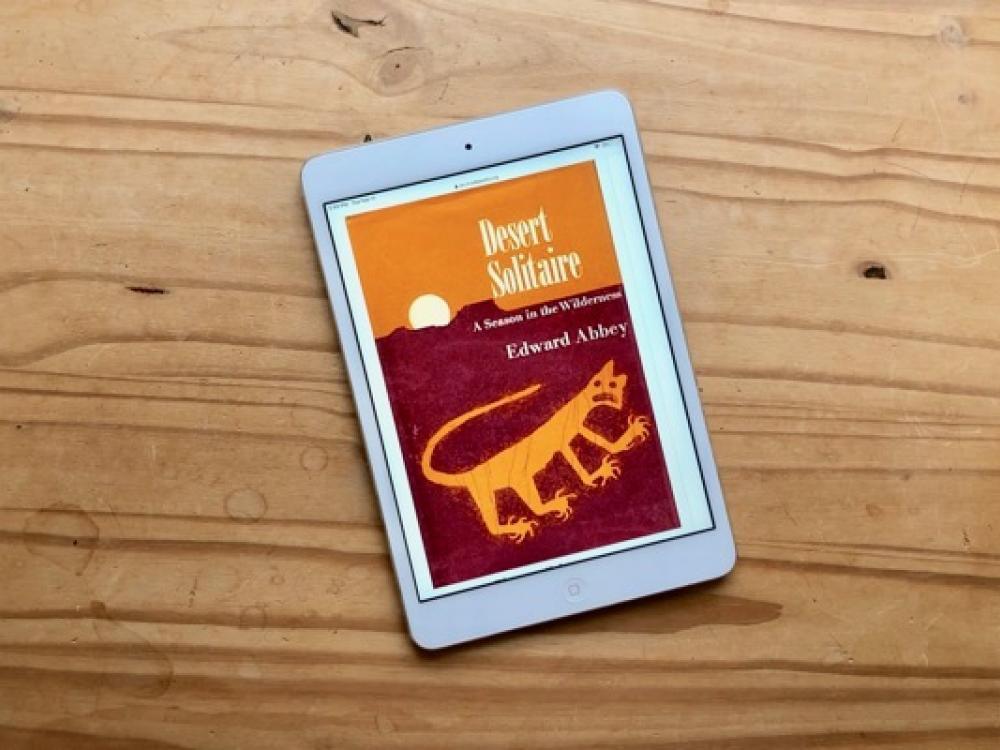 Wendel Withrow will be speaking on 'Desert Solitaire' on Feb. 19 in Fort Worth. Photo by Julie Thibodeaux.
Feb. 11, 2020
This April, the world is celebrating the 50th anniversary of the first Earth Day, launched in 1970. But two years earlier, another significant environmental milestone occurred. In 1968, Edward Abbey published Desert Solitaire, an autobiographical work that's inspired thousands of environmentalists and has been compared to Thoreau's Walden. 
The memoir is based on Abbey's stint as a park ranger at Arches National Monument (now Arches National Park) and contains Abbey's vivid accounts of natural wonders as well as his frank critiques of the folley of human civilization and the decline of the American environment. 
Green Source DFW director Wendel Withrow hiking in Arizona.
Green Source DFW director Wendel Withrow will be speaking on Abbey's groundbreaking book on Feb. 19 at 7 p.m. at the Fort Worth Botanic Garden, hosted by the Greater Fort Worth Sierra Club. 
Withrow said he discovered Desert Solitaire in 1989, when he was 34 and already a practicing attorney. 
"I saw an article in what's now called Outside magazine. They referred to Edward Abbey as just having passed away. Desert Solitaire is his most well known work. So I read it and the rest is history for me -  it started my entire environmental career."
Since then, he's read the book about 10 times.
Withrow went onto to become an avid environmentalist, rising to become leader of the Dallas Sierra Club as well as Sierra Club's Texas Chapter. 
He also worked with the late Dallas environmentalist Ned Fritz to save the red cockaded woodpecker. After "an epic 20-year battle" with the U.S. Forest Service, they chalked up a victory for protecting the habitat of the East Texas bird.
In addition, in recent years, Withrow became an author himself, sharing his decades of outdoor expertise via his book, The Best in Tent Camping - Texas, now in its second edition.
Withrow credits Abbey with opening his eyes to the necessity of speaking out about environmental issues. 
"The big takeaway from Desert Solitaire is that anyone who loves nature has got to get off the couch and try to protect it. But the real beauty of the book is how he gets you from that couch to becoming an activist. That's genius."
Celebrating Desert Solitaire by Edward Abbey
About: Green Source DFW director and former chair of the Dallas Sierra Club Wendel Withrow will be speaking on Edward Abbey's environmental memoir Desert Solitaire. The program is hosted by the Greater  Fort Worth Sierra Club.
When: Feb. 19, 2020. Potluck at 6:30 p.m. Speaker at 7 p.m.
Where: Fort Worth Botanic Garden, 3220 Botanic Garden Blvd., Fort Worth.
Cost: Free
Parking: The Garden is now charging entrance fees, but no fees are required for attending the  meeting. Tell the security guard at the gate that you are going to the Sierra Club meeting.
---
Stay up to date on everything green in North Texas, including the latest news and events! Sign up for the weekly Green Source DFW Newsletter! Follow us on Facebook and Twitter. Also check out our new podcast The Texas Green Report, available on your favorite podcast app.