Walden, published in 1854, chronicles Henry David Thoreau's reflections on living for two years in a cabin he built. Photos by Julie Thibodeaux.
Feb. 12, 2021
We recently polled Green Source DFW readers to find out their favorite environmental books. Their choices included many of the classics but also a variety of new titles and less well-known authors you'll want to check out. 
BTW, I'm currently halfway through The Overstory, a quirky novel by Richard Powers, that is a love letter to trees, and I'm already moving it to my favorites' column.
Here's are the books local greenies recommend:
Goodbye to a River by John Graves
"It's such a beautiful tribute to the author's love for the wild, free-flowing river. And it has a happy ending - it inspired so many readers to advocate for keeping the river wild that none of the dams planned between Possum Kingdom and Waco were ever built."
- Suzanne Allen Tuttle, former manager of the Fort Worth Nature Center and Refuge.
Ecology of Commerce by Paul Hawken
"Even though the book is 20 years old, it is still relevant today. I like the emphasis that we need to reconcile capitalism with ecology and embrace a nature inspired system of restorative economics - one that mimics nature in lack of waste and constant renewal. I like the message of "restoration" from this book. It is also a very easy read."
- Meghna Tare, Chief Sustainability Officer at University of Texas at Arlington
Braiding Sweetgrass: Indigenous Wisdom, Scientific Knowledge, and the Teachings of Plants by Robin Wall Kimmerer. 
"This book is a my favorite by a mile, even though I love many others."
- Michael Smith, GSDFW writer and nature author
Courtesy of Milkweed Editions.
The Vertical Farm by Dickson Despommier​.
"Agriculture far exceeds every other industry imaginable even transportation as a source of pollution and habitat destruction."
- Marshall Hinsley, GSDFW reporter
Walden by Henry David Thoreau
"The work is part personal declaration of independence, social experiment, voyage of spiritual discovery, satire, and—to some degree—a manual for self-reliance."
- Isabell Rossignol, Memnosyne Institute
"Walden is my BIBLE. World on the Edge by Lester Brown is the layman environmentalist's bible and lays the entire problem out for all to read and understand."
- Brenda Lee Roth
 
"It changed my way of seeing the world."
- Mark French
"I have a first edition copy of Silent Spring, which I have enjoyed a lot."
- Tony Robinson
"Ed Abbey's books were/are a huge inspiration for me and everything I've do environmental-wise. Monkey Wrench Gang is my fiction choice, Desert Solitaire, nonfiction."
- Don Young, cofounder of the Friends of Tandy Hills Natural Area.
"What [Don] said [above]. Also, anything by Barry Lopez, especially Arctic Dreams. Ditto Annie DIllard, especially Pilgrim at Tinker Creek.
"I don't want to leave out Joseph Krutch, Aldo Leopold and Mary Oliver."
- Amy Martin, Green Source DFW columunist
"This book was my first exposure to nature writing and environmentalism. I still have my copy and won't part with it."
- Catherine Cooke Hamilton
Pilgrim at Tinker Creek comes to mind. Also, The Lost Grizzlies by Rick Bass. The book is set in the San Juan mountains in Colorado, an area that I'm familiar with. It's also very interesting to learn about grizzlies and sadly the declining habitats."
- Mary Kirwin
The River Always Wins by Dallas author David Marquis.
"Marquis' book is a lovely allegorical essay provided in a near poetic form. There are local references to the Trinity River woven throughout making the local tie-in. David makes the case that social change is similar to the watershed changes as implemented by the power of a single drop in the headwaters, that come together with other drops to gather power,  chiseling the rock to form sands and a new formed channel as it relentlessly heads to reunite with the sea.  Social change can happen in the same way as we 'seek, choose, continue, and persevere.' And in the end, all of those collective drops form the River.....and the River and or collective social will....always wins. I highly recommend this book."
"My others would include Silent Spring and also The Sea Around Us by Rachel Carson, The Hidden Life of Trees by Peter Wohlleben, and either The Old Ways or Underland by Robert MacFarlane.
- Susan Alvarez, assistant director, Office of Environmental Quality & Sustainability, City of Dallas
"My first exposure to environmental philosophy/ethics."
-Chris Smith, Botanical Research Institute of Texas marketing director.
"Overall, A Sand County Almanac is hard to beat but more recently I have been enamored with Darwin Comes to Town by Menno Schilthuizen. Given the trend towards urbanization, I find it reassuring to know that wildlife is adapting to take advantage of the only increasing habitat."
- Rob Denkhaus, manager of the Fort Worth Nature Center and Refuge
Courtesy of Macmillan Publishers.
"I like my environmental topics mixed in with mystery or adventure stories, history or anthropology. I am currently reading Sapiens and loving it. Also enjoyed All the Light You Cannot See, the Anna Pigeon series by Nevada Barr and Inspector Shan's Tibetan exploits by Eliot Pattison. Favorite environmental writer would have to be David Quammen.
- Grace Darling, Arlington Conservation Council
Author Barbara Kingsolver.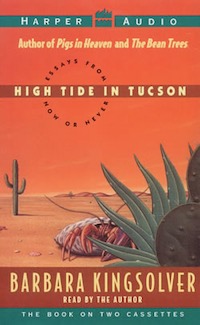 "I don't love every one of her books, but some are my favorites and all of them contain strong environmental messages. My first exposure was to a book of essays called High Tide in Tucson that made me want to read everything she wrote. It is still a personal favorite, though I notice that her other books get more attention."
- Catherine Cooke Hamilton
More Recommendations from Readers
We're adding new recommendations as we get them from readers. 
Never Cry Wolf  by Farley Mowat.
-Mike Fletcher
Prairie Time - A Blackland Portrait by Matt White
"I'm grateful for the gifted storytelling and radical amazement threaded through each line of Matt White's book."  
- Heather Foote, Prairie Keepers Founder
Don't see your favorite environmental book? Email Julie@GreenSourceDFW.org and we'll add it to the list.
---
Stay up to date on everything green in North Texas, including the latest news and events! Sign up for the weekly Green Source DFW Newsletter! Follow us on Facebook and Twitter. Also check out our new podcast The Texas Green Report, available on your favorite podcast app.