The U.S. Bureau of Land Management, the agency that handles drilling rights on public lands, wants to allow fracking on the northwest side of Lake Lewisville. Photos courtesy of DFW NBC5.
Feb. 22, 2016
A crowd of concerned citizens turned out at the Highland Village City Hall on Feb. 9, to hear the Bureau of Land Management's plans to license fracking on public lands. Like next to Lake Lewisville. Where a geologist has detected ground features that indicate an underlying fault near the dam, that could be activated by fracking. That's right, the dam that's already being investigated by the U.S. Army Corps of Engineers for signs of possible structural failure.
Highland Village's city council voted unanimously to protest the permit. Since then, Dallas, Lewisville, Flower Mound and Hickory Creek have all voted to file protests. Thirty-five groups have sent protest letters, requesting a halt to the permits, more thorough analysis and full public notice before any future action. The deadline for public comment was Friday.  
The Lewisville parcel to be permitted for lease at BLM's April 20 New Mexico hearing totals 259 acres on the northwest side of the lake.  
"It wasn't even publicized in Texas," declared Richard Guldi of Dallas Sierra Club, en route to the Highland Village meeting. 
The proposed lease was posted only on the website of BLM's New Mexico office, headquarters for the four-state region that includes Texas.  
The scheduled sale also includes areas of Kansas and Oklahoma.  
In December, a Dallas Morning News story revealed signs the dam is deteriorating. The U.S. Army Corps of Engineers ranks it as the eighth most dangerous dam in the U.S. In May, the corps began repairs after a "sand boil" spotted near the dam raised concern there may be seepage through the base of the dam that threatens its stability.
Collapse of the dam would endanger 431,000 residents of Carrollton, Farmers Branch and far north Dallas and, according to the Dallas Morning News, could potentially flood downtown Dallas.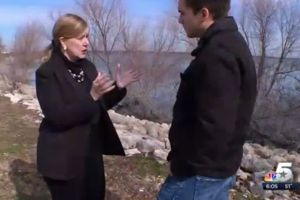 Dam safety isn't the only issue. Speaking on NBC Channel 5, Rita Beving of the DFW chapter of Clean Water Fund, raised concern for water quality. 
"Lake Lewisville provides water for hundreds of thousands of people in the DFW area. We cannot have that asset put at risk."  
The water quality issues extend beyond North Texas. 
The written protest lodged by 35 groups details multiple failings in BLM's evaluation of the proposed lease areas. Sierra Club's Texas, Oklahoma and Kansas state chapters and numerous local Sierra Club groups signed on, as did Center for Biological Diversity, Clean Water Fund, Texas Conservation Alliance, Environment Texas and more. Their letter cites legal precedent that the lack of notice violates federal law. The Forest Service is also cited for including 31,000 acres of state parks and national forests without public notice. Risks to water quality and to wildlife in the areas was noted.
Geologist Gerald Bartz, a Highland Village resident, made the rapid GIS (Geological Information System) analysis that highlighted risks of the Lewisville lease at numerous community hearings.  Bartz is a specialist in geospatial analysis, with 20-plus years experience in fracking of geothermal reservoirs, oil and gas exploration and environmental risk assessment. Alerted by a colleague, he looked at the site's geology.   
"Rivers wander, they don't go in straight lines," says Bartz. "I know from my experience…and using LANDSAT (satellite imagery of Earth), that if we see a river deviate abruptly or go straight, there's usually…faulting deep below controlling the river channel."  
That's what Bartz found on the west side of the lake, a ruler-straight creek path or "lineament" right above a BLM lease.  
"It would have meant fracking very close to a lineament that could cause movement and impact the dam's stability."
"They need to do a risk analysis. BLM didn't do any analysis to determine that if they frack the reservoir, it won't affect the dam."
Phone Your Comments
The public comment period has ended but you can register to speak about how fracking harms water at EPA's Telephone Conference March 7. 
This presentation is the EPA's response to criticism by scientists over their pronouncement that fracking does not harm ground water.
You will be allowed to speak for 3 minutes.
You must register by Feb.29. Send email to [email protected]
---
Sign up for the weekly Green Source DFW Newsletter to stay up to date on everything green in North Texas, the latest news and events. Follow us on Facebook, Twitter and Pinterest.