Above, Mark MacLean is the founder of Marley Wind Works, a company that makes wind-powered machines to perform simple tasks. Photos courtesy of Marley Wind Works.
July 21, 2015
While big wind farms are springing up all over Texas, an Ellis County engineer has found a niche creating small wind-powered machines for backyards. Mark MacLean, the founder of Marley Wind Works, not only promotes renewable energy with his business, but also recycling as his creations are made from repurposed material.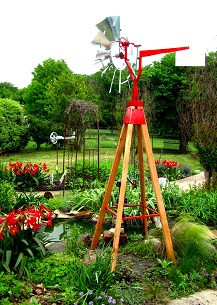 Using scrap material from old bicycles and washers, MacLean makes "wind machines," as he calls them, fashioned after the classic windmill design. They're powered by low winds, as opposed to the high winds that wind turbines use. While his machines don't yet generate electricity, they can perform backyard chores such as aerate a pond, water plants or crank a composter. 
Right, the Marley Pumper.
MacLean earned a degree in mechanical engineering from the University of Texas at Arlington, but he developed his love for restoration, repurposing and energy saving from his father. 
"He was very frugal and would squeeze every bit of purpose and functionality out of everything," he said. "As a result I pursue similar goals to a lesser extent."
MacLean began Marley Wind Works in February after he built the prototype for the wind-powered composter.
"There was so much interest in the composter that I decided to go into business selling them."
MacLean retrieves the used bicycle parts primarily from two non-profit bicycle shops called The Yellow Bike Project in Austin and Querencia Community Bike Shop in Denton. His washing machines come from a guy who pulls them out of the scrap yard and off the streets to use the motors for repairing other washer machines. 
Left, the Marley Composter.
"Usually he would then scrap the outer skin and drum, but I take them," MacLean explains. 
He does all the design and construction himself, being both mechanically and artistically inclined.
He also thrives on the support of his wife Haley who encouraged him to launch Marley Wind Works, which was named for a combination of their first names.
Right, the Marley Flyer yard art.
"I had just prior lost an engineering position in a company due to oil price decline," he said. "Instead of getting upset about it she was excited about what the future might hold. It certainly helps that neither of us has any debt and just prior to my lay off, moved in with her parents to help them finish a few projects around their house." 
He said the feature that sets his wind machines apart from decorative windmills offered at big box stores are that his actually perform a function. However, he also makes smaller ornamental wind wheels designed to be yard art.
And he's currently working on a design to meet the needs of his 21st century customers – a wind powered cell phone charger, that could be used in parks and other public spaces. 
Meanwhile, customers can contact MacLean for custom projects. 
Left, Haley, Mark and their pup Pippa.
"Energy conservation will never go out of style," says MacLean, via his website.  As concerns about natural resource depletion grow, he adds "Marley Wind Works will have many other products to fill the void."
Marley Wind Works products range from $70 for the Mailbox Mill to $1,300 for the Composter.
For more details, MarleyWindWorks.com.
---
Rita Cook is an Arlington-based award-winning journalist who writes or has written for the Dallas Morning News, Focus Daily News, Waxahachie Daily Light, Dreamscapes Travel Magazine, Porthole, Core Media, Fort Worth Star Telegram and many other publications in Los Angeles, Dallas and Chicago. With five books published, her latest release is "A Brief History of Fort Worth" published by History Press. Contact her at rcook13@earthlink.net.
Sign up for the weekly Green Source DFW Newsletter to stay up to date on everything green in North Texas, the latest news and events. Follow us on Facebook, Twitter and Pinterest.