Oct. 14, 2013
Photos by Phillip Shinoda and Julie Thibodeaux
More than a hundred people came out to raise public awareness about GMOs at the March Against Monsanto in Dallas on Saturday. This was the second march held in North Texas to protest the agricultural giant, the world's biggest producer of genetically engineered seeds. Marches were held in Dallas and Fort Worth in May. Saturday's protest coincided with marches in 400 cities around the world, according to the March Against Monsanto website.
The anti-Monsanto movement has grown worldwide due to fears about genetically modified seeds, commonly referred to as GMOs, used to grow food.
Concerns about GMOs include their potential to affect human health and impact the environment, particularly bees. In addition, critics say GMOs haven't been regulated properly due to Monsanto's extensive lobbying power. 
Left, Dallas beekeepers Brandon and Susan Pollard, of the Texas Honey Build Guild, head up the bee squad.
The global reach of the march is a reflection of how the GMO-maker has come to be viewed as a nemesis to environmentalists with its long history of producing controversial products, including saccharin, DDT, PCBs, Agent Orange and bovine growth hormone. 
Here are a few of the environmentally minded folks from DFW who came out for the rally.

Organizer Cindy Freeling says the key to change is more media coverage on GMOs.
Organizers of the Dallas march: From left, Janis Levy, Angela Scott, Kristie Hester and Cindy Freeling.
Jana Reishus, right, brought her two daughters and their friends to the march to give them a real-life lesson in civil disobedience. "I've been a big opponent of Monsanto for a long time," said Reishus.
Above, left, GMO-Zombie Girl, 10-year-old Cadence. Right, Willow Bell, Leah Reishus, Jana Reishus, Katelin Reishus, Libby Burfoot.
Sara Hagos said she learned about GMOs by watching documentaries, particularly King Corn.
"We owe it to our kids and future generations to speak out," said Hagos.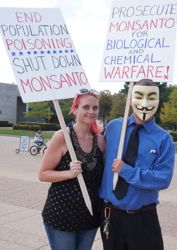 The masked man, who goes by the handle, Switchblade, said the Guy Fawkes mask he wears at protests represents a rebellion against tyranny.
"It  took off after Occupy Wall Street."
Right, Switchblade and his wife Ashley
Meanwhile, Teresa was stamping bills with the slogan "Stamp Money Out of Politics." It's a part of the StampStampede campaign started by Ben Cohen, the founder of Ben & Jerry's. 
Above, Michael peddling his message. 
---
Stay up to date on everything green in North Texas, including the latest news and events! Sign up for the weekly Green Source DFW Newsletter! Follow us on Facebook, Twitter and Pinterest.