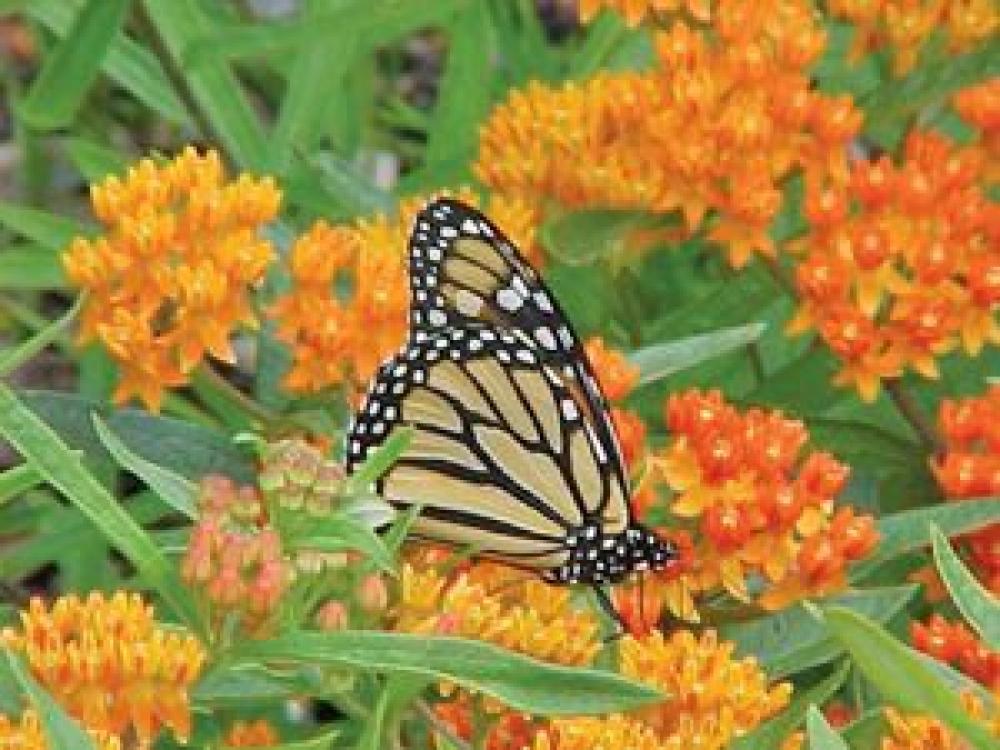 According to the National Wildlife Federation, there are dozens of milkweed species native to the United States, some of which are highly endangered. For monarch butterflies, these are must-have plants because monarchs will only lay their eggs on milkweeds. Above, monarchs feast on native milkweeds. Courtesy of National Wildlife Federation
Aug. 24, 2015
In October golden clouds of monarch butterflies will flutter into North Texas from the northern U.S. and southern Canada. Here, they sip nectar from flowers for several weeks, refueling before flying south to overwinter in the fir forests of central Mexico.
It's the last leg of a five-stage migration that takes several generations of butterflies to complete.
While monarchs feed from flowers from a wide array of plants, the females lay eggs and hatchling caterpillars feed on only one genus of plant, the milkweeds.
"Less than 20 years ago, one billion butterflies…reached the oyanel firs," wrote Lisa Gross, reporting in the New York Times on a University of Georgia research trip to Texas last November. Since 1995, butterfly numbers have fallen by more than 90 percent, with a record low in 2013.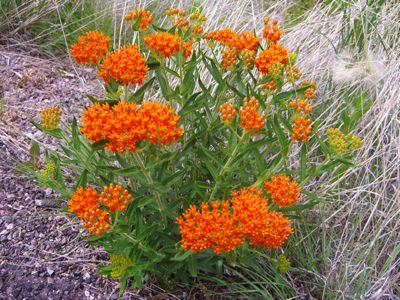 Loss of native milkweed habitat is the main cause. Dale Clark, a butterfly farmer who supplies Texas Discovery Garden and other arboreta, also points to climate change, illegal logging in their Mexico preserve and new agricultural practices. With widespread use of GMO crops that tolerate Roundup herbicide, Roundup is sprayed wholesale in the Midwest farm fields that are monarch summer breeding grounds. This is wiping out their host plants, the native milkweeds.
Butterfly weed (A. tuberosa) is a milkweed native to Texas. Courtesy of Thomas Muller/Lady Bird Johnson Wildlife Center.
As native plants disappear, the rush to plant host plants and halt the monarch's decline has led the public to plant commercially available tropical milkweed. This is potentially a threat to monarchs and a migration disruptor. In the warm areas where the tropical varieties overwinter, a devastating protozoan parasite called Ophryocysgis elektroscirrha or OE, may infect plants and infest butterflies, weakening them to the point that they don't emerge from the chrysalis. It can also disrupt migration by providing an out-of-season food source in the southern U.S.
New York Times reporter Gross wrote about the problem in  November, scaring butterfly enthusiasts across the country who feared they had done more harm than good with their monarch way stations. 
However, in North Texas, tropical milkweeds typically freeze in winter, killing any parasites, says Clark. Cutting back tropical milkweed in fall is a precaution, and a necessary safeguard from San Antonio south. 
Tropical milkweed is easily propagated and quickly grown, so it is often available in area nurseries.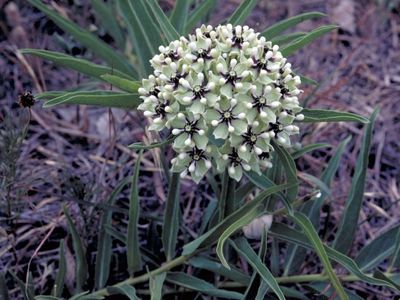 Even so, native milkweeds are preferable, says Randy Johnson, horticulture director of the Dallas Zoo and president of the Dallas Chapter of Native Plant Society of Texas. 
"Milkweeds are a keystone species," says Johnson. 
Antelope Horn milkweed (A. asperula.) Courtesy of W.D. and Dolphia Bransford/Lady Bird Johnson Wildflower Center.
They are integral to a millennia-old community of soil organisms, plants, insects and birds. Monarch butterflies and the native milkweeds have evolved together over thousands of years, the lifecycle of the flowers supporting the migration schedule of the butterflies. 
Many people protect monarchs to preserve a beautiful natural phenomenon. There is a survival value for humans as well. 
"Some scientists estimate that one out of every three bites of food we eat exists because of animal pollinators like bees, butterflies and moths…" notes the Natural Resources Conservation Service of the USDA (Be a Friend to Pollinators pamphlet).
Green Milkweed. Courtesy of AlanCressler/Lady Bird Johnson Wildlife Center.
The two most common native milkweed species that grow in the Dallas area are green milkweed (Asclepius viridis) and antelope horns milkweed (A. asperula.) Another native Texas species, butterfly weed (A. tuberosa), is showier.
WHERE TO GET NATIVE MILKWEED
Seeds
Native American Seed in Junction sells the seeds of North Texas milkweeds, plus other species.  
Weston Gardens in Fort Worth
They will have native milkweed seeds in the coming weeks. Call ahead.
Plants 
• Native Plant Society of Texas participates in a national Monarch Watch program, planting native milkweeds and also selling them. For details on their fall sale, see their website.
• Randy Johnson propagates native milkweeds. For information on their availability for purchase, contact organicrandy@gmail.com.
• Texas Discovery Gardens at Fair Park mounts a spring plant sale, usually in April, that often offers native, pesticide-free milkweeds.  
• Rohde's Nursery and Nature Store, Dallas
They have some plants in stock but call ahead to ensure availability.
• Weston Gardens in Fort Worth
They will have native milkweed plants in the coming weeks. Call ahead.
• Redenta's in Arlington and Dallas
They carry some native milkweed plants as they become available. Call ahead.
• Stuart's Nursery, Weatherford
They do not have native milkweed now but typically carry it in spring and summer. Call ahead.
• Monarch Watch, a national organization based at the University of Kansas, sells native milkweed plants by mail order and contracts with native plant nurseries. For details, visit monarchwatch.org.
WHEN TO PLANT
Seeds are planted in the fall. Plants may be planted whenever available, usually in spring.
SOURCES: Dallas Morning News and New York Times.
---
Sign up for the weekly Green Source DFW Newsletter to stay up to date on everything green in North Texas, the latest news and events. Follow us on Facebook, Twitter and Pinterest.