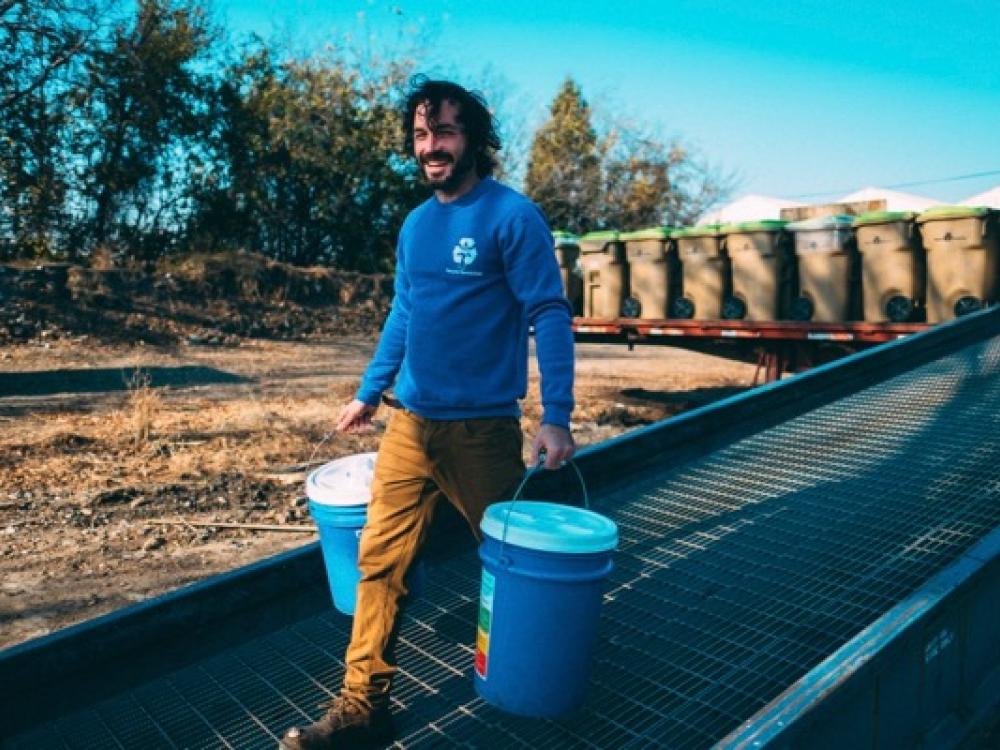 Recycle Revolution is one of the local recyclers that accepts compost. Photo courtesy of Recycle Revolution.
July 29, 2019
Many North Texans have taken the leap into food composting. That's a win-win for residents and cities alike.
According to the EPA, food scraps and yard waste together currently make up about 30 percent of what we throw away. So diverting your food scaps can not only cut down on your trash bill, it will extend the life of our precious landfill space
But not everyone has a place for a compost pile or is interested in maintaining one.
Luckily, businesses are popping up across the Metroplex who will do the dirty work for you.
Below you'll find a snapshot of four area food composting businesses. 
In addition, the city of Fort Worth launched the region's first pilot residential program this year.
Fort Worth is the first city in North Texas to offer a residential compost program. Courtesy of City of Fort Worth.
PUBLIC COMPOSTING PROGRAMS
CITY OF FORT WORTH
In early April 2019, the city of Fort Worth began a pilot residential composting initiative, a first for North Texas. 
Fort Worth follows the city of Austin, which tested its residential composting program in a few neighborhoods in 2013. Participants learned to separate organic material, such as banana peels, coffee grounds, egg shells and leaves, into a separate cart. Austin has since gradually added residents to the program with the goal of enrolling all residents by 2020.
Nationally, San Francisco's residential composting program launched in 2009, followed by Portland in 2011, according to Austin American-Statesman.
Fort Worth's pilot program is available to all Fort Worth residents who pay for utilities and pay a $20 annual fee (later donated to Keep Fort Worth Beautiful. Participants get a starter kit which includes a kitchen countertop pail, a five-gallon sealable bucket, educational materials and a refrigerator magnet that lists can/cannot compostable items.
Drop-off bins for the City of Fort Worth's compost program.
When the five-gallon bucket is filled, participants can drop it off at one of 10 collection sites across Fort Worth. See sites and acceptable food scraps.
Composting takes place at Silver Creek Materials near Denton, after having been picked up by Cowboy Compost from the 10 drop-off sites. 
Brittany Rosenberg, material management planner for the City of Fort Worth, says that because the landfill is quickly filling up, the city will eventually also look at a pickup program. 
"More than 20 percent of all waste that goes to the landfill is food waste," she said. "The city of Fort Worth landfill is filling rapidly and we have to extend its life."
Rosenberg adds that the program is experimental and the goal isn't to make money but to determine if the city can collect food waste and direct it out of the landfill. 
Colorado native Margaret Blackmon is greening up DFW with her composting business. Courtesy of Facebook.
PRIVATE COMPOSTING PROGRAMS
Below is a listing of four DFW area food composting businesses.
COMPOST HASTE - LEWISVILLE
In April 2018, after having moved from environmentally-minded Colorado, owner Margaret Blackmon saw a need for greener services in the Dallas area, one being food composting.
"Before we officially started Compost Haste, we did food composting for a few friends. Presently, we offer both pickup and drop-off to residents in Coppell, Flower Mound, Addison and West Plano. We also provide composting for large or small events, e.g., cities, veggie festivals, etc."
The prepaid monthly fee is $25.95 and if customers prepay for a whole year, they only pay for 11 months.
"I'm very proud to say that so far, no one has stopped."
Another plus - after six months of service, on a quarterly basis, compost is returned to the customer as rich certified organic fertilizer. If they want more, a 40-pound bag is sold for $6.
"Our business is unique in that we focus on residential service and education. I do farmers market and group/individual classes, concentrating on keeping food waste out of the landfill. One hundred percent of our profits [after operating costs] goes to the nonprofit Waste Free World."
Cowboy Compost founder Miguel Harth-Bedoya teaches kids about compost. Courtesy of Cowboy Compost.
COWBOY COMPOST - FORT WORTH  
Cowboy Compost founder Miguel Harth-Bedoya admits he isn't a cowboy. However he does herd the Fort Worth Symphony Orchestra, as its conductor since 2000. Three years ago, he teamed up with co-owner Johanna Calderon, a small business owner/entrepreneur, who shares his desire to prevent waste. They are succeeding. 
Both Harth-Bedoya and Calderon are globetrotters who saw that the United States lagged far behind other countries in preventing waste. And after a visit to a Fort Worth landfill, Harth-Bedoya had an awakening as to the environmental dangers of waste in the Fort Worth area. The result – in 2016, Cowboy Compost was born.
Brandon Castillo, community and business relations manager for Cowboy Compost shares that the revered music director wants to bring food composting to his community in a big way. The spark first started with Harth-Bedoya saving food scraps. Then he challenged enthusiastic orchestra members and staff to start collecting their compost. From there, Harth-Bedoya began to form a business model.
Today Cowboy Compost provides residential and commercial service, including pre and post-consumer products. 
"Basically, we are a collecting company that provides you with a container suitable for the size of your home or business. You fill it up and we take it to a composting facility," says Castillo. "We are still a young startup company and have a dynamic relationship with our clients, adapting to their business needs. Each business is different and presently, we can cater to a client's needs."
Currently, Cowboy Compost covers Fort Worth, with some clients in Watauga and Keller.
"Haltom City is in the works," Castillo states.
There is a $5 fee for residential curbside pickup and the drop-off program through the city of Fort Worth is $20 a year. Business rates can change, depending on distance and volume.
Lauren McMinn-Clarke is founder of Turn Compost. Courtesy of Turn Compost.
TURN COMPOST - DALLAS
Turn Compost, launched Earth Day 2018, is under the auspices of El Centro College educated and sole owner Lauren McMinn-Clarke. Her background is in strategic communications and she is also a Dallas County Master Gardner. Her thrifty Depression-era grandmother influenced her not to be wasteful. 
It's not surprising that this Dallas-native loves her city and wants to help its environment. Both residential and commercial clients (restaurants, small businesses, and corporate offices) enjoy Turn Compost's expert services. A $20 monthly subscription covers residential services at DFW community drop-off locations. Pickup residential services for food/yard waste at a house is a flexible $35/$50. 
"We wanted to make it flexible to suit a variety of individual and family needs," says McMinn-Clarke.
Food scraps are donated to local farms for animal food and to gardeners to add to their compost pile, in addition to making compost for members.
Presently, the pickup program is in 15 Dallas Zip Codes. Turn Compost's website, provides an updated list. Residential cost depends on your chosen service. All subscribers receive a monthly perk and a quarterly household impact report. 
"We want to celebrate and reward members for doing the right thing."
McMinn-Clarke relates that she and her staff make Turn Compost different because it's just not a service.
"We aim for behavioral change through education, community engagement and partnerships with like-minded innovators. I'm educated in both horticulture and culinary arts. Those experiences inspire me. I actually want people to start composting on their own at home so that they don't need to hire us."
Maria Lott is the coowner of Recycle Revolution, a two-time Green Source DFW award winner for small business. Courtesy of Recycle Revolution.
RECYCLE REVOLUTION - DALLAS
Recycle Revolution, established in 2008, located next to Dallas Love Field Airport is different from the three aforementioned composting businesses. The reason – founder Eddie Lott, along with co-owners Maria Lott and Genie Velasco, recycle a spectrum of items. Recycle Revolution, which has won the Green Source DFW small business award twice, offers a community center where anyone can drop off their traditional and hard-to-recycle Materials ("HaRM"). That includes Styrofoam, light bulbs and batteries (no car batteries accepted and fees may apply). They can also learn about the recycling process while Recycle Revolution employees unload and clean their containers.
In 2011, Lott collected food scraps from his first and continuing food-composting customer, downtown Dallas Hotel Sheridan. 
"They [Hotel Sheridan] once had quite a bit of material but they cut down in an effort to eliminate waste," he says. "In 2012, we started a residential food composting collection program, calling on 15 to 20 homes in East Dallas, but it didn't work out. We still work with residents but most of our work is servicing businesses. Currently, we don't provide composting to residential customers – it's all through our community center."
Lott says the community center and staff makes Recycle Revolution distinctive.
"You have to care because the work is hard."
RELATED ARTICLES
Fort Worth launches pilot composting program
Compost Happens: Fort Worth conductor turns zero waste pilot program into green business
---
Stay up to date on everything green in North Texas, including the latest news and events! Sign up for the weekly Green Source DFW Newsletter! Follow us on Facebook and Twitter.