April 28, 2011
TV legend and solar-energy advocate Larry Hagman brought star power to Dallas' inaugural Earth Day celebration.
Most folks still think of him as J.R. Ewing, but TV legend Larry Hagman recently starred in a new role at the inaugural event Earth Day Dallas.  At 79, Hagman has still got it as a performer, although these days he's acting the part of solar-energy pioneer. He's also lending his star power to the cause of clean technology as a board member of the Solar Electric Light Fund, a global non-profit that develops solar rural electrification in developing countries.
Opening with erudite commentary on the origins of oil, Hagman summed up our situation with a tone of urgency before transitioning into the relaxed, good ol' boy style you might expect. "Oil is becoming less and less affordable," said Hagman.  "This could be the end of our lifestyle as we know it, and the change is only 10 or 15 years off.  Think about the Internet.  What would happen if the Internet suddenly disappeared? Everything would stop."  The implication that life without affordable oil would be similarly halted is only part of what keeps Hagman going.  As he flashed slides of his growing collection of electric and hybrid cars and bikes, one finds out fast that Hagman isn't selling doom and gloom. He is clearly having a ball being a clean-tech advocate.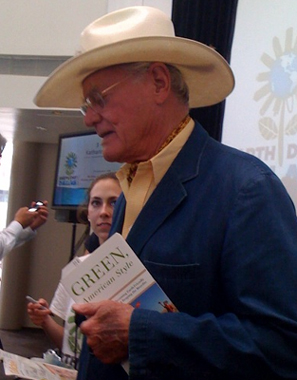 Hagman walks his own talk with a large solar array installed at his Ojai, California estate.  "There were months when I paid $2,800 for energy," said Hagman, "but today I pay around $13 a month."  Okay, but how much did those solar panels cost?  "I was afraid you'd ask that," he joked.  The panels cost Hagman about $800,000.  By law, the state of California reimbursed him approximately $300,000.  At the rate of saving $37,000 a year in energy costs, the panels will pay for themselves within 15 years.  "Obviously not everyone needs to spend so much on solar.  You've got to keep in mind that I have a 28,000 square foot house."
Hagman has been comfortable tossing around large sums of money since the 1980s, when he gained worldwide celebrity playing the infamous oil baron J.R. Ewing.  Most of us cannot relate. And yet, Hagman's off-screen affability makes him a great spokesperson for the green movement. "When I first started buying CFLs, they were $17 apiece," he told the audience. "Now they're a couple bucks.  Don't worry about buying them all at once. When you go to the grocery store, pick one up and take it home to install. That way you won't even feel it."
Hagman spent a large portion of his talk listening to other people's ideas and telling funny stories. He wasn't glib, just real. Giving his frank opinion on the true source of power in America, he warned, "Petroleum and coal literally own the government.  So how do you change things? By doing what we're doing here," he reassured us.  "Earth Day Dallas is a start. Your transportation system is a very good start.  I was in Dallas years ago and saw nothing like the DART light rail you have today."  Hagman stuck around for a while afterwards shaking hands. He seems to have an innate understanding that people, now more than ever, need a rallying point and a place to be heard.  If inspiration was his objective, he achieved it.
Judging the crowd and block after block of booths, Earth Day Dallas, a not-for-profit led by businessman and environmentalist Trammell S. Crow, had to be one of the largest green events in America. The inaugural 2-day event engaged more than 200 civic and corporate partners and drew a diverse crowd of student and adult attendees.  Set amid Downtown Dallas' world-class arts district, Earth Day Dallas is sure to become one of our city's most popular events.
---
Stay up to date on everything green in North Texas, including the latest news and events! Sign up for the weekly Green Source DFW Newsletter! Follow us on Facebook and Twitter. Also check out our new podcast The Texas Green Report, available on your favorite podcast app.