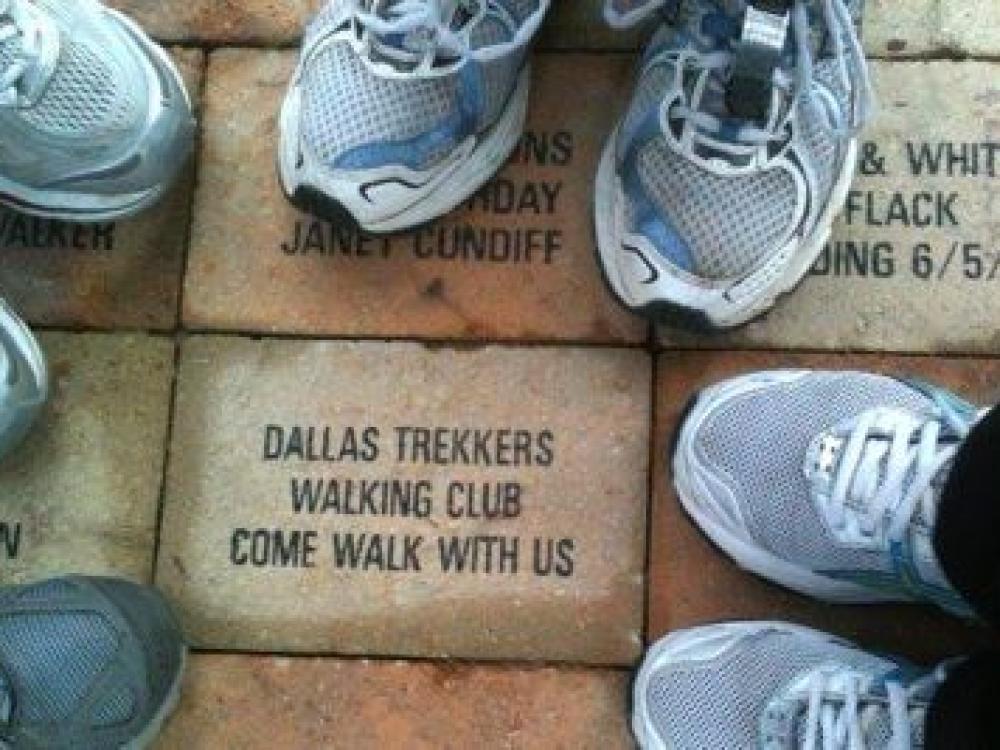 The Dallas Trekkers gather around their commemorative brick at White Rock Lake, where they walk every Sunday. Photos courtesy of the Dallas Trekkers.
 Dec. 31, 2013
One glance through the Dallas Trekkers' Facebook page posts and you'll quickly discover this group gets around.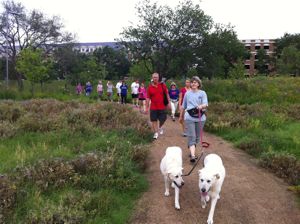 Since launching in 1979, the 34-year-old walking club has racked up the miles strolling across North Texas from Denton to Canton.  
Above, Dallas Trekkers explore the Bush Library grounds at SMU. Below, a Swiss Avenue walk.
An affiliate of the American Volkssport Association, the club grew out of a movement that started in Germany in 1968 called volkssporting. The international sports fad promotes fun exercise through noncompetitive walks and hikes, bike rides, swims and in some regions cross-country skiing and snowshoeing.  
The most popular volkssport in the U.S. is walking. 
Dallas Trekkers club president Deborah Carter has been a member for 25 years.  
"I was somebody who needed a time and place to go for a walk," said Carter. "It's pretty good therapy. You walk and talk. It's a good time to visit with one another."
The group hosts 5-6 walking events a year, including one around New Year's Day. 
"People are ready to start doing new habits," said Carter.
This year's New Year event will be held Saturday, Jan. 4, at Huffines Park. The 10K and 5K courses will follow Duck Creek and Owens Trails in Richardson. Walkers will get to see lots of birds, including herons, geese and ducks, said organizer Linda McDonald, who mapped out the walk. 
The Duck Creek Walk will be held Jan. 4, from 9 a.m. to noon.
"It's paved, it's wide, it's pretty stroller and wheel-chair friendly," said McDonald. "They'll be some walking through neighborhoods, up and down curbs."
In addition to the large events, the Dallas Trekkers walk every Thursday at Huffhines Park and every Sunday at White Rock Lake. They also have trail maps posted on their website that walkers can use year-round. 
The walks attract mostly middle-aged members, who sometimes bring their dogs and kids along. There are three other volkssporting groups in North Texas: the Fort Worth-based Tarrant County Walkers, the Star Trekkers of Irving and the Plano Walking Club. There's also the state-wide Texas County Walkers, which promote walks in all Texas counties.
Dallas Trekkers pose on a McKinney outing.
Carter said the Dallas club plans walks around points of interest, such as parks, trails and downtown areas. They've also ventured out to nearby towns, such as McKinney and Terrell. With clubs across the U.S., members join walks when visiting other cities.
"I like to get out and see different things," said Carter. "I'm trying to walk all the states in the U.S." 
The 57-year-old estimates she typically walks about 6-10 miles a week.
"I find it keeps me young."
More info on the upcoming Duck Creek Walk. 
---
Stay up to date on everything green in North Texas, including the latest news and events! Sign up for the weekly Green Source DFW Newsletter! Follow us on Facebook,Twitter and Instagram. Also check out our podcast The Texas Green Report, available on your favorite podcast app.