• Shark fin ban bill introduced in Texas • Dallas couple market combo recycling bin By Julie Thibodeaux

SHARK SUPPORT     

Turns out, while partisan politics reigns in Texas, sharks have supporters on both sides of the aisle. Recently, Rep. Eddie Lucio III, D-District 38, and Sen. Larry Taylor, R-District 11, introduced H.B.852/S.B. 572 to prohibit the sale, trade, purchase and transportation of shark fins in the Lone Star State. 
The legislation is aimed at shutting down the market for shark fins, primarily used for shark fin soup, an expensive delicacy still sold in Texas restaurants. The main ingredient is derived by shark finning, a cruel practice where fishermen cut off the fins of sharks, typically while the animals are still alive. The finless sharks are thrown back in the water where they sink to the bottom to die. 
"It is encouraging to find some legislation that everyone can rally around in a red state," said Anna Clark, chair of the Texas Chapter of Shark Stewards. "It sends a clear signal that we are thinking people who care."
Last week, a coalition from Dallas that included Clark and Kayla Ellis, a Greenhill High School senior and student organizer for Shark Stewards, spoke in favor of the bill at the Capital in Austin. "For me this is about sustainability," said Clark, a longtime shark lover. "Sharks are a keystone predator. They are a natural built-in mechanism to maintain balance in the ocean."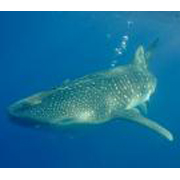 A report released in Marine Policy journal estimates 100,000 million sharks are killed annually by the fishing industry. Alarmed by the depletion, five states have responded with shark fin bans -- Hawaii, California, Oregon, Washington and Illinois. If the ban passes in Texas, Clark said it would set an example for other Gulf Coast states to follow.
The Texas shark bill has already garnered some star power as 11-year-old Sawyer Chandler, daughter of Austin-based actor Kyle Chandler, star of "Friday Night Lights," is scheduled to speak in favor of the ban during Texas Humane Lobby Day on March 14. 
To ask your state legislators to support the bill, go to: http://www.fyi.legis.state.tx.us/Home.aspx. For more information, seehttp://www.hsi.org/issues/shark_finning/. See GSDFW article: http://greensourcedfw.org/articles/shark-stewards-brings-conservation-message-dfw
BBC News - March 11 - Three types of critically endangered but commercially valuable shark have been given added protection at the Cites meeting in Bangkok. -  http://www.bbc.co.uk/news/science-environment-21741648
Photo: Katie Jarl, Texas state director for the Humane Society of the U.S.; Ellis Pickett of Surfrider Foundation - Texas Upper Coast Chapter; and Shark Stewards representatives Joy Benson, Kayla Ellis, Thomas Oglin and Anna Clark appeared in support of sharks at the state capital March 5. 
PARENTS OF INVENTION
Two Harvard grads in Dallas have come up with a smart idea for a recycling container. The married couple, Liz and Jeff Helfrich, designed a combination trash and recycling bin they dubbed the Solecan. Now they're hoping to raise $75,000 by Earth Day to start making them.
According to Liz, a Hockaday school graduate, a common household dilemma led to the idea for the combo can. Liz, an avid recycler, was weary of fishing recyclables out of bathroom trash as Jeff found it a chore to walk them downstairs to the recycling bin. They hit on the solution: a bathroom-sized bin with compartments that snap together for easy emptying. They could even make it from recycled plastic. 
They quickly realized their idea was too good to keep to themselves. So Jeff, a 32-year-old financial analyst and Liz, a 33-year-old stay-at-home mom, put together some marketing materials and began pitching the concept to businesses. However, despite contacting more than 40 companies, they found no one who would risk the initial investment. 
"Manufacturers don't want to shell out the money for something where they don't see a demand," said Liz.
Still passionate about their creation, last month, they put the Solecan on Kickstarter.com. The website offers a way to pre-sell a product to raise money to launch production. 
So far, they've raised nearly $4,000, but only have until April 22 to raise the remainder. They're hoping to grab the attention of a national blogger to sell an additional 3,500 of the bins that start at $17. 
"I think the world really needs [the Solecan]," said Liz. "Recycling is going to become more and more a part of our daily life. People need help."
See http://www.solecan.com. Watch the video: http://solecan.tumblr.com.
---
Sign up for the weekly Green Source DFW Newsletter to stay up to date on everything green in North Texas, the latest news and events
Julie Thibodeaux covers environmental issues, green topics and sustainable living for Green Source DFW. Previously, she worked as an editor and writer at the Fort Worth Star-Telegram. Send your green bulletin items to Julie@greensourcedfw.org. Follow us at Facebook/GreenSourceDFW.com.