By Julie Thibodeaux    
 
Dave Pennington, a Richardson-based inventor and entrepreneur, wants to save the world.   Most days, the Chicago native stays busy developing his inventions, which include a portable wood-fired pizza oven and a dome home, both created from styrofoam and other recycled materials.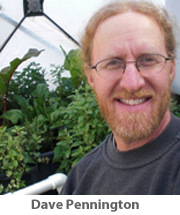 But his biggest passion is promoting an ancient form of food production known as aquaponics. He says it can revolutionize the way we produce food around the world.  "I've been interested in ecology and ecological problems for a long time," said the 49-year-old. "The problems always seemed to be centered back to the food system."   According to Pennington, modern agriculture is destroying the environment. It drains large amounts of water for irrigation from water sources and pollutes the ecosystem with massive amounts of fertilizer and pesticides. Meanwhile, commercial fishing is depleting the world's oceans, he said.

He sees aquaponics, as a solution to these problems. The methods are not new but date back to early cultures in China and Mexico. In recent decades, aquaponics has been modernized by practitioners and is experiencing resurgence because of its eco-friendliness and efficiency. The aquaponics method combines hydroponics, the practice of cultivating plants in water, with aquaculture, which is fish farming.

The basic design for an aquaponics system features two containers, one for plants, which are either grown on rafts in water or embedded in gravel, and a water-filled container with living fish. The key to its efficiency is that water circulates between the two containers. Plants are fed with the nutrient rich water pumped from the fish tank. The water is then cleansed as it trickles through the plant beds and replenishes the fish tank.   In addition, in a large-scale commercial system, the fish not only provide fertilizer for the plants, they can be raised as food fish, like tilapia, to be sold along with the vegetable crops.
Currently, Pennington is designing an aquaponics system for the Urban League of Greater Dallas and North Central Texas to go in a community garden at the Southeast Dallas Community Oriented Primary Care facility, operated by Parkland Health and Hospital Systems.  The Urban League's garden was designed to inspire and teach residents to grow their own food and eat healthier. When Pennington's aquaponics unit is added to the Parkland site, organizers say it will increase the garden's educational value by demonstrating an innovative sustainable food production method.  "It will be truly exciting and there will be nothing like it in our area," said Shirley Walker, senior vice president of the Urban League of Greater Dallas and North Central Texas, of the pilot project. "We may be able to grow fish to sell, but if not, it will be ornamental and educational and the children will enjoy it."  


In addition to his commercial and community ventures, Pennington also teaches members of his Meetup group North Texas Aquaponics to build his design for a backyard aquaponics system, which can be constructed for about $150. The mini-version incorporates a 250-gallon 4-foot-square IBC tote.   While the small systems can be used to raise fish in backyards for eating, he advises homeowners to stock the tank with goldfish, like those typically found in koi ponds, for fertilizing purposes only. According to Pennington, growing food fish on a small scale is not economically viable. However, weekend gardeners will love his design as the pump can be programmed to water the plants hourly, keeping plants thriving during the scorching Texas summers. "It's more trouble to start up your system [than a traditional garden] but it's so much easier to operate the garden. You can't even compare it."

While he's set up several systems for backyard gardeners, Pennington's bigger goal is to set up commercial aquaponics systems throughout North Texas and beyond.    "These little backyard systems are not going to save the planet," he said. "What we need to do is to convert our commercial food systems."
All Photos courtesy of Dave Pennington
---
 Julie Thibodeaux is a Fort Worth-based writer covering green trends, sustainable living and environmental issues. Previously she worked as a writer and editor for the Fort Worth Star-Telegram. Contact her at julie@jthibodeaux.com.