Environmentalists are urging North Texans to post their comments regarding Waste Control Specialists​' proposed high-level radioactive dump site in Andrews County. Photo courtesy of Waste Control Specialists.
Feb. 28, 2017 
High-level radioactive waste from the nation's nuclear reactors could start traveling through North Texas as early as 2021 if a West Texas dump site is allowed to expand its operations.
Waste Control Specialists, a Dallas-based firm founded by the late Texas billionaire investor Harold Simmons, has operated a low-level radioactive waste site in West Texas since 2012. Now the company is seeking a license from the U.S. Nuclear Regulatory Commission to accept 5,000 metric tons of high level radioactive waste from nuclear reactor sites across the U.S. and store it temporarily at its 14,000-acre site, 30 miles west of Andrews. 
Nuke Free Texas, an environmental group started by Tom "Smitty" Smith, formerly of Public Citizen; Karen Hadden of the Sustainable Energy and Economic Development Coalition; and Lon Burnam, an environmental advocate and former state representative from Fort Worth, says dumping high-level radioactive waste in west Texas would put millions of Texans at risk. 
"Everyone else in the county is sophisticated enough to know they don't want this in their backyard," said Burnam. "Because [Texas] is not sophisticated, it could become a dumping ground for all the low- and high-level radioactive waste in the country."
The Department of Energy is required by law to locate a permanent storage site for high-level radioactive waste. However, plans for a permanent disposal site at Yucca Mountain in Nevada have been shelved after fierce political opposition, lead by former Senate Minority Leader Harry Reid. 
Burnam, a Fort Worth resident, said most Texans are unaware of the threat that is being posed to not just West Texans but communities through which the material will pass. 
"From a selfish North Texas perspective I don't want between 65-75 percent of the country's high-level radioactive waste shipped through the Dallas-Fort Worth area."
While the WCS permit is for 40 years, Hadden of NukeFreeTexas told the Texas Tribune last month the facility could become a permanent dump site.
"Once it gets there, no one is ever going to want to move this stuff," said Hadden, who described the material as "incredibly deadly."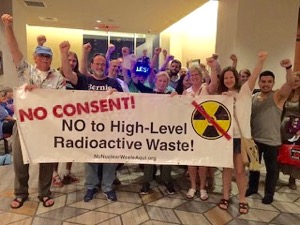 To date, the high-level radioactive waste from spent fuel has been stockpiling at the nation's active and decommissioned nuclear reactor sites. The only way for the highly toxic material to become harmless is through decay, which can take hundreds of thousands of years, according to the NRC. 
The material will likely be transported by rail, another cause for alarm says Burnam.
Photo courtesy of NukeFreeTexas.org.
Because Fort Worth is a major U.S. hub for railroad traffic, cars typically idle for hours in the rail yard waiting to pass through. High level radioactive material idling in a rail car would be a prime target for terrorists, he said.
In addition, the WCS facility sits near the Ogallala Aquifer, the nation's largest aquifer, which stretches from Texas to South Dakota. 
The NRC will review WCS's application, but the final decision will be made by the Department of Energy, the agency tasked with disposing of high-level radioactive waste. Former Gov. Rick Perry, who supports bringing the toxic material to Texas, awaits confirmation as energy secretary. 
Meanwhile, H.R. 474, the Interim Consolidated Storage Act of 2017, was introduced in the U.S. House in January to help facilitate the process. The bill amends the Nuclear Waste Policy Act of 1982 to authorize the Secretary of Energy to "enter into contracts for the storage of certain high-level radioactive waste and spent nuclear fuel, take title to certain high-level radioactive waste and spent nuclear fuel, and make certain expenditures from the Nuclear Waste Fund."
"The bill is coauthored by the Republican representative from Midland [Mike Conaway], and a Congressman from California [Ken Calvert], whose constituents told him to get that crap out of their community," said Burnam.
Burnam is urging North Texans to post their comments to the NRC over the next two weeks. The public comment period closes March 13. 
"As a community organizer, I am urging people to write comments. I'm asking people to write their letters," he said. "Less than a half percent of the population knows what's going on. The state of Texas is going to end up owning this waste. WCS could just walk away from the property." 
POST YOUR COMMENTS TO THE NRC HERE. DEADLINE MARCH 13. Scroll down to Licenses Applications/Amendments and click on the link for "NRC-2016-0231 Waste Control Specialists LLC's Consolidated Interim Spent Fuel Storage Facility Project."
SOURCES: The Midland Reporter, San Antonio Express-News, Odessa American, Dallas Morning News, the Texas Tribune.
---
Stay up to date on everything green in North Texas, including the latest news and events! Sign up for the weekly Green Source DFW Newsletter! Follow us on Facebook, Twitter and Pinterest.