The GreenBox is a hit at Great Wolf Lodge in Grapevine, which uses about 1,500 of the eco-friendly boxes per week during the busy season.
Feb. 13, 2017
Great Wolf Resorts is known for its indoor waterparks, specialty restaurants and family friendly activities. 
But behind the scenes, the Wisconsin-based company, which opened Great Wolf Lodge in Grapevine in 2007, has made efforts to increase its sustainability too. While they've reduced energy consumption through an initiative called Project Green Wolf launched in 2008, now they're hoping to cut down on landfill waste with an innovative pizza take-out box.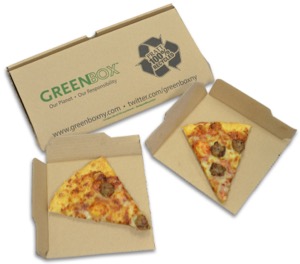 According to Chris Hammond, corporate director of Food and Beverage at Great Wolf Resorts, the franchise began using the GreenBox last spring. He said it was a no brainer after he discovered the ecofriendly pizza box, made by an Ontario-based company. It's designed to reduce the need for additional dishware by transforming into four sturdy plates and a compact storage container for leftovers.
Originally, Hammond said he saw the idea for GreenBox on Shark Tank. Then he noticed a local pizza place in Wisconsin was using them. 
The GreenBox transforms into four sturdy plates and a compact storage container for leftovers.
"I began to work with the company's distributor and Jen and Lexi at Greenbox to make it happen."

The GreenBox pizza box is made of 100 percent recycled cardboard. The material is completely recyclable and currently the Great Wolf Resorts is using the GreenBox pizza box in all 12 of the U.S. locations. The GreenBox is a hit at Great Wolf Lodge in Grapevine, which uses about 1,500 pizza boxes per week during the busy season.
"We are very proud to be working with Great Wolf Resorts, a company that implements and maintains environmental sustainability standards that reinforce their culture and enhance their guest experience," said Jennifer Wright-Laracy, president and cofounder of GreenBox. "Our multifunctional, 100 percent recycled GreenBox aligns perfectly with these standards."

As for the future, Hammond concluded there are more green ideas coming.
"Great Wolf Resorts is always looking for even more ways to be green," said Hammond. "All of our consumer goods in food and beverage will always be green, but we continue to expand that into other areas such as composting and water reclamation efforts." 

Since 2007, Project Green Wolf has been an important part of each resort's daily operation including green initiatives that include not only Food & Beverage, but also energy and water conservation. 
In 2007, Great Wolf Resorts started reducing energy and water usage across its properties as part of the third-party verification by Green Seal. After implementing a variety of energy-saving business practices, the company reported a reduced electricity consumption of more than 1.5 million kWH in 2009. Gas usage was also reduced by 234,806 Therms for the year. Lastly, reduced water usage resulted in an overall savings of nearly 4.5 million gallons in 2009.  Most recently, some lodges have initiated their own battery recycle programs, composting and food sharing with local non-profits were permitted.

Hammond said that other green programs at the Grapevine Great Wolf Lodge, within the food and beverage department, include take-out utensils and supplies made from sustainable corn, palm, bamboo or post-consumer recycled content. 
"Great Wolf Resorts also has several composting programs in place and sources locally-grown produce for their dining destinations whenever possible," Hammond added. "Public area restrooms and guest rooms also use post-consumer recycled content."
---
Stay up to date on everything green in North Texas, including the latest news and events! Sign up for the weekly Green Source DFW Newsletter! Follow us on Facebook, Twitter and Pinterest.