Dennis Wehrmann opened his eco-friendly brewery in 2008 in McKinney. Courtesy of tempestinatankard.com.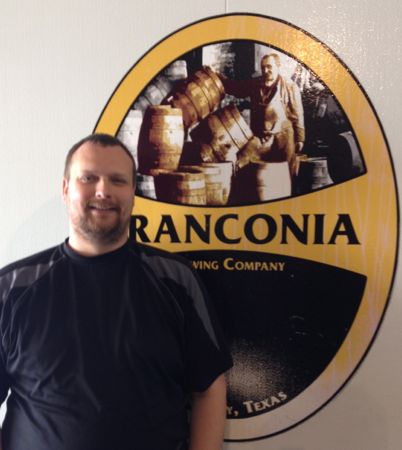 March 17, 2015
Green beer is a tradition on St. Patrick's Day but Franconia Brewing Company takes 'green' brewing to a new level with its sustainable practices. 
The company's owner Dennis Wehrmann, a 5th generation brewmaster, says his eco-friendly stance at Franconia Brewing Company is not a marketing ploy. It's just something he and his family have always done.
"It's how I grew up," he says speaking of the German region known as Franconia, where the company got its name.
The brewery, which Wehrmann opened in 2008, is located in a 6,000-square-foot facility in McKinney, operated by six full-time employees. He says they bottle "a lot of beer and not enough," when asked the quantity.
Demand is high. When his beer was first sold at local stores after he began bottling in 2013, he says there were lines around the supermarket just to get a six-pack.  
Photo by Guillaume de Vaudrey.
However, they offer a variety of beers to choose from, including six seasonal beers and two specialty beers, which are the Triple Dunkle and the Double IPA.
As for his green practices, Wehrmann says his product is 100 percent natural, meaning no artificial flavor, no spices, no food coloring and no additives. 
"We brew the German Puritan way," he explains.  
The facility is also a trash-free environment where everything produced is also 100 percent recyclable. 
"There is no dumpster here," he points out proudly.
The building is energy-efficient and Wehrmann says it is a micro-power plant using renewable fuels, waste vegetable oil, solar power and natural gas.
Photo by Guillaume de Vaudrey.
There is also a 1,800-square-foot carport with solar panels on the top and Wehrmann says sometimes he even produces "enough energy to give back to the grid."
A McKinney resident, Wehrmann moved to the DFW area in 2003 after being recruited from Germany and hired as a brewmaster. He knew of no microbreweries in the Dallas vicinity [Rahr & Sons in Fort Worth, which opened in 2004, was off his radar.]. So he decided it was time. He chose McKinney because zoning was easier. 
"Dallas wasn't ready for breweries yet," he said. [See more on the history of microbreweries in DFW.]
Folks in McKinney are certainly glad he has arrived. Dee-dee Guerra, executive director of the McKinney Convention & Visitors Bureau said Franconia has developed quite a following. 
"We love that his Saturday morning tours are so well attended every week," she said. "We especially respect what he has done for McKinney both in name recognition of his brand and in working closely with the city to help support community events and support the city's green initiatives. From a tourism standpoint, Dennis has been a terrific partner for us from day one, welcoming visitors who come from all around North Texas and this region."
Wehrmann gives tours every Saturday at 11 a.m. that draw as many150 people on a good day and 40 on a slow day. 
"Folks just show up," he says of the two-hour tour.  
"We often hear from visitors that the Franconia tour is the best $5 you can spend in McKinney on a Saturday morning," Guerra says. "The team there is so supportive of the city, too, in encouraging visitors to start their Saturday at Franconia and then head into other parts of the city to enjoy lunch and everything else the city has to offer."   
Wehrmann's latest technology that he has added is a new filer system, but he says he is always looking for new ideas that keep the company green and growing.  
"It's a lifestyle and you have to be willing to make a commitment and sacrifice and this pays off in the long run," Wehrmann said. 
---
Stay up to date on everything green in North Texas, including the latest news and events! Sign up for the weekly Green Source DFW Newsletter! Follow us on Facebook and Twitter. Also check out our new podcast The Texas Green Report, available on your favorite podcast app.