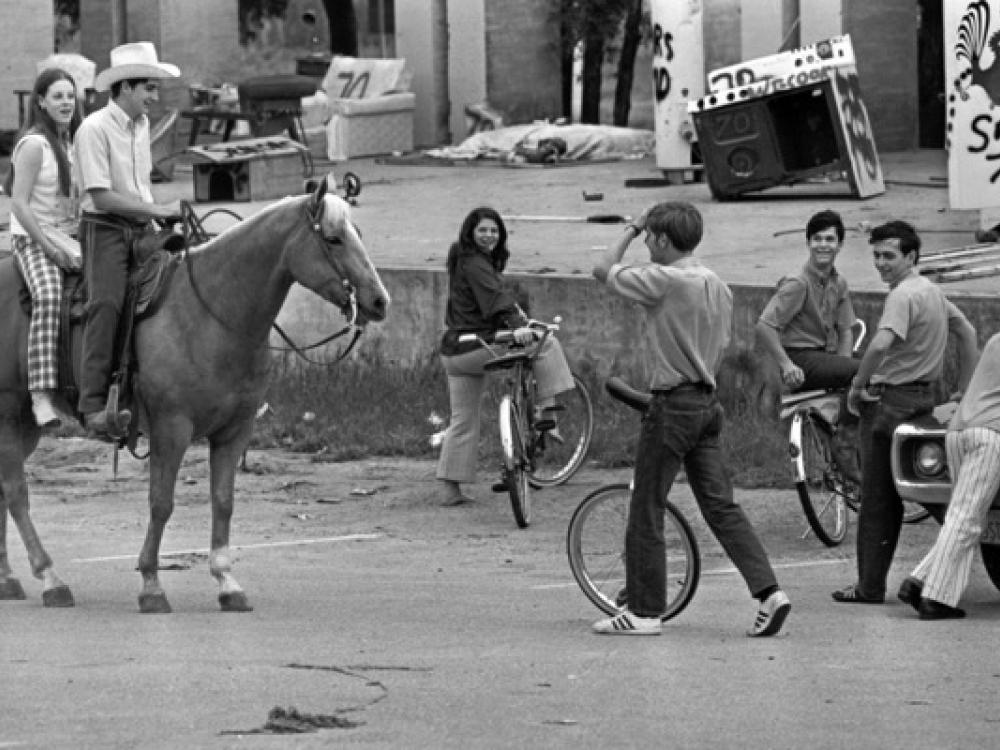 Fort Worth students arriving at Arlington Heights High School using alternative forms of transportation on the first Earth Day April 22, 1970. Photo by Tony Record. Courtesy, Fort Worth Star-Telegram Collection, Special Collections, The University of Texas at Arlington Libraries.
April 18, 2020 
On April 22, 1970, about the time President Richard Nixon and First Lady Pat Nixon were planting a tree on the White House lawn to commemorate the first-ever Earth Day, 16-year-old Allen Gartner of Fort Worth was preparing for his usual 3.5-mile morning commute to Arlington Heights High School – with a twist. To demonstrate his commitment to the new holiday and to the planet, Gartner would park his enormous, purple 1961 Cadillac Coupe DeVille ("the door was as long as I was tall") and travel to school on something roughly the opposite - a unicycle. 
Anyone who has ever tried piloting a unicycle knows that three and a half miles would be a l-o-n-g and painful ride. In addition to continually moving ahead in a more-or-less straight line with the support of only one wheel, the rider must maintain constant balance to avoid tipping forward, backward, left or right, in what might be the ultimate core workout. Gartner was undeterred.
The school had decided to embrace Earth Day with a few environmentally friendly activities, including suggestions for gasoline-free transit. 
"Heights had recommended students come to school showing different forms of transportation than automobiles," Gartner said. 
Allen Gartner rode most of the 3.5 miles from his home to school on the one-wheeler. Arlington Heights High School Yearbook photo courtesy of Alan McDaniel.
Accordingly, many rode their bicycles that day, or just walked. At least one trotted in on a horse. More on that later. 
Gartner set out from his home in Ridglea Hills on the city's west side, his beloved Cadillac receding in the distance. He pedaled south through the leafy neighborhood, turned east on busy Vickery Boulevard and began toiling in earnest through the muggy spring air. 
With its pedals affixed rigidly to the hub, and with no high gear available for speedy cruising, forward progress on a unicycle isn't much faster than walking, and it's a lot more work. There is no coasting, so the rider's legs never stop moving, and hills can be a chore. Yet, Gartner trundled on with steely determination as the sweat poured and the cars zoomed past
Partway along Vickery, a horse appeared.It was bouncing along in the same direction as Gartner. High in the saddle was Steve Tipps, a Heights classmate who had opted for a different kind of Earth Day conveyance. The two exchanged greetings, and Tipps offered a ride. 
As Gartner recalled, "I hopped on the back of Steve Tipps' horse, holding my unicycle, and we rode all the way to Jake's," a popular convenience store across the street and a couple of blocks south of the school. That stroke of luck saved Gartner about a mile of leg-pumping misery through the stifling humidity.
At Jake's, Gartner dismounted from the horse, climbed back onto the unicycle, rode for the two remaining blocks and pedaled victoriously onto the Heights campus. The moment, captured in a photo in the 1971 Arlington Heights yearbook, shows Gartner with a big grin astride his minimalist vehicle.
Courtesy, Fort Worth Star-Telegram Collection, Special Collections, The University of Texas at Arlington Libraries.
He still lives in Fort Worth, where he has been a real-estate appraiser for the last 35 years. And though his Earth Day accomplishment is now half a century in the past, the events of that day had staying power. 
"The first Earth Day has stuck with me through the years, and it led to my first Ecology class in college, 1972," Gartner said. "I have always tried to do my part with recycling, etc., and feel somewhat guilty when I don't live up to my own lax standards. We need to take care of our planet to the best of our abilities."
As for unicycles, Gartner, now 66, has given them up. But he went down swinging. A few years ago, a neighbor got one for Christmas, and Gartner couldn't resist attempting a ride. It turns out that unlike bicycling, unicycling doesn't stay with you. 
"I failed miserably," he said.
See more of our 50th Anniversary of Earth Day coverage.
RELATED ARTICLES
How DFW celebrated the first Earth Day
---
Stay up to date on everything green in North Texas, including the latest news and events! Sign up for the weekly Green Source DFW Newsletter! Follow us on Facebook and Twitter. Also check out our new podcast The Texas Green Report, available on your favorite podcast app.