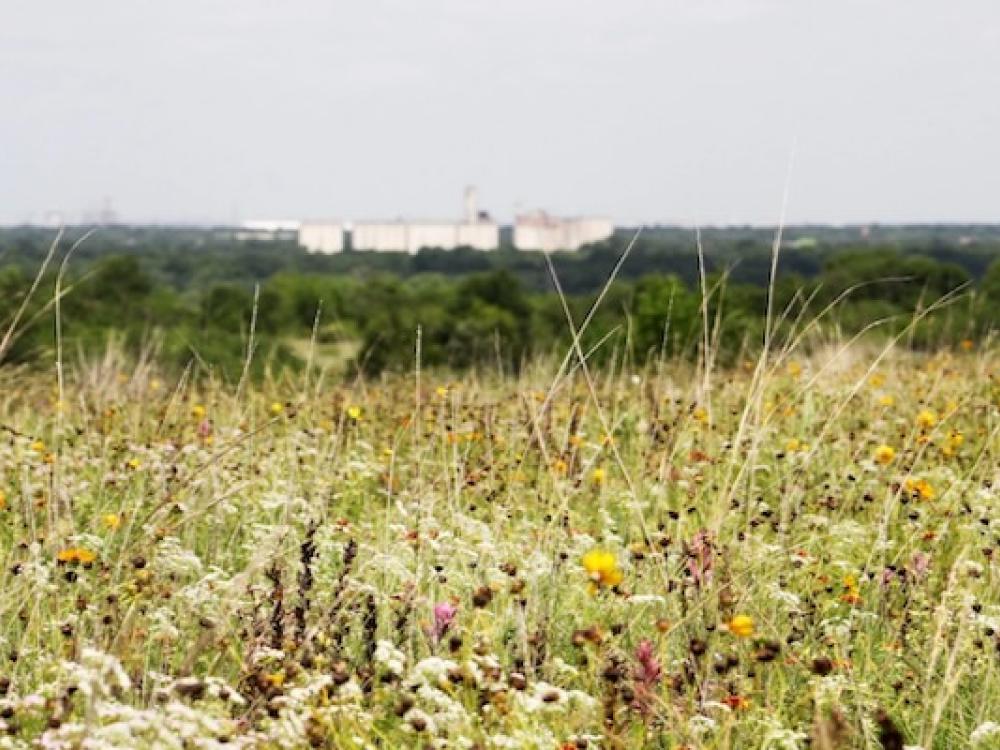 Tandy Hills Natural Area in east Fort Worth overlooks downtown. The native prairie is a refuge for thousands of native plants. Photo by Rachel Behrndt | Fort Worth Report.
As researchers analyzed how 50 U.S. cities propose to reduce the impact of climate change, they found the most detailed plan in a surprising place: Dallas, Texas. 
Brookings Institution, a nonpartisan think tank, ranked Dallas first in an analysis of climate action plans, rating the city above the likes of Boston, Portland and San Francisco. Dallas adopted its strategy to reduce carbon emissions and improve energy efficiency in 2020, leading to the creation of the Dallas Environmental Commission in 2021. 
"The city did a really good job of ensuring that the plan allowed the community to have a voice and have the opportunity to shape priorities," said Kathryn Bazan, who chairs the commission charged with helping to implement the plan. 
Thirty miles west, Fort Worth is missing from the Brookings report. The city had no plan for researchers to examine. 
Of the top 25 largest cities in the U.S., Fort Worth is one of three that has not adopted a long-term plan to reduce its carbon footprint, achieve sustainability goals or address the challenges posed by climate change. 
Soon, it will stand alone. Officials in Jacksonville and El Paso are developing climate resiliency strategies of their own. 
City officials, including Mayor Mattie Parker, point to a growing list of master plans addressing urban forestry and open space as a sign that Fort Worth is taking environmental issues seriously. Parker has made the expansion of parkland and open space a priority of her second term. 
"A green space focus will knit all of these different plans together and build a better community," Parker said. "What role does the private sector play, and what other partnerships do we need to form?" 
In 2019, the city outlined its approach to environmental issues in its first environmental master plan, which included strategies to minimize Fort Worth's contribution to air pollution, improve water quality and reduce litter citywide. 
However, the 218-page report didn't include specific goals for reducing greenhouse gas emissions and made two references to climate change. Greenhouse gas emissions trap the sun's heat as they blanket the planet and lead to global warming over time, according to the United Nations. 
While Fort Worth isn't likely to create its own climate strategy, the city is eager to be part of a regional climate action plan led by the North Central Texas Council of Governments, said assistant code compliance director Cody Whittenburg.
The council of governments, which includes members across 16 counties, is pursuing a $1 million climate pollution reduction grant through the Environmental Protection Agency that will kick off planning next spring. After the plan is developed, cities such as Fort Worth will be eligible to apply for more federal funding to reduce emissions, Whittenburg said. 
Parker, City Council members and City Manager David Cooke have been supportive of this effort, he added. 
"To tackle a problem like climate pollution, it's going to take everyone working together," Whittenburg said. "If there is this perception that the city of Fort Worth is not doing enough or is not making any progress in this space, I think maybe there's an opportunity that we can do a better job with outreach and a better job of education to get that message out."
The city's lack of explicit climate goals has earned criticism, especially as leaders navigate concerns over air pollution and negative health outcomes in heavily industrialized portions of southeast Fort Worth. City leaders issued permits to industrial facilities near homes, creating environmental injustice in the area, Greater Fort Worth Sierra Club leader Mary Goodman told City Council members in August.
"Environmental justice is to address the decisions made long ago. From what I see, Fort Worth is not listening to the people who are affected by these decisions," Goodman said. "Fort Worth needs to have an environmental justice plan that envisions meeting citizens' needs and we need to correct mistakes of the past." 
Lessons from climate plans 
The federal government has poured billions into infrastructure and energy efficiency projects over the past two years. The policy shift got researchers at the Brookings Institution thinking: Are local governments prepared to accept funding and turn it into reductions of greenhouse gas emissions? 
Cities that have shown their ability to execute on environmental goals are going to be ready to hit the ground running and take advantage of "once-in-a-generation funding," said Joseph W. Kane, a fellow at Brookings Institution focused on water infrastructure and transportation.
"The feds are going to see that, and (cities) are going to get more money as a result," Kane said. "Places that don't have their act together, they're leaving money on the table and they may not be able to get that money in the same way in the future."
Kane and fellow researcher Caroline George found that while many cities have adopted climate action goals, their plans lack funding and clear benchmarks for measuring progress. Cities often have limited budgets to pay for infrastructure repairs and environmental staff, Kane said. 
"We saw the gaps pretty much everywhere around funding and financing. Places can pay lip service to a lot of this stuff and make all these bold commitments … but where are the durable and sustainable resources behind that?" Kane said. "That's a big question in a lot of places."
Cities across the country could benefit from conducting an honest assessment of their current capacity to reduce carbon emissions, according to the Brookings report. 
Other recommendations include establishing a regional network to coordinate pollution strategies and developing a skilled environmental workforce to improve the city's infrastructure. Dallas-Fort Worth is already ahead in this respect, George said, because the North Central Texas Council of Governments is building an inventory of sources and types of greenhouse gas emissions across the region.
The Dallas plan stood out because it includes a schedule for revisiting goals and tracking progress over time, George said. The schedule keeps the city honest and accountable to residents on how they're actually reducing emissions over the next 20 or 30 years, she said. 
"We didn't really evaluate so much the quality of the pledge itself, but more the structure within the plan to help them achieve what they were aiming to do," George said. "There were a lot of mechanisms for that in the Dallas plan." 
Kathryn Bazan serves as the chairwomen of the Dallas Environmental Commission. Courtesy of the City of Dallas.
Bazan, the chairwoman of the Dallas Environmental Commission, said it was crucial for Dallas City Council to appoint a body of community members focused on implementing the climate action plan.
She has seen its impact firsthand. Following a zoning code change championed by members of the environmental commission, concrete batch plants can only be built in industrial manufacturing districts following several opportunities for public comment. 
"Climate impacts will have the largest impact on marginalized community members if there's not anybody on the local level willing to fight for them," Bazan said. "When the community has a concern and they can't get the attention of the city, we are the people they can reach out to and connect them with the right people." 
The success she's seen in Dallas can be replicated in other communities, such as Fort Worth, but progress takes long-term commitment and citizen involvement, Bazan said. 
"Climate change won't be solved accidentally," she said. 
Where Fort Worth goes next 
Fort Worth leaders have traditionally stayed away from appointing oversight committees, like the environmental commission in Dallas, thanks to the city's small government ethos, Whittenburg said. But that doesn't mean the city isn't paying attention to environmental challenges, he said.
Over the past four years, Fort Worth has crafted a strategy for conserving open space, budgeted more dollars for litter pickup and street sweeping and begun drafting an urban forestry master plan to preserve tree canopy. 
Once City Council members approve the 2024 budget in September, the city will also create an environmental services department for the first time. Previously, staff working on solid waste pickup, litter cleanup, air quality monitoring and environmental investigations were housed in the code compliance department. Aside from paying a new department director's salary, the city expects the reorganization to have little impact on the overall budget. 
Looking ahead to next year, Whittenburg said city staff are pursuing a U.S. Department of Energy grant to create an energy efficiency and conservation plan for city facilities and operations. Up to $785,490 in federal funding would go toward energy audits on certain facilities to inform energy and cost saving decisions, according to a June 27 memo. 
About 50 percent of the city's operational energy comes from renewable energy sources, Whittenburg said. 
"That was a win," he said. "It's really important to find that business case and bring people to the table for that financial piece as well, to show how costs can be conserved and saved through energy conservation." 
Support from Parker and other council members has buoyed the city's environmental efforts, Whittenburg said. During an April seminar with the nonprofit Trust for Public Land, Parker said she sees additional opportunities for Fort Worth to lead the way on conserving open space beyond its current program. Voters approved $15 million in bond funding for acquisition of undeveloped land. 
Fort Worth needs a "true citywide conservation fund" that could serve as a public-private partnership for companies to donate land, Parker said. Several organizations focus on land conservation, but the city could create a land bank with the help of a private sector board that works in tandem with the parks and recreation department, she said. 
City leaders have a sense of urgency to preserve open space, she added. 
"This is really hard for any mayor to accept, but we're not going to be here forever," Parker said. "We're here for a period of time to make our city better, and I have a priority to create policies and standards that are long lasting that any mayor who comes next will want to adopt and keep the torch going further, because that's how you protect our open space and our parkland." 
Fort Worth has to forge its own path to achieving environmental goals, even if it varies from other parts of the country, Whittenburg said. He has heard conversations about how Fort Worth should try to be more like other cities. 
"I might challenge that to say that sometimes it's not right or wrong, but it's different," Whittenburg said.
Haley Samsel is the environmental reporter for the Fort Worth Report. You can reach them at haley.samsel@fortworthreport.org.
At the Fort Worth Report, news decisions are made independently of our board members and financial supporters. Read more about our editorial independence policy here.
This article first appeared on Fort Worth Report and is republished here under a Creative Commons license.
---
Stay up to date on everything green in North Texas, including the latest news and events! Sign up for the weekly Green Source DFW Newsletter! Follow us on Facebook,Twitter and Instagram. Also check out our podcast The Texas Green Report, available on your favorite podcast app.