King's Whimsey Kitty made from upcycled material. Photos courtesy of the Kings.
April 12, 2016
Estate sales, garage sales and flea markets all are perfect hunting grounds for Karla King and her husband Tim of Fort Worth. The pair make clever use of discarded junk not ready to go the landfill. Their whimsical creations can be found in galleries and craft fairs under the aptly named King's Whimsey. 
"We use a lot of metal kitchen items. I prefer aluminum pieces like coffee pots, measuring spoons and salt and pepper shakers," King says. "We also use metal items that you would find in grandpa's garage or workshop like flashlights, vacuum cleaners, cameras, that sort of thing."
From these castoffs, the artists makes their popular robot like creatures replicating the look of not only dogs and cats, but also elephants, gardeners, golfers and even Vikings and space men. 
King has been making art out of recycled materials since 2011, but she worked as an office manager for a general contractor until 2013. Her husband still works in the construction industry, managing a construction equipment company in Fort Worth. 
It was during their off hours that they began crafting their whimsical eco-friendly creations.  
"We had attended a local art festival and saw an artist who built wall art out of wood and recycled items and one of my sons showed some interest in that artist's work so we gathered some junk and built some different items and it just grew from there," King says. "Tim and I enjoyed it more than our sons and we just continued with it. We soon realized that other people also like what we built and it just took off." 
For example, when a friend needed a silent auction donation, King created a robot that was built from old toys, garage tools and kitchen tins.
"The materials, aka junk, is what inspires me to build the different pieces, very rarely do I go looking to buy a piece because I want to build something specific," King said. "I call it plotting and planning and I just dig through all of the different containers of junk that we have and pull out pieces that I think will go together." 
When asked about her work she says the pooches are her favorite.
"I really like the dogs. They have collars and dog tags." 
The robots start at $45 and go up to $300 depending on size and intricacy of the piece.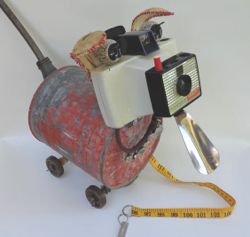 King said their business reflects their overall attitude about reusing, recycling and repurposing.
"Ted and I both grew up with the phrase 'waste not, want not' so we have always been resourceful when it came to furnishing our home or businesses."
King's Whimsy art can be found at Artisan's Collective, an art gallery in Oak Cliff in Dallas, which features a variety of local and eco-friendly artists. They also sell their work at local art events. See their Facebook page for more info.
---
Sign up for the weekly Green Source DFW Newsletter to stay up to date on everything green in North Texas, the latest news and events. Follow us on Facebook, Twitter and Pinterest.