The Fort Worth Botanic Garden, which merged with BRIT in 2020, is seeking input for a new master plan. Photo by Julie Thibodeaux.
Jan. 19, 2022
The Fort Worth Botanic Garden took a leap in 2020 when it merged with the Botanical Research Institute of Texas, a world renowned research center that shares its campus in the Fort Worth Cultural District.
Now, the oldest botanic garden in Texas, established in 1934, is developing a new comprehensive master plan, expected to evolve over the next 10 months.
The plan, in partnership with the Dallas-based landscape architecture firm Studio Outside, will address facility improvements and infrastructure for the next 20 years and formalize the organization's priorities in conservation efforts and leadership.
"There aren't any other gardens in Texas that have a focus on conservation or the resources to do what a major garden can do," said Bob Byers, executive vice president of FWBG|BRIT and co-chair of the master planning committee. "In a way, we're going to be a beacon for conservation in this part of the country."
Led by former District 7 City Councilman Dennis Singleton, the committee also includes local garden associations, Fort Worth ISD representatives, FWBG|BRIT board and staff, and other community advocates and developers.
The organization announced its decision to launch the new committee in October, about one year after the two organizations adjoined and BRIT began to manage the Garden from its state-of-the-art building next door. 
One of the reasons behind the launch is the rapidly changing climate, Byers said, and the need for more to pursue conservation — which wasn't as critical when the garden designed its most-recent master plan about a decade ago.
"The garden has never been active in education, while BRIT has a globally known research program," Byers said. "When you combine that with what we can do out in the garden — both in terms of public education and supporting that research — then you start to get an institution that's making a much bigger impact than either side could do on its own. The hope is that this master plan will help us start to focus on how this fits together and how we get there."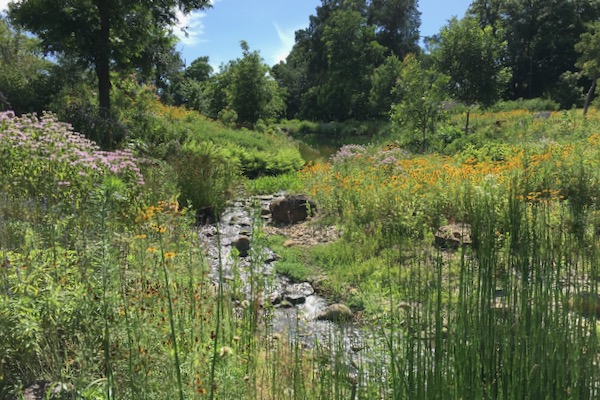 The Rock Springs Garden at the Fort Worth Botanic Garden is landscaped with native Texas plants. Photo by Julie Thibodeaux.
CHANGES IN THE WORKS
Tary Arterburn, the principal in charge with Studio Outside, says the master plan will "fortify the garden campus as a premier horticultural institution in the nation," according to a release from FWBG|BRIT. 
Although it's still in its preliminary stages, Byers does have an idea of a few changes he would like the master plan to include: a LEED-certified requirement for all new buildings; improved water sustainability and a more engaging Living Collections space. 
He said he would also like to bring in a "really good interpretive program" that prompts visitors to learn more about conservation and sustainability.
"Right now, there's not a lot in terms of educational pieces that are proactive about sharing information with folks," Byers said. "Their experiences should be much more intuitive. We want to make sure that the way we are presenting plants to people makes them think about those plants — why they're here, where they came from, what they're for and how they fit into the environment."
Byers believes this will, not only make FWBG|BRIT even more appealing to the community, but it will also lay the groundwork for a greater shift in the community. He hopes it will create a ripple effect across North Texas and more will begin to embrace conservation. 
"A major goal is to make sure that what we're doing is projecting the fact (to others) that there are important things to think about and better ways to do things than we're doing them now," he said. "We recognized that if leverage our resources, we can have a national impact in both the horticulture world and the scientific world."
COMMUNITY INPUT
In part of an effort to ensure all residents are heard, Fort Worth Botanic Garden | Botanical Research Institute of Texas has launched a citywide public engagement process and will host six community forums throughout Fort Worth over the next few weeks. 
Fort Worth residents can also provide comment online. The schedule to in-person forums is below:
WHEN/WHERE:
    •    Jan. 26, 6:30 p.m. Rockwood Park Golf Course Clubhouse (1851 Jacksboro Hwy, Fort Worth, TX 76114)
    •    Jan. 27, 6:30 p.m. at Como Community Center (4660 Horne St, Fort Worth, TX 76107)
    •    Jan. 29, 10 a.m. at MLK, Jr., Community Center (5565 Truman Dr, Fort Worth, TX 76112)
    •    Feb. 16, 6:30 p.m. at Chisholm Trail Community Center (4936 McPherson Blvd, Fort Worth, TX 76123) RESCHEDULED DUE TO INCLEMENT WEATHER
    •    Feb. 17, 6:30 p.m. at Heritage Church (4201 Heritage Trace Pkwy, Fort Worth, TX 76244) RESCHEDULED DUE TO INCLEMENT WEATHER
    •    Feb. 7 from 6:30 at the Worth Heights Community Center, 3551 New York Ave, 76110.
More info on FWBG | BRIT master plan.
RELATED ARTICLES
Botanical Research Institute of Texas to helm FW Botanic Garden
Fort Worth Botanic Garden's new fees start Friday
---
Stay up to date on everything green in North Texas, including the latest news and events! Sign up for the weekly Green Source DFW Newsletter! Follow us on Facebook and Twitter. Also check out our new podcast The Texas Green Report, available on your favorite podcast app.